Written by Matthew Low
There are very few shoe brands out there that have reached star status in such a short amount of time as On Running. The Zürich-based shoe brand was founded in 2010 to create a shoe that would deliver the perfect "Goldilocks" running sensation with every step: a soft landing, followed by a firm toe-off.
You'll recall that Newton Running was founded with a similar goal in mind, only On Running seemed to get the recipe correct almost immediately, winning an ISPO Brandnew Award — which recognises innovation among athletic startups — with their 1 month-old prototype.
This would be nearly impossible to achieve if it weren't a company created by athletes, for athletes. Don't believe me? The team behind On's success is led by none other than ex-Duathlon World-Champion and six-time Ironman winner Olivier Bernhard.
The secret to On Running's success lies in their unique structure, attention-to-detail, and luxury materials used. The most iconic part of any On Running shoe is CloudTec, which is the company's patented cushioning construction.
Essentially, CloudTec consists of hollow tubes of rubber or foam making up the entire outsole of the shoe, which are designed to absorb any vertical and/or horizontal forces experienced during each stride, as well as provide a sturdy platform for the toe-off.
Another unique and patented aspect of On shoes is the use of "speedboards", which consist of specialised layers of strong material beneath the CloudTec structures to support and channel the motion of the foot for the most efficient technique — similar to the carbon plate in the famous Nike Vaporfly 4%.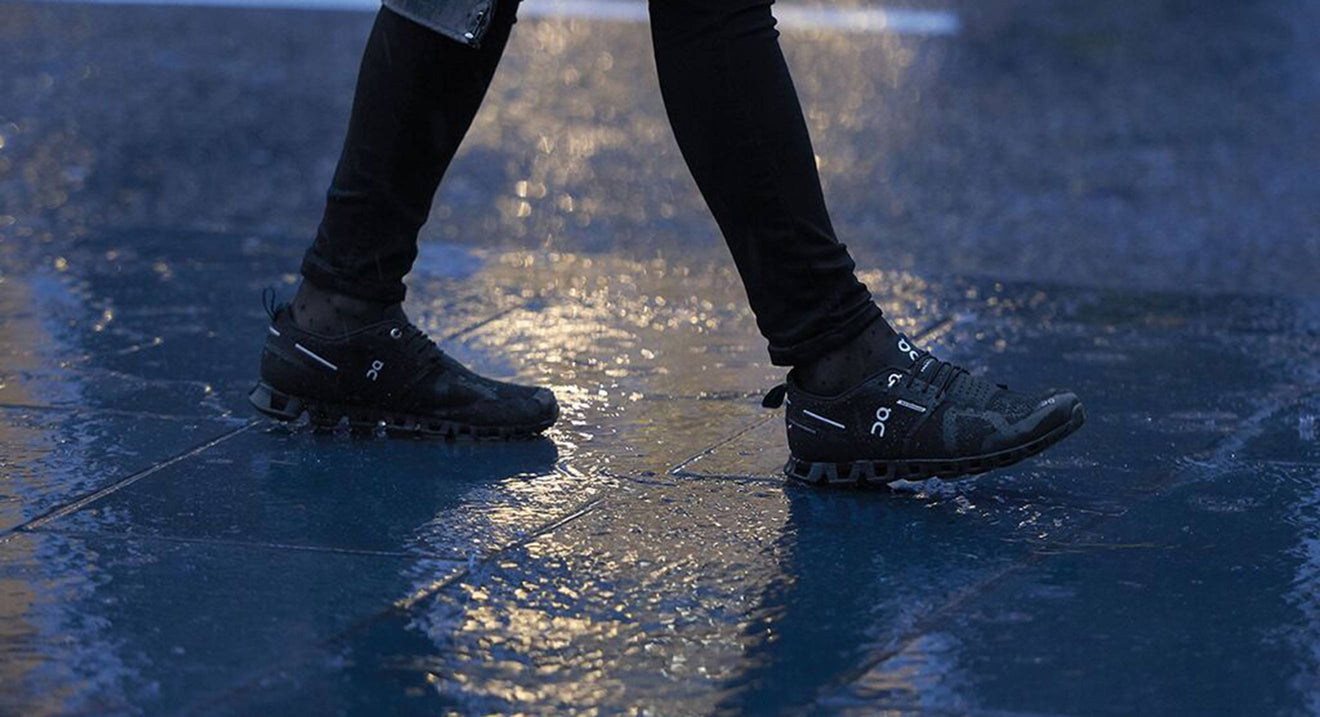 On Cloud Waterproof first impressions
How does the On Running Cloud Waterproof Look?
Unboxing an On Running shoe can be likened to watching a person draw a perfect circle – it is so satisfying, yet so rapid that you want to do it time and time again. Open the box and you are greeted with an inner graphic of a monotone cloudscape, providing the perfect silhouette for your new shoes.
I chose the all-black colourway in the waterproof version which drips in class and elegance in its design, using only varied lush textures, dramatically reflective taped seams, and a tiny red Swiss flag to fulfil such a design.
The branding is bold, clean, and emphasises the shoes rather than detract from them. There is a pleasing lack of horrible stickers or tags on the shoes, and they come with their own plastic shoe stays to keep them from losing their shape before reaching their new owner.
Don't be surprised to find an "owners card" with a I.D. number specific to the shoes, so they can be registered online. This is a brand loyalty initiative – that being said, I didn't register mine.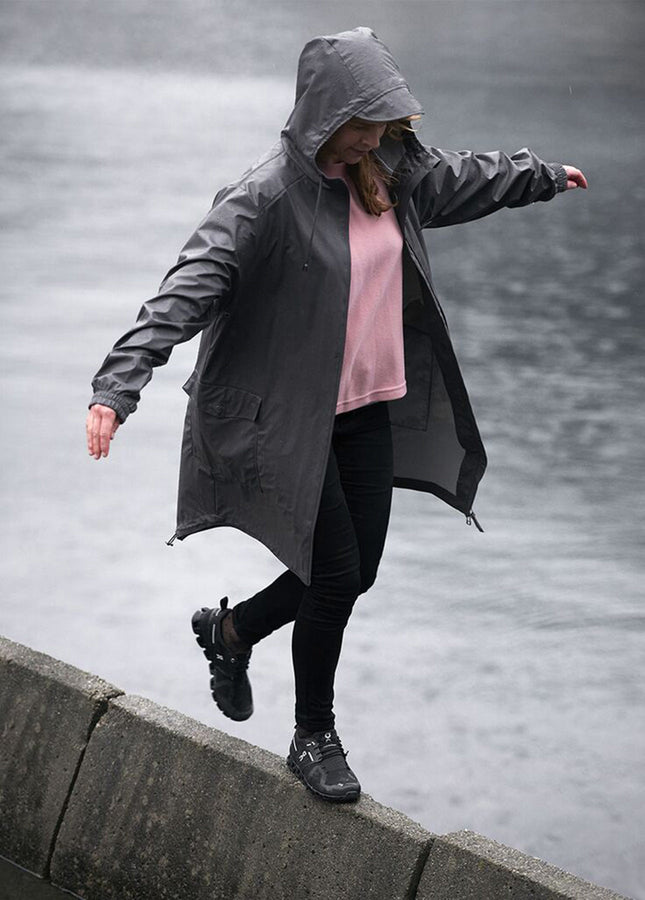 The Upper – it's waterproof alright
The upper construction of the On Cloud Waterproof is made primarily of a multi-layered waterproof mesh in the forefoot and a denser fabric (similar to GoreTex, but is not) around the midfoot, both of which are of extremely high quality. For full guide to waterproof trainers, check out our review.
These two materials are bonded together with highly reflective tape which lights up like a Christmas tree when the slightest amount of light hits it. The traditional model of the On Cloud is made with this mesh upper, just without the waterproof properties. It feels extremely premium and performance-ready.
Let's get two things out of the way: (1) both fabrics are rather rigid and require some effort to break in, (2) their breathability has a lot to be desired, which is great whilst temperatures are low.
The tongue is thicker in the On Cloud vs. On Cloudflow and other models, but is thankfully perforated to allow for some airflow into the foot chamber keeping the shoe from being unbearably hot and stuffy.
Inside the foot chamber, the Cloud Waterproof features On Running's infamous built-in sock and extremely well-engineered in-sole featuring a soft rubber-like material, both of which create a secure yet comfortable environment, preventing any likelihood of hotspots and skin-irritation.
But since I opted for the waterproof On Clouds, let's talk waterproof-ability because this is the primary element of differentiation to the other Clouds and other On Running shoes.
In short, the construction of and materials used in the upper makes this shoe incredibly good at keeping water from flowing onto your foot. That being said, the in-sole provides little-to-no drainage should any water get in via the collar.
Lastly, the entire upper and insole is treated with an anti-microbial coating, keeping the shoes fresh and resistant to odor-causing bacteria. So, although materials insulate your feet, at least they won't incubate bacteria.
Check out our range of On Running Women's >
The Midsole – Lightweight yes, Rigidity YES
On Running has spent a lot of time perfecting what they calls their Zero-Gravity EVA foam and their Speedboard – a rigid plate (non-carbon) that promotes lateral stability and reduces stride momentum loss -- essentially reducing the strain and fatigue felt by the muscles of the underfoot.
The Zero-Gravity foam is lightweight and durable yes, but requires a little more oomph in the responsiveness department. Having something as responsive to the midsoles of competing shoe brands would mean sharing the load with the Speedboard and cloud 'pods' in the outsole.
Presently, there seems to be a lack of response to the explosive toe-off needed to support the natural foot-motion as the shoe goes through the gait cycle.
The Outsole – 16 reasons to slip and slide
This is the secret sauce, or "where the magic happens". The outsole of the On Cloud Waterproof features 16 semi-circular pods called 'clouds' which complete the remainder of the cushioning system.
Not only are they quite radical looking, but their functionality is surprising. They attenuate the impact the shoe experiences during the landing, and help grip, twist, and push off the ground in a responsive and energised way.
The 'clouds' on the Cloud Waterproofs are made of an even more durable and thus rigid version of On Running's 'CloudTec' rubber material.
Although this makes them durable enough to protect the more vulnerable EVA foam from the abrasive nature of wet asphalt for around 600kms, it can make them slightly unstable and occasionally slippery when running/walking on trickier surfaces.
With that in mind, the traditional On Running Clouds are not as vulnerable, as they don't have the same rigidity in cloud pods, and feature a tread-gripping texture on the bottoms to aid stability.
Ultimately the choice between these On Cloud models comes down to the context of your run i.e. if you're facing poor weather conditions - and your own preference in shoe response. There's an option for everyone.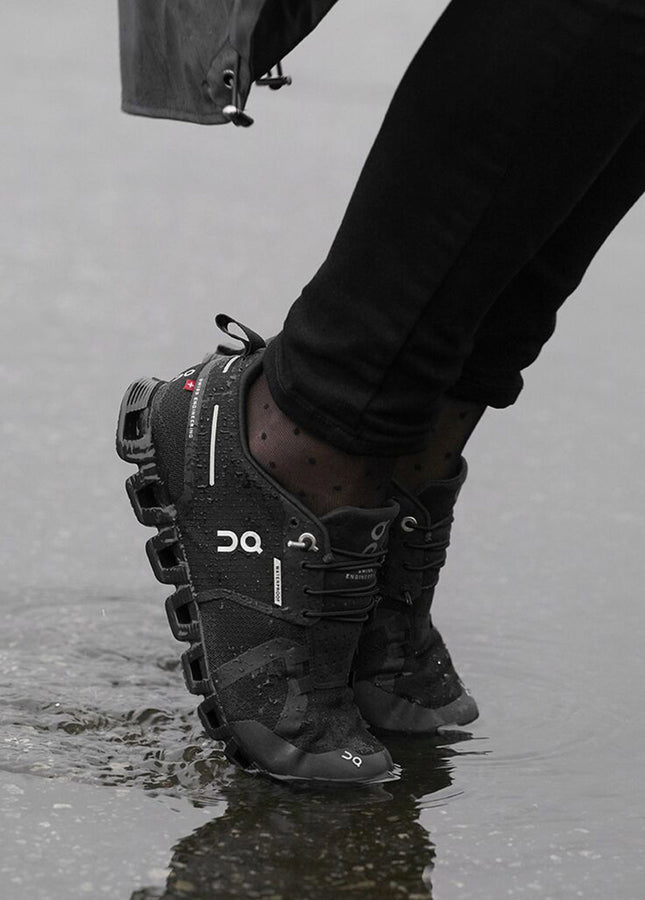 Are On's Cloud running shoes true to size?
Overall, these shoes do run slightly narrow, as the waterproof material has very little flex to accommodate a flexing foot. I advise going up a half size from what you're used to to ensure maximum comfort.
However this may be a nonissue in the traditional variation of the Cloud running shoe, as the mesh upper offers considerably more flexibility while keeping your foot securely in place.
I opted for the waterproof Cloud as it has been a rainy season so far, and I wanted to test some weather-proof shoes.
How are the laces?
The laces are elasticated and require some trial and error to get the system to fit your needs. So how do you lace up Cloud running shoes? They come pre-laced in a way that seems incomplete as there are ignored eyelets toward the toebox.
Figuring out whether these are needed, as well as, how to secure the laces so that they're not too tight yet not too loose is ultimately up to personal preference.
Frankly, I found it best to leave the eyelets in the toebox but tighten the hell out of the lacing system up above, which left a large amount of excess lace to loop through the system so that they didn't bounce all over the show during a run.
But don't fret, there are spare non-elasticised laces in the box which is a nice touch to have as no-fuss lace option.
Are On Cloud Waterproof running shoes good?
On feet, the On Cloud Waterproof feel cosy and surprisingly very stable. After tying the laces tightly using the extra eyelets to ensure sufficient ankle support, there was zero heel slippage and the in-sock is the warm hug your foot deserves especially on a cold and wet run.
Admittedly, as with most On Running shoes, the immediate concern is that gravel and stones would get stuck in-between the 'cloud' pods, especially in tricky weather conditions.
Yet surprisingly, over the 237kms I put into these shoes, there was not one instance of this. A reason for this could be due to the rigidity of the CloudTec outsole, preventing any real flexibility and support of your foot through the midsole.
One drawback of this is that it made the outsole feel restrictive to movement, slippery, and untrustworthy on gradients and sharp turns.
Ideally, the On Cloud Waterproof is best suited for two uses: (1) as a performance trainer-slash-race day flat for short fast courses in unfavourable weather conditions, (2) as a smart-yet-functional casual commuter/walking shoe for wet urban environments.
There's a beautiful moment when the Zero-gravity EVA foam, Speedboard, and 'Cloud' pods work in unison, and I could only really achieve this on shorter (5-10km), flatter, straighter, and faster runs.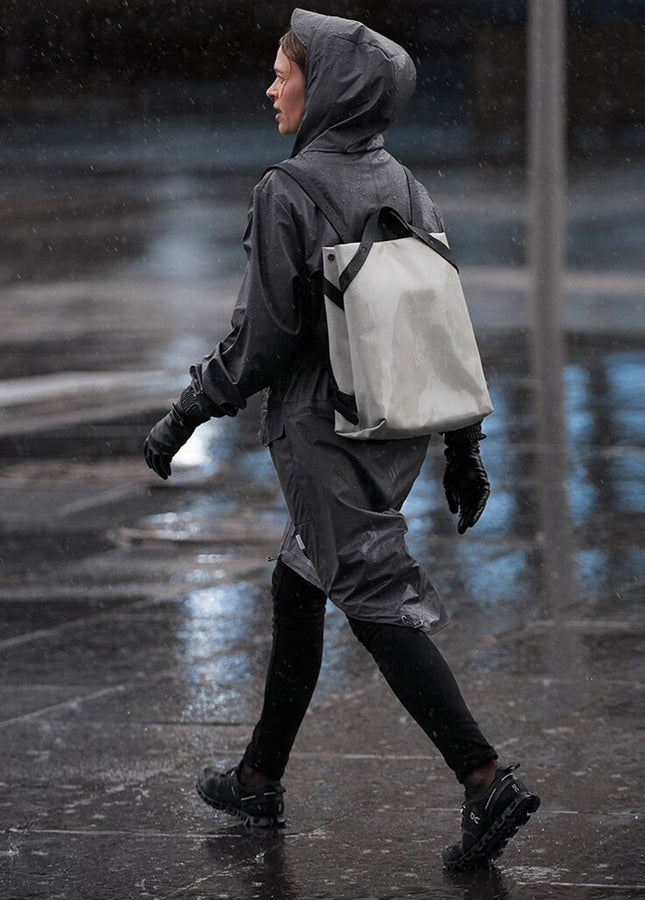 Are the On Cloud Waterproofs for flat feet?
Yes, the in-sock mechanism coupled with the insole provide ample support for even the most oddly shaped feet. However, heed my warning of needing to go half a size up than from your regular shoe size.
On Cloud Waterproof running shoes for plantar fasciitis
These shoes are definitely not a good model for runners with plantar fasciitis. The overall rigidity in their construction coupled with inflexible materials make for a shoe that does not perform well at lower running speeds, especially when a heelstrike is required. This is not ideal for the sensitive heels that plantar fasciitis causes.
Are On Running Cloud Waterproofs Really Waterproof?
Definitely! The Cloud Waterproofs can handle the most difficult conditions you can throw at them, whether it's light to moderate rain, shallow puddles, or wet tarmac. I've even heard that they can handle ice, sleet, and snow.
However, I personally found out the hard way that any water that gets into the shoe via the collar can wreak havoc due to the in-soles inability to drain water from the inside. Stay well clear of torrential downpours and large puddles please.
The On Cloud Waterproof Verdict
Overall, these are some of the lightest (250g average) and most effective running shoes on the market. However, their uses are capped as great tempo shoes that could be used for short distance races, as well as, stylish athleisure gear.
Their durability is exceptional as there was very little wear on them after +200kms of mileage, however, this comes at the cost of stability, agility, and flexibility.
Additionally, like most On Running shoes, the laces are just plain weird and shoe sizing can be an issue. But these negatives shouldn't scare anyone away from this shoe
They fulfil the need of a good running shoe that will not only keep your feet warm and dry during a wet and speedy 5-10km race, but will get you to work in style under a pair of jeans the following day.
Conclusion
By the end of my On Cloud Waterproof running shoes review the Clouds had proven that their versatility is the gift that keeps on giving. They cater to those wanting some slick, durable, and warm/dry treads for navigating any urban environment at speed or out for a stroll.
The waterproof version masters all of this whilst facing the worst conditions that mother nature can throw at them.