Words by Katie Brooks
If you've run in the old On Running Cloudstratus, let's just make one thing clear right from the beginning: the new version is nothing like the old one. The old Cloudstratus were very 'supportive'.
In fact, so supportive they had very little flexibility, making for quite harsh striking of the ground and very little give-back. I have a pair. I've run in them once. Now I just use them for walking and hiking.
The new Cloudstratus are so far from the originals that they may as well have given them a totally different name. My first IRL (in real life for anyone who's not down with the new 'lockdown' lingo) look at the new Cloudstratus was at On's pop-up lab in Shoreditch, at the beginning of August.
And like all of the Swiss brand's latest editions, they are very nice to look at. The women's come in two colours, Marina/Magnet, and Rose/Red. Men also have the Marina/Magne and Blue/Green.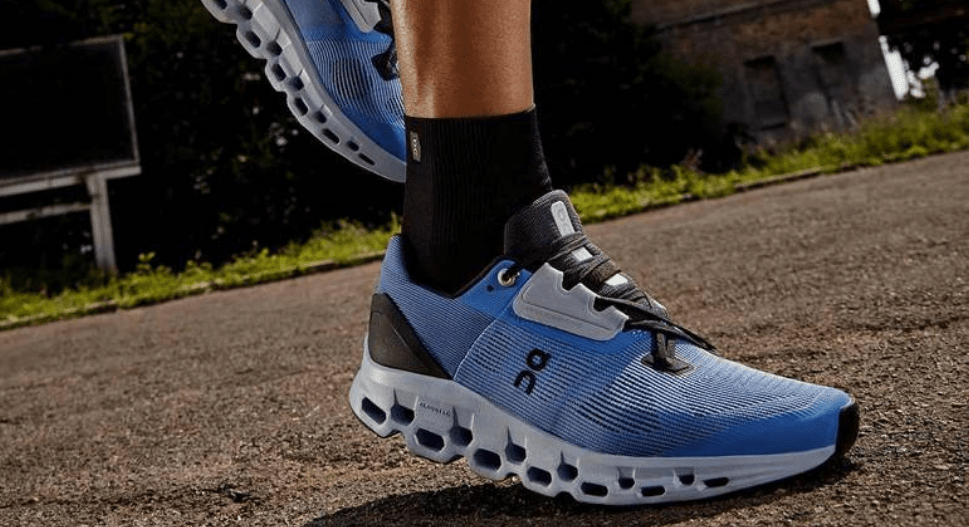 CLOUDSTRATUS: THE DETAILS
The strapline for the Cloudstratus is 'double CloudTec®, double your run' and the double layer cloud-tech, which offers max cushioning (more about this below).
This, combined with the addition of a Speedboard, is what has made these shoes standout from any other pair. If you like to feel a spring in your step when you run and good energy return, these are the ones for you.
Weight: Medium | 248 grams in a woman's size UK5 (men's 315g UK8 )
Heel-To-Toe-Drop: High | 8 mm
Heel Cushioning: Springy
Forefoot Cushioning: Springy
Flexibility: Flexible but not floppy
Stability Features: Some
Energy Return: High
Price: £149.00 (available here)
The Unboxing
Unboxing a pair of On's, whether it's your first pair or 10th, is an experience that will never get old. So crisp and pristine looking, perfectly tucked into place, and they even come with an 'owner's card', so you can register them online if you want to - it's a real occasion.

The Materials
On is really racing ahead when it comes to being a sustainable sports brand. In the new Cloudstratus, around 75% of the polyester is recycled in their upper material, and about 20% of the shoe as a whole, uses recycled materials – that's 2x more than the previous model.
The top of the shoe is made of mesh, which provides good breathability. The materials get thicker towards the rear for more cushioning and support in the tongue, heel and ankle areas.
On the back of the shoe, there's a plastic cage, designed to lock your heel in place and reduce the chance of your foot rolling. This is great support to have on longer runs, especially as you start to tire when our form is most likely to go.
LOOKS GOOD, FEELS GOOD
From the beginning, On's shoes have been quite minimalistic. Their much-loved Cloudflow has small clouds, keeping you close to the ground. The new Cloudstratus, however, has much more cushioning.
I don't want to say they're like a Hoka or the Adidas Boost because I truly believe On is a very different brand, but if you like that style of cushioning, you'll love these.
The double cloud technology is something they've only just introduced. The latest Cloudultras (trail running shoe) which launched earlier in the year work in a similar way.
The clouds, or 'cloud elements' as they're officially called, are 16 semi-circular EVA pods, which provide the main cushioning for the shoe.
You'll also be glad to know, stones are no problem for these shoes. I've racked up quite a few miles now and haven't had any problems. This is thanks to the narrowing of the wall in between the clouds.

WHAT MAKES THE CLOUDSTRATUS STAND OUT?
On recently updated many of its shoes to contain a Speedboard™ and Helion™ superfoam, both of which have changed the game massively.
The proprietary Speedboard™ is a rigid plate (non-carbon), which promotes lateral stability and reduces stride momentum loss. Essentially, it reduces the strain and fatigue felt by the muscles of the underfoot.
The Helion™ superfoam is formed of a special structure fusing stable, hard elements and softer, elastic segments. This enables greater durability without adding weight and more rebound without sacrificing cushioning. It's also temperature resistant, making it more durable than other foams.
These two combined are what makes the On shoes so special. Responsiveness and return goes up a level, add in the specially placed 'clouds' and you've got a super technical shoe that gives in a big way.
Running: These are a mid-long distance shoe, made for the road. As I mentioned above, the energy return is brilliant, you can really feel the clouds spring you forward as you leave the ground.
THE VERDICT
My favourite shoes from On for longer runs are the Cloudswift, and for racing or short 5ks I usually go for the Cloudboom. For me, the new Cloudstratus will become my everyday running shoe.
My final piece of advice, go up at least half a size because they come up a little small. I usually wear a size 6.5 in normal everyday shoes, runners I go for a 7 and in these I'm a 7.5.
ON RUNNING STYLE GUIDE
Not sure which On Running shoe is right for you? Check out this On Running Shoes Review blog, where we compare the different styles.