On has made a big splash in its relatively short existence, and now has the accolade of being the fastest growing running shoe brand in the world. Founded in 2010 by a three-time world duathalon champion and multiple Ironman winner Oliver Bernhard, together with his friends David Allemann and Casper Coppetti, the vision from the off was to come up with a fast and truly revolutionary running shoe.
Whilst that term gets bandied around too much, in On's case you just have to look at the Cloud or Cloudflow to realise that these On Running shoes are unlike any other running shoes on the market. They set out to solve the two perennial problems in distance running shoes: of combining a cushioned, soft landing with a firm, responsive take-off; and a highly cushioned shoe that is also extremely lightweight. Plenty of shoes on the market are good at one or the other, but not both.
Distance shoes tend to be either fast, responsive and lightweight; or comfortable, cushioned and heavier. On has come up with a shoe design that genuinely delivers on both fronts, built around two main innovations. Let's dive in to our On Running shoes review.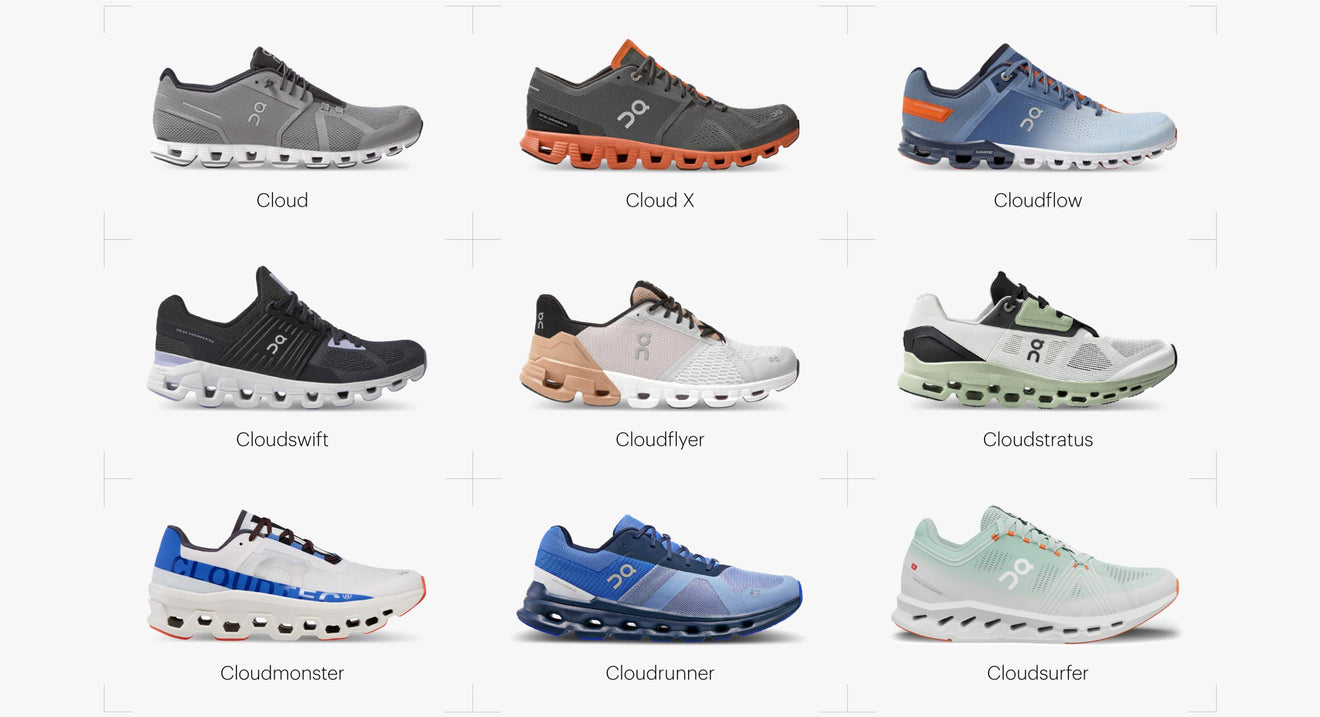 Clouds
The most visually distinctive feature of any On shoe are the hollow little 'clouds' or pods that run the length of the sole, adding cushioning and dispersing pressure, but also because they move laterally as well as vertically, they propel you forward and transition quickly. The video below illustrates this; the Clouds disappear on landing as they cushion the stride, but quickly pop back to drive your push-off. This unique feel to the On running shoes is apparent from the first time you put them on.
There is a central channel in the middle of the On shoes which allows the individual cloud components to move separately, providing a natural range of motion and best responding to the individual runner's gait. The CloudTec® sole in all On shoes is made from 'Zero-Gravity' foam, a signature EVA compound that is superlight, flexible and responsive.
Speedboard
These pods are combined with a central "Speedboard" running down the centre of the sole unit. This is a responsive, semi-stiff board made of a matrix weave of plastic, that promotes the natural rolling process in a stride, adding rigidity, and thereby helping energy transfer and delivering more explosive toe-offs. If the sole were allowed to fully flex, more potential energy would be lost.
Nailing cushioning and responsiveness is the holy grail of a running shoe, and On really has delivered something special through some very clever Swiss engineering. When you head out on your first run you will notice three things, how ridiculously light they feel, how soft the landing is and the fact that you are lifting your knees higher than usual.
Taken together these things equate to more speed. Each of the Cloud, Cloud X and Cloudflow weigh around 220-230g for a men's UK size 8, which is circa 100g lighter than shoes such as the adidas Ultra Boost (310g) or ASICS Kayano 25 (336g). To put that in context, several studies* have shown that an extra 100g per shoe increases times by c.1.1% over 3000m. Apply that +1% to a marathon or longer distance and you're talking about a lot of time.
It says something that some of the leading triathlon and Iron Man athletes of all time, the likes of Tim Don and Javier Gomez, train and complete in the same On Cloudflow shoes.
The On Upper
Whilst the key innovation in On running shoes is in the CloudTec sole, the seamless uppers also play an important role, continuing the trick of balancing comfort with ultra light weight. The uppers hardly add any weight to the shoe, but the mesh is extremely strong and reinforced with taping in key locations to provide a secure, supported feel. On Running trainers are extremely breathable, and the mesh is springy enough to allow your foot to move adequately through the stride.
The Fit
Overall we found the last on all three On models we tried, the Cloud, Cloud X and Cloudflow, to be very comfortable. In terms of fit, On shoes tend to be cut quite narrow, especially in the heel, which gives a nice locked-in feel, but for runners with wider feet, you may need to get a size larger than normal. Though if you have normal to narrow feet, I'd say they run true to size. The slightly narrower shape is also more pronounced in the back of the shoe, and they do splay out in the toebox to ensure more space and comfort.
The Cloud has an easy-entry lacing system, so that you can slip them on and off easily, though it does also come with conventional laces if you want a more snug fit. The Cloud X and Cloudflow both have conventional laces.
Which shoe is for you?
The shoe for you depends on what you want to use them for:
The Cloud
The Cloud is the most street-styled shoe, a blend of style and performance. Its speed lace system makes it easy to slip on and off, and it is ideal for an everyday shoe, running anything from errands to a 5k. The Cloud running shoes combines the best of both worlds in that it is very lightweight but also well-cushioned.
In the case of the On Cloud shoes, the speedboard is fairly lightweight and flexible, which is why the shoe is so comfortable. The easy on and off also makes it popular with triathletes. But overall I'd buy the On Cloud more as an all-rounder, in the 'active life' category as On classifies it and wouldn't do the serious distance in it.
Runners who normally pick this shoe:
A good club runner would pick this shoe for a lightweight racing shoe
A runner who likes to wear their shoes to work, but then also likes to do a 5k after work, followed by a beer and only wants to bring one shoe.
Someone who is on their feet all day and wants something very comfortable
For a more detailed look at this style of shoes read our On Running Cloud Review
Cloud X
The Cloud X is an evolution of the On Cloud, with a more intensive performance focus, and is geared towards runners who also want a shoe that can do the proper distance, but is also versatile and supportive enough to be used for gym and weight sessions. The new upper and engineered heel cap add stability for both lateral moves as well as conventional runs.
The Cloud X is generally chosen by runners who do not define themselves by just one sport. The Cloud X is On's most versatile shoe, with a superb combination of stability, lightweight (less than 240g), and highly reactive. It was updated in 2020 and is my favourite mixed sport workout shoe. A great option if you're after a pair of supportive pair of running shoes.
Runners who normally pick this shoe:
A regular road runner, who likes to do a run and then follow that up with a gym session.
Someone who is more into mixed-sports training, gym sessions, workout classes, CrossFit, or any sessions where more lateral movements and activities are required.
The Cloud X is also a shoe that club runners like, with the upper being different from the Cloud, offering a slightly locked-in feeling around the foot.
Like the Cloud the midsole is made of Zero Gravity EVA Foam, however on the Cloud X the speedboard is slightly stiffer, making it better for other gym based activities.
For a more detailed look at this style read our On Running Cloud X 2020 Review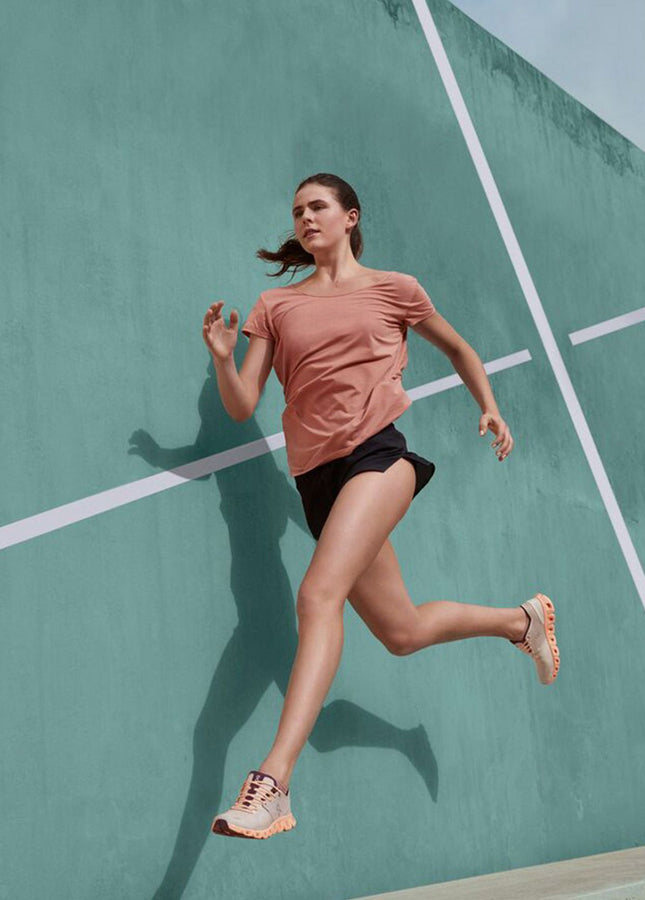 Cloudflow
The On Cloudflow, a favorite among world-leading triathletes and Iron Man competitors, has had an impressive update with its fourth iteration. The Cloudflow 4 is a highly responsive performance shoe designed to offer runners more feedback, a characteristic it's well-known for, thanks to its abundance of Cloud elements in the sole.
The Cloudflow 4 brings a radical new design, moving away from the minimal and firm midsole of its predecessor, the Cloudflow 3, to provide a more cushioned and comfortable running experience, especially for distances beyond 10km. This shoe is perfect for a range of distances, from a mile up to a half-marathon, and particularly excels in providing speed and responsiveness.
Major Updates
Upper: New engineered woven upper made from 100% recycled polyester
Midsole: New dual density Helion midsole with spoon shaped speedboard for better energy return and a rolling momentum
Outsole: Improved traction pattern for better grip, especially in wet conditions
Weight: Despite the added features and improvements, the shoe remains incredibly light
Performance and Feel
The Cloudflow 4 is designed as a "forward rolling" running shoe, encouraging a propulsive sensation with every step. The improved Speedboard and Helion foam work together to provide a smoother ride and a noticeable feeling of momentum, especially during speed work and races. The shoe's responsive nature is complemented by its lightweight design, ensuring that you feel fast and agile on your feet.
Comparison with Previous Version
The Cloudflow 4 runs smoother, feels lighter, and provides a more cushioned experience compared to the Cloudflow 3, staying true to its roots as a lightweight, no-frills trainer, but with significant improvements to comfort and performance.
Versatility and Style
This shoe is not just about performance; it also scores more highly than its predecessor in terms of style and versatility. The sleek, stylish aesthetic is a signature feature of On's designs, and the Cloudflow 4 is now no exception. It is suitable for races, recovery runs, and daily training, making it a versatile choice for different running needs.
Runners who normally pick this shoe:
Good for someone who is targeting a race. This is On's most responsive, quickest (non-carbon plated) shoe. It is good over a range of distances; 5k, 10k and up to a half-marathon
Also good for a runner who likes a lot of feedback, because the additional Cloud elements give you more under foot feeling
The On Cloudflow 4 offers a superb blend of responsiveness, speed, and comfort. It stands out as an ideal choice for neutral runners seeking a lightweight and agile shoe that doesn't compromise on feedback and performance.
For a more detailed look at this style read our On Running Cloudflow review.
Cloudswift
Given the popularity of highly cushioned running shoes in recent years, On had a gap in its offering for runners who want a softer, more cushioned ride. The Cloudswift was designed to fill that gap. Employing On's advanced "Helion" super foam, the Cloudswift seamlessly blends softer and firmer elements to optimize energy return and provide a plush yet dynamic running experience.
Enhanced Cushioning with Active Engagement
The latest iteration of the Cloudswift features updated Cloud elements in the rear foot, designed to collapse outward for an even softer landing, ensuring maximum shock absorption. As your foot transitions to the forefoot, the elements become more compact, storing additional energy for a powerful toe-off. The result is a shoe that delivers a more cushioned feel, yet maintains an active and engaged ride. However, it's important to note that while the cushioning is generous, it remains noticeably firmer than ultra-plush models like the adidas Boost, catering to runners who prefer a balance of softness and responsiveness.
Supportive Design for Diverse Foot Types
On continues to innovate in the stability department without creating conventional stability shoes. The Cloudswift features a higher arch, providing ample midfoot support for those in need of additional stabilization. The engineered mesh upper has been refined, offering a stretchy, breathable, and comfortable fit that adapts to various foot shapes. The inclusion of a rubber midfoot band enhances the shoe's secure feel, though runners with narrower feet may find they need to adjust the band for an optimal fit.
Advanced Speedboard for Propulsive Motion
The ski-like design of the Cloudswift's speedboard has been reimagined, now providing an even smoother transition and a more pronounced push during the final stage of the gait cycle. This innovation ensures that every stride is efficient and propulsive, enhancing the overall running experience.
Runners who normally pick this shoe:
The Cloudswift stands out as a versatile all-rounder, catering to a wide array of runners
Ideal for newcomers seeking maximum protection and a forgiving ride
A reliable choice for long-distance runners in search of consistent cushioning
A durable option for those seeking a mileage workhorse with a responsive edge
The On Cloudswift has successfully bridged the gap in On's lineup, offering a cushioned yet lively option for runners seeking a blend of comfort and engagement. With its advanced materials, supportive design, and innovative features, the Cloudswift is poised to continue its legacy as a favorite among discerning runners.
For an in-depth exploration of this style, be sure to check out our comprehensive On Cloudswift Review
Cloudflyer
The Cloudflyer is On's shoe aimed at runners who need extra support. Whilst On doesn't formally describe them as a stability shoe, they are aimed at runners who want more structure in the midfoot and more support. They are ideal for overpronators, or neutral runners who just like a bit of extra support. The Cloudflyer is however quite different from a conventional stability shoe.
Firstly it doesn't look like one - it isn't bulky, and doesn't have medial posts or guide rails, and secondly it is very lightweight relative to other stability shoes - 35-40g lighter than most options on the market.
I would describe the Cloudflyer as a mild to moderate stability shoe. The medial clouds have a firmer density than the lateral clouds; there is an external heel counter that is supportive but not rigid; and there is a plate in the midsole. This, together with geometry aimed at aiding support, means the shoe offers stability features without being clunky or heavy.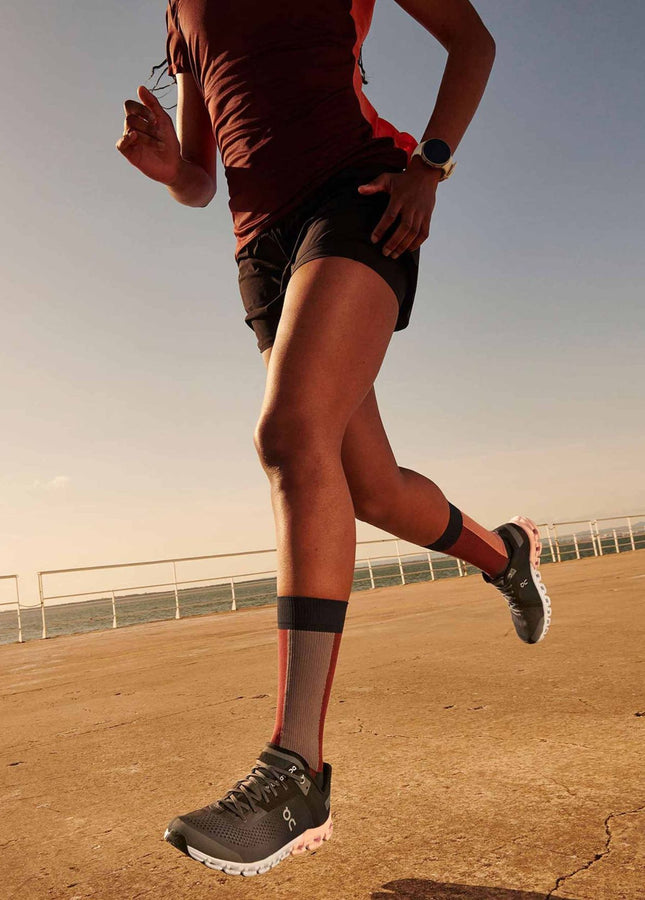 I wouldn't recommend it for runners looking for high stability; but for mild to moderate overpronators it offers a well cushioned shoe that is supportive whilst also being responsive and light.
In the latest iteration, On has fortified it with Helion™ superfoam, given it a wider base and an upgraded engineered mesh.
In terms of fit and feels, The Cloudflyer fits slightly wider feet than most On Running models. It has a really plush tongue which helps comfort. One complaint some people have is about the thin laces.
The Cloudflyer is one of the lightest, fully-cushioned running shoes on the market. It does an outstanding job of balancing the attributes of cushioning & support vs. weight & energy return.
Runners who normally pick this shoe:
Good for runners who need extra support, but still want a lightweight long-distance shoe
Mild to moderate overpronators
For a more detailed look at this style read our On Running Cloudflyer review
Cloudstratus
The Cloudstratus is On's maximum cushioning shoe, and the first model to feature connected CloudTec® layers, with effectively an extra layer. This makes it probably the only On Running shoe I'd describe as on the heavy side (305g in a men's UK size 8), so it won't be your go-to speedwork shoe, but for runners who want extra cushioning and find On's shoes a bit firm, then it is a good option.
Most runners and reviewers describe On Running shoes as on the firm side, as On tends to lean towards responsiveness over plushness. But the Cloudstratus is the most cushioned and soft of any of the On shoes, and a lot of people think it is On's most comfortable shoe.
Whilst it is a neutral running shoe, the extra layer of cushioning gives it a more structured feel, so it will also suit mild overpronators looking for just a bit of extra cushioning and support.
In the most recent update of the their shoes, On has re-engineered the midsole with even more cushioning, redefined the inner sock construction so you can step in with ease, and the support is now made of 75% recycled polyester, making their On shoes more sustainable.
The Cloudstratus fits slightly wider feet than most On Running models, with a good amount of room in the toe box area.
Runners who normally pick this shoe:
Runners who want maximum cushioning on their road runs, with a bit more cushioning & comfort than On normally offers, but still with good energy return
Long-distance runners preparing for longer events such as a half-marathon or marathon
For a more detailed look at this style read our On Cloudstratus Review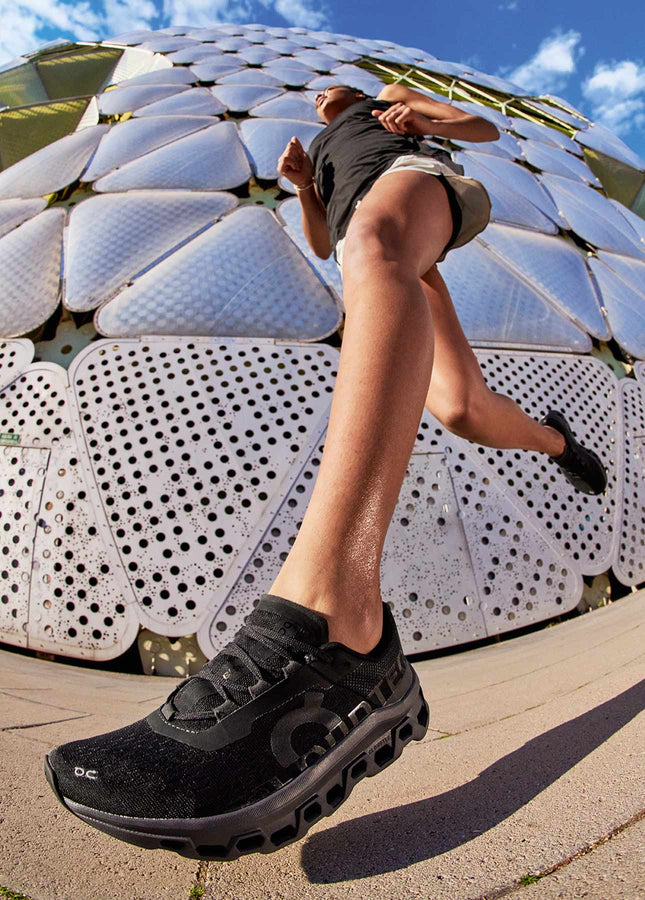 Cloudmonster
The On Running Cloudmonster is On's most cushioned shoe - if you're a fan of Hokas, these are the ones for you. It's another step up from On's previous maximum cushion shoe, the Cloudstratus, featuring On's largest CloudTec® elements and is 30g lighter too, at 275g (men's UK size 8).
The Cloudmonster is built for pounding out miles on the road. They're incredibly responsive, with great energy return and a strong rocker, which helps provide a smooth transition from landing to take off. The combination of these fine details really helps to reduce leg fatigue on long runs.
The material of the shoe is also very breathable and durable, made with 35% recycled materials and minimal seams, to help reduce any chance of rubbing. The sole also has enhanced grip, with multidirectional patterns, as well as a shallow gully to stop any chance of gravel or stones getting caught - something some of the older models lacked.
On Running may call this a training shoe, 'perfect for anything from speedy 5ks to marathons', but many runners use this shoe for both training and racing, due to how comfortable it is.
Runners who normally pick this shoe:
Runners who want maximum cushioning on their road runs
Long-distance runners preparing for longer events such as half-marathon or marathon
Runners looking for a multi-use shoe they can wear from park runs to races
For a more detailed look at this style, read our On Cloudmonster Review
Cloudrunner
Launched in early 2022, the On Cloudrunner is one of On's most supportive shoes. It is quite heavy (300g mens size 8), so wouldn't be your race shoe but it's perfect for new runners or those who prefer more stability and cushioning - or as On says, 'to make every run feel effortless'. This is the type of shoe you just slip on and go. Forget gravity, and anything else that's weighing you down. Just run.
The shoe still features On's famous CloudTec® elements for explosive takeoffs and soft landings, ultra light zero-gravity foam midsole for a smooth ride, as well as a Speedboard, although it's a little wider in the Cloudrunner than other models for extra stability.
Made from plush and premium materials, with breathable mesh and padding throughout the entire shoe - including the heel and tongue - this shoe is very giving when it comes to comfort, which many runners appreciate when their feet and legs start to fatigue.
From a sustainability perspective, this shoe is also made from 30% recycled materials, and 90% of the polyester used is recycled.
If you're wondering how this shoe differs to the Cloudflyer, which On also calls a supportive and cushioned shoe, the Cloudrunner is a little more responsive yet ever so slightly less cushioned but just as supportive. Ultimately, it's down to the runner on which feels the best but from reviews, the Cloudrunner seems to handle longer runs better.
Runners who normally pick this shoe:
Regular road runners who want a supportive and cushioned shoe for their easy or longer runs
New runners who want a supportive all-round shoe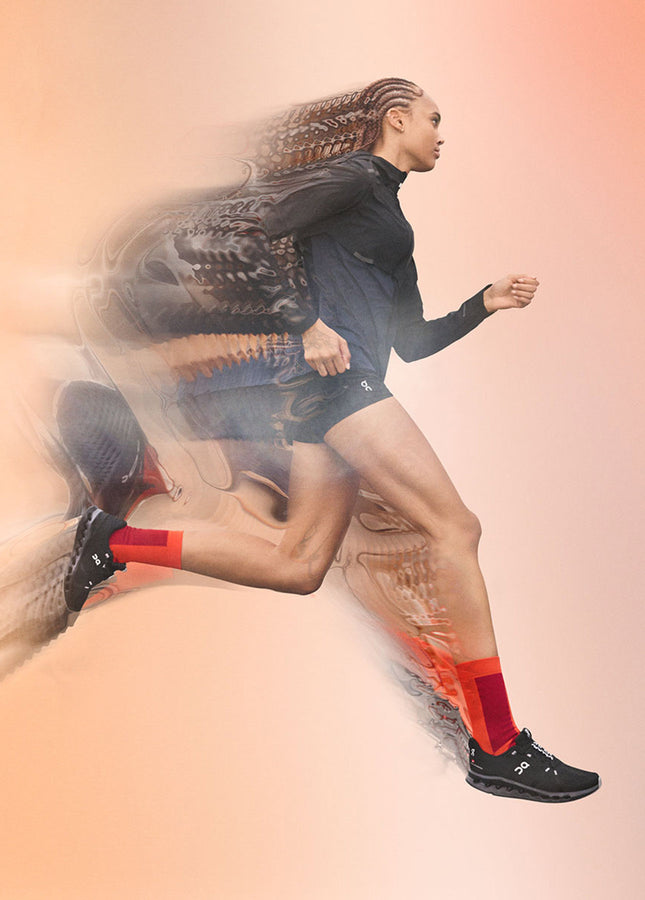 Cloudsurfer
The On Cloudsurfer is On's latest launch (March 2023), which it calls its 'softest and smoothest ride to date'. This is due to the innovative, never seen before CloudTec® Phase cushioning technology, designed to compress in phases for full cushioning in every stage of your stride - whereas before, the CloudTec® was all about explosive takeoffs and soft landings.
The new revolution CloudTec® Phase is made from Helion™ superfoam, based on a completely new, computer-optimised FEA cloud shape engineering approach, for extremely smooth heel to toe transition (like a domino effect) and super soft cushioning. This new design also means the shoe doesn't need a speedboard, which not only makes it lighter - 245g men's size 8 - but also means no stones will get stuck in the groves.
The upper of the Cloudsurfer has engineered mesh for high breathability, as well as plush lining and foam support around the heel. From a sustainability perspective, the upper is made from 30% recycled materials and 100% recycled polyester, and even uses fully recycled yarn for all of the support enhancing embroideries on the shoe - no more sewn TPU.
Runners who normally pick this shoe:
Regular road runners who want a cushioned shoe for easy or longer runs
Runners who prefer a more cushioned shoe
Runners who prefer to use running shoes without a speedboard
Runners who want a lighter style training shoe
Our Verdict
In its relatively short existence On has already proved itself to be arguably the most innovative new running shoe brand on the market with their selection of On Running trainers. From the groundbreaking On Cloud shoes to the Cloudflyer, all the Cloud variants are completely distinctive from conventional distance trainers.
They are the lightest shoes I've ever run in, and they make you feel fast. I think they're a great option for runners who want a quick, responsive, lightweight shoe that is fairly minimal, but has adequate impact protection. The only drawback tends to be for those runners who want really plush, 'Boost' like cushioning.
Some reviewers talk of a spectrum of cushioning from 1) barefoot, to 5) ultra cushioned, and put CloudTec at about a 3 on that spectrum, and I'd agree with that after my testing. But ultimately this is just personal preference; there is sufficient cushioning for marathon distances, but some runners may just want a plusher ride.
For those of you who want a shoe to push the pace in and strive for that PB, then On shoes are hard to beat. They're know as the best running trainers for a reason.