The hunt for the perfect pair of leggings may feel endless. You want the ultimate support for your workout while ensuring that you're comfortable, and of course, you also need complete opacity.
Fortunately, with its Nike One Tight range, in particular, going from strength to strength, Nike leggings could be the answer. Here's what you need to know about Nike's range of leggings.
ARE NIKE LEGGINGS GOOD?
The reviews are in and the answer is yes. Nike boasts a wide variety of leggings, each of which is ideal for a different sport or activity, and with a range of different lengths.
From Nike One Tights to Nike Pro Leggings, these products are primed for a variety of the most gruelling and challenging workouts.
Recognising how much the bar has been raised by brands such as Lululemon in recent years, with its Wunder Under and other legging franchises, Nike has had to really up its leggings game.
Developing a new fabric technology such as Infinalon in its yoga leggings, and improving the hand feel in its Nike One Tights, Nike has truly given other brands a run for their money.
Nike legging fabrics have always performed well in terms of breathability, sweat-wicking and technical attributes, but where they've really improved the range in our opinion is through a more luxurious hand feel.
As well as increased opacity and coverage that is so essential in yoga.
ARE NIKE LEGGINGS SUSTAINABLE?
Brands such as Girlfriend Collective rightly get lots of kudos for their approach to sustainability, but among the major sports brands, Nike is making big moves through its 'Move to zero' journey towards zero carbon and zero waste.
Sustainable materials are a major focus within the yoga collection in particular, and the best selling One Tight range of leggings is made from 100% recycled body material.
Nike products made with recycled polyester are made from recycled plastic bottles woven into a fabric with a lovely soft touch and high performance, but a lower impact on the environment.
All Nike products made with sustainable materials are clearly identified as such on The Sports Edit product pages. Since 2010 Nike has diverted more than 7 billion bottles from landfills.
Where Are Nike Leggings Made?
Nike was the first company in their industry to disclose where manufacturing and production is taking place to ensure full transparency. Main regions for manufacturing are North America, South America and Asia. See the full list of countries here.
ARE NIKE LEGGINGS WORTH IT?
Before you part with your money, you need to know that Nike leggings are worth it. Surprisingly, in an age when a lot of leggings are pushing £80, the Nike legging price points are very affordable.
The One Tight is £37, the One Luxe £64, and Nike Pro Leggings around £44. Excellent news for your bank balance. And you are getting a lot for the price, with sustainable materials, soft fabrics and functional excellence.
HOW DO NIKE LEGGINGS FIT?
Before you get your next pair of leggings, you need to be sure that the size will be just right for your shape. Are Nike leggings true to size? The short answer is yes. Nike sizing runs true, which means that you should have no issue finding the ones for you based on your normal size.
The Nike leggings women's range comes in standard UK sizes, i.e. XS (UK 4-6), S (UK 8-10), M (UK 12-14), L (UK 16-18), and XL (UK 20-22). All you have to do is choose the size you generally wear and you can be sure it will fit. Super.
WHICH NIKE LEGGINGS ARE THE BEST?
Which Nike tights will suit you depends on the type of activity you plan to do. From Nike mesh leggings to classic running tights, here's what you need to know about the best pair for your workout.
Nike One Tight
The One Tight is the best selling legging franchise, with a range of lengths; Shorts, Crops, Capri, 7/8 and full length. They are a solid all-round option, equally at home on an early morning run, gym session or yoga class.
Featuring non-see-through and sweat-wicking fabric, the Nike One Tights are always winners. The specially designed material helps you stay dry throughout your training, which means that you can easily conquer the biggest of challenges.
With a flattering fit and a super-light material, you're free to move and run without any disruption.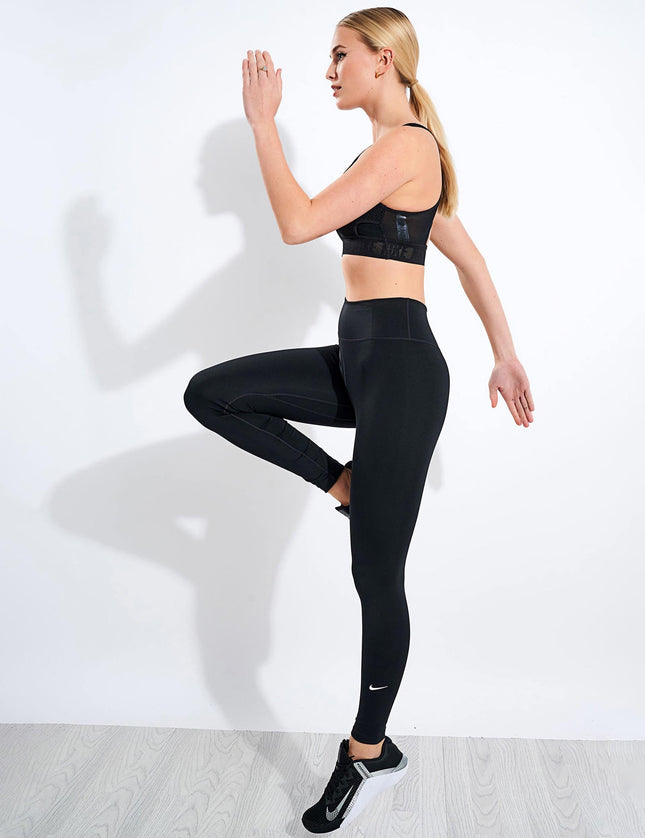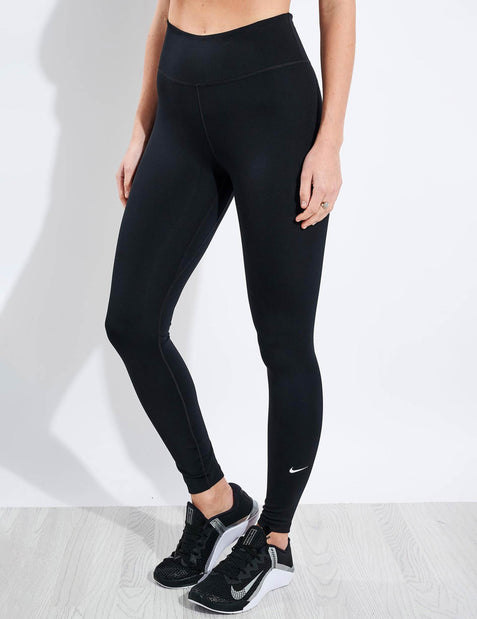 Nike One Leggings:
Nike One Luxe
The One Luxe features the same cut as the One Tight, with seamless sides for a clean, minimal look and a flattering mid-rise waistband. The fabric is just that bit more luxurious, with a softer handfeel, and even more highly opaque material, and sweat-wicking power.
These are versatile across workouts but are also designed for all-day wear, with a matt finish and soft touch.
So, are Nike leggings squat proof? We're happy to tell you that the Nike One luxe are fully squat proof so don't wait too long to get your hands on a pair of Nike gym leggings.
NIKE GYM LEGGINGS
Are you an all-out gym bunny? When you're running on the treadmill or lifting weights, you need to ensure that your gear is doing the hard work. In simple terms, you need a versatile pair of tights that move slickly with your body.
With that in mind, we have the ideal Nike leggings for you.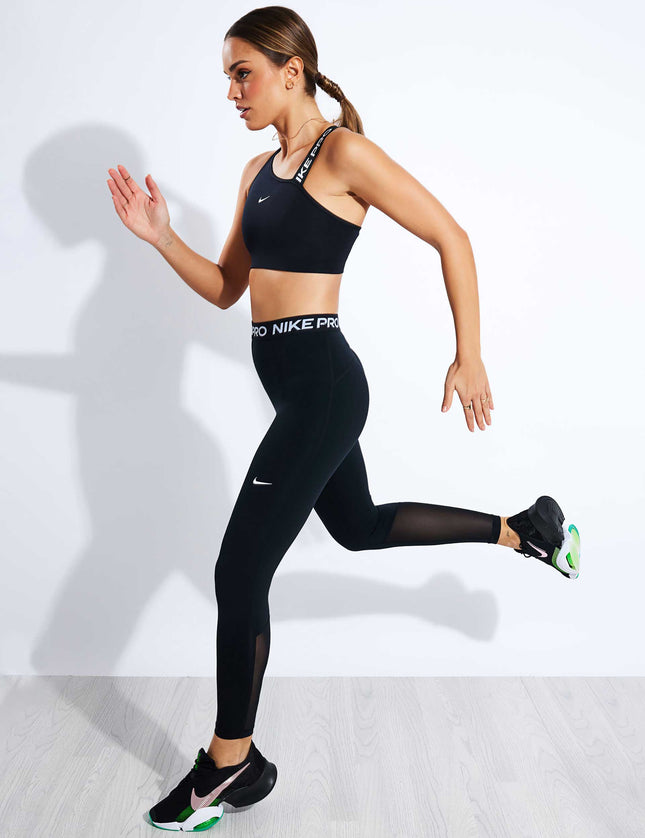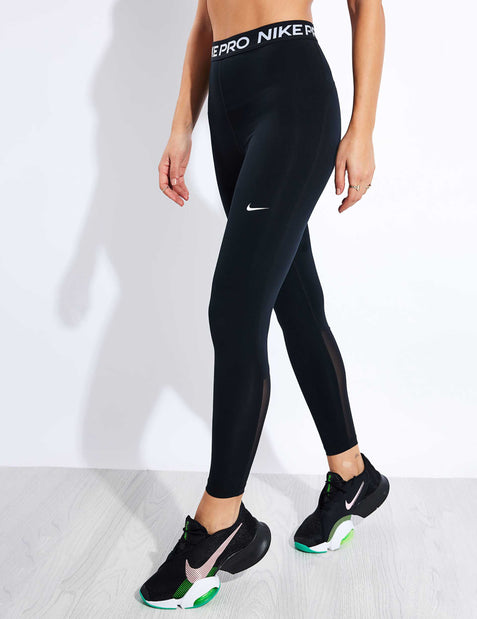 Nike Pro Leggings: Nike, Pro 365 7/8 Leggings - Black/White
Nike Pro Leggings
Time for the Nike Pro leggings review, so let's take a look at some of the best Nike gym leggings. With mesh panels, sweat-wicking fabric and a stretchy fit, the Nike Pro Leggings have everything you need.
The tights offer a supportive feel from hip to hem, which means that you can keep going for longer. What's more, the breathability of the material makes these perfect for any high-intensity workouts.
If you're looking for squat proof Nike leggings, the Nike Pro leggings is the way to go.
NIKE YOGA LEGGINGS
Moving from asana to asana takes poise and grace. However, there's another ingredient that you don't want to forget here. When you're practising yoga, you need to be 100% sure that the gear you're using is fit for its purpose.
Having the most supportive and comfortable leggings will mean that there are zero distractions. So which should you choose?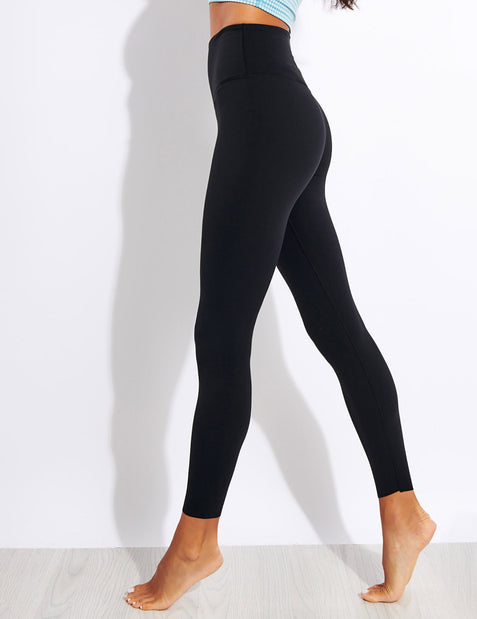 Nike Yoga Luxe Leggings:
Nike Yoga Luxe
The Nike Yoga Luxe are the leggings for the job. With a sculpting waistband and a high-rise design, it's plain to see why many people trust this style. The Nike ⅞ leggings come just above the ankle, giving you the freedom to move around during sessions.
Add that to the super soft and comfortable Infinalon fabric and you've got a recipe for success.
NIKE LEGGINGS FAQ
Are Nike Pro leggings High-Waisted?
Nike Pro leggings are high-waisted. These leggings run high, which means that they will come up above your waist. Their unique design is perfect for most types of sports but particularly effective for runners.
When you're on the go, you can be sure that these leggings will stay in place and be comfortable.
Are Nike Pro Leggings Squat Proof?
Working on your lower body? You need to make sure that your Nike Pro leggings are completely squat proof. The mesh panels and stretchy fabric means that the leggings give you the support you need when squatting down and moving. Simple.
What Material Are Nike Leggings?
Nike leggings differ in material from style to style. For example, the Nike Yoga Luxe leggings come in super-soft Infinalon fabric. On the other hand, the Nike One leggings and the Nike Pro leggings both boast a polyester and elastane blend.
You can find the full product description on the main page when buying any of these leggings.
Are Nike Leggings See Through?
Both Nike leggings and Nike Yoga tights provide you with full coverage, however, the Nike running leggings provide less coverage as the material is made to be more breathable for running long distances.
THE TAKEAWAY!
Ready to find the right Nike leggings for you? Within our guide, we've given you an overview of some of the best Nike leggings available. The next part is up to you! Take the time to look at the variety of options and choose which suits you.
Why not get started now?
Shop our edit of Nike Women's >