The Nike cycling shoe is designed with 'stability and 'breathability' in mind. The new line of SuperRep Cycle is hot on the shelves and selling out fast.
This is the brand's first shot at creating an indoor cycling shoe, which as far as we're concerned ticks all of the boxes and more. The Nike SuperRep Cycle is already a firm favourite with both instructors and spinning enthusiasts alike.
The Nike SuperRep Cycles work with both an SPD (indoor cleat system) and the LOOK DELTA spin bike system and are compatible with both SPD-SL (Road Bike Cleat systems) and MTB pedal systems.
These cycling shoes are ideal for fast-paced indoor cycling as well as outdoor rides. So, chances are that these sophisticated and lightweight spin bike shoes would be perfect for your ride.
Wondering whether the Nike SuperRep cycling shoes are right for you? Check out our review now…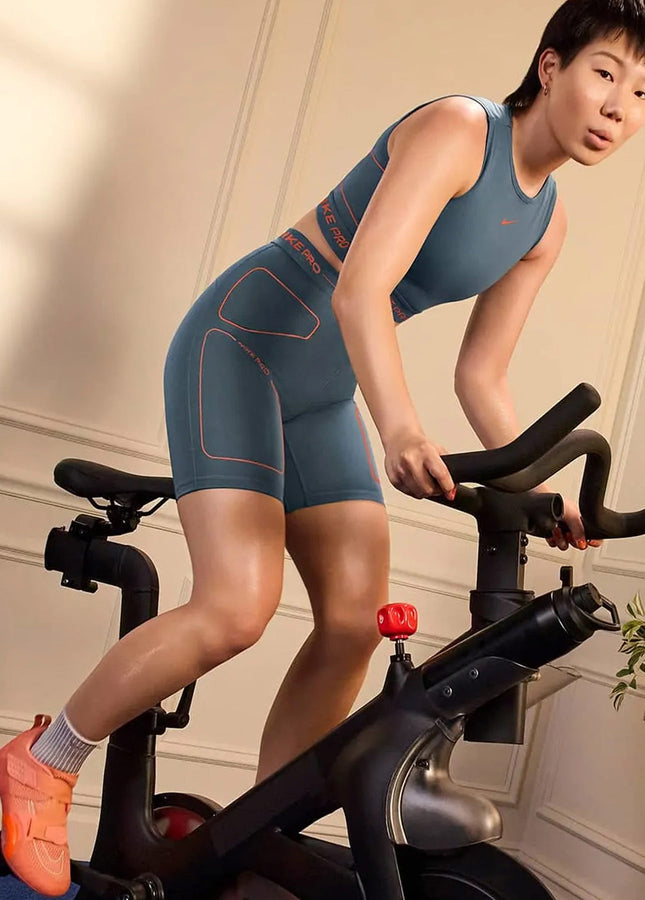 FIRST IMPRESSIONS OF THE NIKE SUPERREP CYCLE
Featuring a contemporary and attractive aesthetic, these Nike cycling shoes would be a great addition to your cycling game. With a simple, yet effective adjustable strap across the top of the shoe and the famous tick on the side, the Nike SuperRep Cycle shoes look the part to hit the spin class in style.
It doesn't end there - the Nike cycling shoes are incredibly lightweight too, with a mesh material that offers you breathability.
As we have already mentioned, the Nike SuperRep Cycle shoes are compatible with most major cleat systems. For those of you who are new to the game, the cleat helps you connect your leg to the pedal to keep you fixed in place in high-intensity workouts which results in a more effective workout.
However, it's worth noting that the cleats are not included with this product. When you purchase your Nike cycling shoes, you will need to get the cleats to fit it as an extra.
THE FIT - SUPERREP CYCLE SIZING
Next up, let's talk about the fit. Keep in mind that the indoor cycling shoes do need to be well-fitted to offer you the security you need when you're riding super-fast at a high-intensity, but The Nike SuperRep shoes tend to run slightly small.
So when you're choosing your ideal spin bike shoes, you may want to order a half-size up from your actual shoe size. Doing so will give you the room you need to be comfortable and supercharge your workout.
The Nike SuperRep Cycle is an insanely comfortable cycling shoe. The width is very accommodating, which is handy when the feet swell during a sweaty ride and there is a lot of padding on the heel of the shoe which reduces impact and friction.
THE MATERIAL - SUPERREP CYCLE FEATURES
Let's face it - when you're in the midst of an up tempo session, the last thing you want is to overheat. Getting the right spin class shoes is the answer.
The designers behind the Nike SuperRep Cycle trainers have thought this through from the start and have really focused on how to keep your feet cool during the most intense workouts.
The spinning shoe design boasts a lightweight mesh along with vents in its sole which allows air-flow to move quickly and easily through it. That means that your feet stay uber cool and ventilated no matter how hard you're working.
THE RIDING EXPERIENCE
All of the above is great, but let's take a moment to talk about what really matters: the riding experience. Whether you're a SoulCycle lover or a Peloton patron, the Nike cycling shoes offer a supreme level of comfort and security.
The adjustable hook-and-loop straps and rubber studs mean that your feet stay in place when you're in the middle of even the most gruelling workouts. There's also a stiff internal plate under each of your feet, which is set to maximise your energy return, essentially giving you more from your workout.
What's more, when you invest in compatible cleats, you get a further enhanced riding experience. This accessory means that you get a solid connection between the Nike cycling shoes and the pedal. Your feet will stay firmly in position. That level of security could make all the difference when you're in the zone.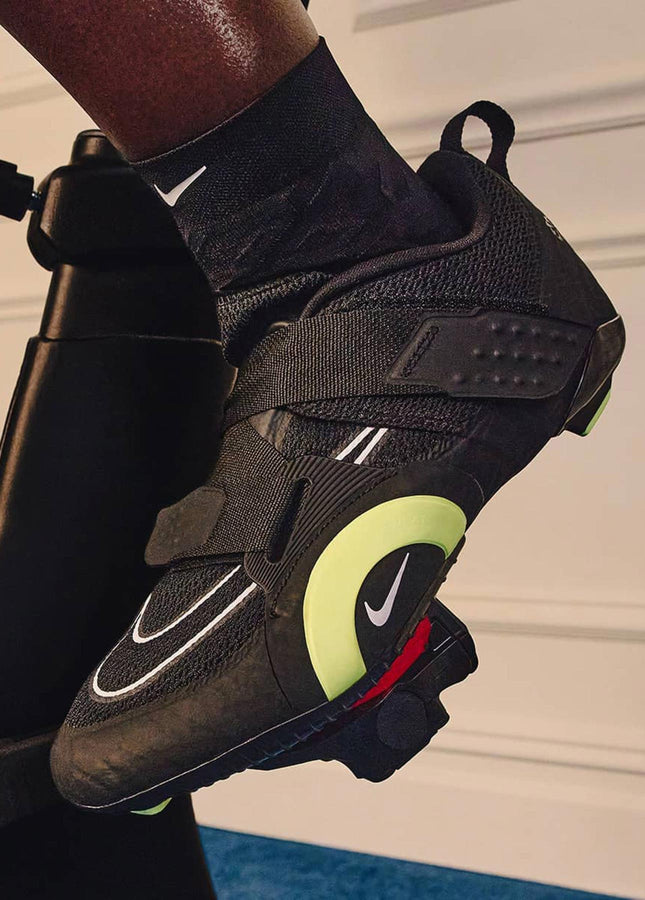 A FIRST HAND REVIEW FROM SOULCYCLE INSTRUCTOR, LAUREN NAOMI
The Nike SuperRep cycling shoes are already getting rave reviews from spinning fans. But what do the experts think about them? The results are in. SoulCycle instructors are truly taken with the new spin class shoes. We spoke to Lauren Naomi, a SoulCycle Instructor based in Nottingham, who recently got a pair.
"I decided to go for the SuperRep shoes as I am a huge sneaker-head, and anything Nike sells for the bike I am all over it!" says Lauren. "The fit of the shoes is slightly tight so I would recommend sizing up a half size, but honestly they fit like a glove and are super breathable which is most definitely needed in the sweaty studios."
It's not merely the look and feel that she loves either. Lauren explains how the cleat system is a game-changer. "They have an interchanging cleat fixture so you can use both SPD style cleats to suit your needs - however the shoes aren't sold with these. Honestly, I can't sing enough praises about these cycling shoes, they're my most worn pair".
WHY USE INDOOR CYCLING SHOES
Now that you know the ins and outs of the Nike SuperRep cycle shoes, let's pause and talk about why you need indoor shoes. For the occasional spin class attendee, donning your everyday trainers may do the trick.
You can rock up to the session, fully ready for the class and get started. However, if you happen to be a seasoned spinner (or want to be soon!), it could be worth investing in a proper indoor cycling shoe.
The reason is that a spin shoe is specifically designed with your class in mind. These trainers are typically tighter fitted than your average sports shoe, meaning that there's no risk of your feet moving around too much.
Cycling shoes also give you a better alignment when you're moving and ensure an even distribution of weight. Note: These seemingly minor details truly matter when you're in a high-powered spinning session.
NIKE SUPERREP CYCLE VERDICT
Whether you use an at-home Peloton, Nordictrack, or Apex bike, or just hit the spinning studio regularly, the Nike SuperRep shoes are ideal for you. These lightweight spinning shoes offer you breathability, support, comfort, and security - all in a fashion-forward package.
As though that weren't enough, the shoes are also compatible with outdoor rides, so you can get out there and explore. If you're in the market for some new cycling shoes this summer, this latest selection from Nike cycling is definitely worth a peek.