New Balance, the Boston-born brand, has been around for over 100 years, but what really made it stand out was when it started innovating with foam in its running shoes. The 990, first introduced in 1982, was made with an EVA foam midsole, encapsulated by a polyurethane shell. New Balance now uses several variations of EVA-based Fresh Foam and FuelCell technology, and it's this which sets its latest running shoes apart, from the Fresh Foam X More V4 to the FuelCell Propel V4.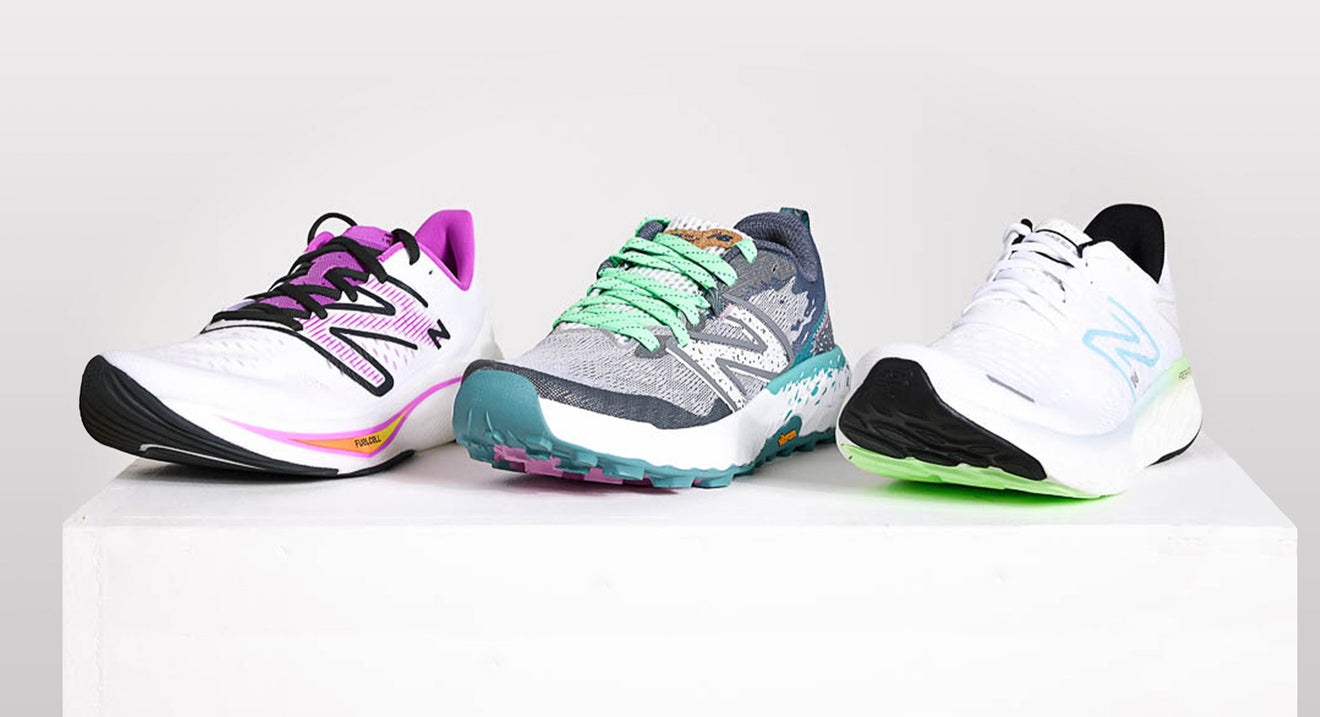 Which New Balance shoe is right for me?
There are two key midsoles to look out for when choosing your New Balance shoe, the Fresh Foam and the FuelCell. The Fresh Foam is all about comfort and good energy return, while the FuelCell is for the speed-chasers. We've taken a closer look at some of the most popular models of New Balance running shoes to help you find the right shoe for you.
What is Fresh Foam?

Fresh Foam is New Balance's cutting-edge material designed to provide maximum cushioning for high-impact foot strikes on roads, tracks, courts, and fields. What's really cool about Fresh Foam is that it's been developed using 3D motion captured pressure mapping and force application data from real athletes. This means that the level of softness has been precisely quantified to provide optimal comfort and support for your feet. Whether you're an athlete or just looking for a comfortable pair of shoes, Fresh Foam is definitely worth considering. It's resilient, soft, light and designed for a comfortable and springy ride.
Which New Balance Fresh Foam shoe is best?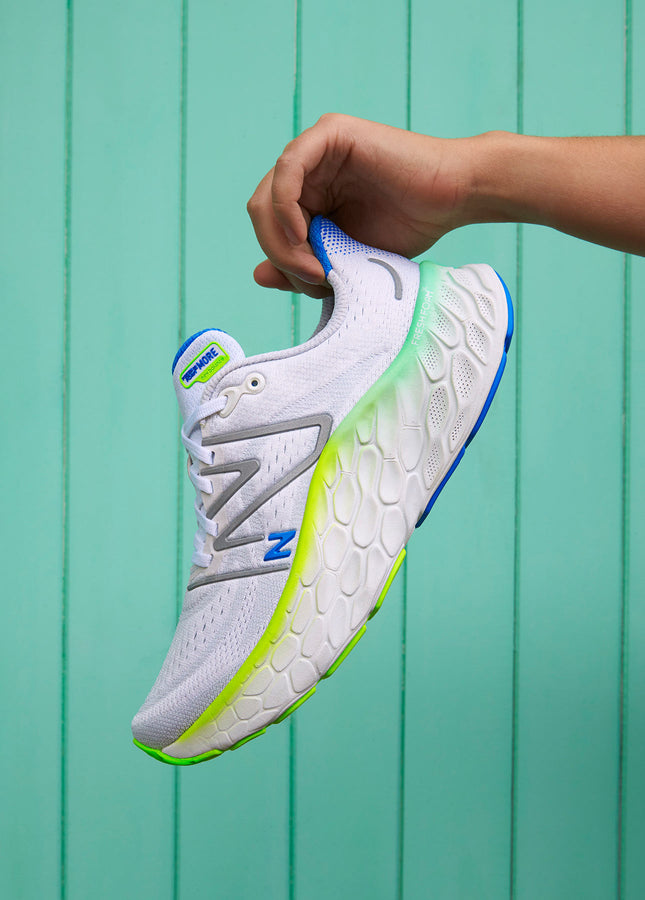 Fresh Foam X More V4
The Fresh Foam X More V4 is New Balance's most most cushioned running shoe. Similar in many ways to the iconic Hoka high stack shoes, if you're a fan of max-cushioning, this may be the one for you. They're soft, responsive, resilient and provide a smooth ride thanks to rocker shape, which helps move you forward.

Despite the height, the Fresh Foam X More V4 has quite a shallow drop, at 4mm, so good for runners who don't like the common 8-10mm drops on some shoes. The weight isn't too bad either, considering the size of the sole, at just 237 grams (8.4 oz) - so it wouldn't be your speed / race shoe, but it's also not going to weigh you down.
The engineered mesh upper is breathable and supportive, while the outsole is made from durable rubber for added traction. The rocker guides the foot and helps to propel you, though it is quite a distinct ride - I am personally a big fan of the rocker.
Runners who normally pick this shoe:
Great for new runners, who are seeking maximum protection

A good option for runners doing longer distances

Ideal as a high mileage workhorse shoe

Runners who suffer with joint pain
Fresh Foam X 1080v12
The New Balance Fresh Foam X 1080v12 is one of the brand's plushest running shoes. It's comfortable, versatile, has great flexibility, energy return, and also looks pretty cool too. Not quite as cushioned as the Fresh Foam X More V4 but it's still very close, the Fresh Foam X 1080v12 is a very versatile shoe, great as a daily trainer, from short speedy runs to easy long runs.

The Fresh Foam is a great shock absorber, so again will suit runners who struggle with niggles or joint pain, and has also got a bit of a rocker, to enable quick and smooth turnovers. This shoe is only a little lighter than the Fresh Foam X More V4, at 234 grams (8.3 oz), so it isn't your marathon race shoe but it might just be your favourite training shoe.

The Hypoknit upper is a new addition for Fresh Foam X 1080v12, providing a streamlined fit that is plush and soft. The heel also has more padding than the v11 and may help people who suffer from Achilles Heel pain. The only drawback about this shoe though, is that it may not be for runners with narrow feet, with a few of our customers finding the the midfoot is a bit spacious.

For a road shoe, the lugs are also pretty big, offering good grip whether on dry pavement or compact trails.
Runners who normally pick this shoe:
Runners who are after a good allrounder shoe

Runners who have slightly wider feet (regular feet are also fine)

Runners who like cushioning but not too much

Runners who suffer Achilles issues

People who are after a shoe they can run in and walk around all day in

Runners looking for a shoe for their first marathon