Words and photography by Charlotte Lindsay
Looking for a satisfying swap for your daily protein shake? Why not experiment and incorporate your favourite protein powder into some classic and simple recipes.
Winter is in full swing and perhaps you are craving something cosier than a protein shake or chilled smoothie. Well, we have you covered, keep scrolling to check out our spiced winter protein specials, featuring 2 delicious, yet nutritious protein powders.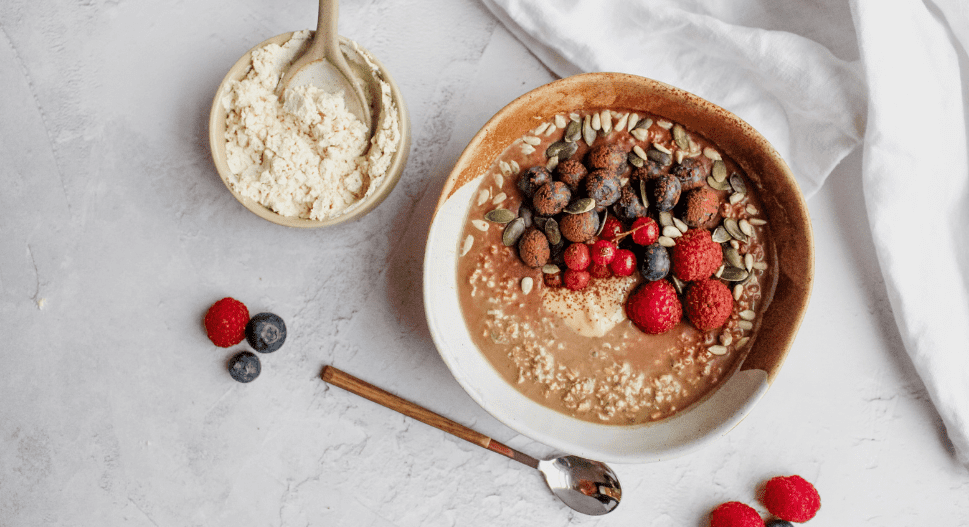 HEALTHY PROTEIN RECIPES FOR WINTER
Who doesn't love winter spices? Not only do the likes of cinnamon, ginger and cloves add a festive and warm flavour to your dish, they also have nutritional benefits. Cinnamon is loaded with antioxidants and also has been shown to have anti-inflammatory effects.
Ginger is a fantastic food as it helps calm nausea, aids digestion, whilst also supporting low blood sugar. Cloves are underrated, they are oozing with flavour and fragrance, whilst also containing key nutrients, antioxidants and can promote bone health. So sprinkle and spoon these winter spices into your recipes alongside your protein powder to create some wonderful winter recipes.
Protein powders are a great and easy way to ensure you meet your daily protein intake, they help to satisfy your hunger and also keep you fuller for longer.
Protein Overnight Oats
Form Nutrition Superblend Protein - Vanilla is a proudly natural product that supports the fundamentals for healthy muscle recovery and growth. Did you know, Whey is a complete protein? Meaning is containing all nine essential amino acids.
Due to the high amount of protein within PW1, it means it is a great dietary addition to ensure you are getting enough protein. Its subtle flavour also means it is the perfect protein to mix into smoothies, oats, cakes, pancakes, energy balls, you name it, you can add it in.
Overnight oats are a fantastic recipe to incorporate your protein powder into. The protein adds a delicate vanilla flavour whilst also upping the nutritional value of your oats.
HOW TO: Winter Spice Overnight Oats
Serves 1
Oat ingredients:
½ cup oats
1 cup coconut milk
1 tsp cocoa powder
1 tsp mixed spice
1 scoop protein
1 tsp chia seeds
1 scoop Form Nutrition protein powder
Toppings:
blueberries
Raspberries
Currents
1 tsp cashew butter
Pumpkin seeds
Sunflower seeds
Method:
Mix all the oat ingredients together in your bowl, place in the fridge and allow to absorb overnight.
The next morning, preheat the oven to 180 degrees.
Decorate your oats with toppings, place in the oven to warm up for 10 minutes, then enjoy.
Protein Packed Muffins
Form Superblend Protein – Vanilla is a vegan protein that boasts 20g of plant based protein alongside a variety of superfoods and greens! Some key ingredients are maca powder, spirulina, and flax seed powder; these examples have huge health benefits. This vitamin and superfood loaded protein makes upping your daily nutrient needs easy – so what are you waiting for?
Protein muffins are the perfect sweet treat, especially when using Form and some mixed spice, you get a deliciously spiced and fluffy sponge that will leave you wanting more.
HOW TO: Winter Spice Protein Muffins
Makes 12
Ingredients:
125g demerara sugar
150g self raising flour
50g almond flour
1 tsp baking powder
1 tsp mixed spice
2 scoops form protein powder
1 egg
125 ml coconut milk
Toppings:
1 cup whipping cream
6 raspberries
Decorations:
Berries
Currents
Method:
Preheat the oven to 180 degrees and line a muffin tray with muffin cases.
Place all ingredients in a large bowl, using an electric whisk, mix until smooth and thoroughly combined.
Pour into your muffin cases and bake for 25-30 minutes.
Allow to cool.
Place whipping cream and berries in a bowl and whisk on high speed until peaks form.
Using a teaspoon, place a portion of raspberry whipped cream on top of each muffin and decorate with berries.
CONCLUSION
With the cold weather blowing, it's so important to make sure you're getting the right nutrients to keep your immune system prepared to fight off winter bugs. And having enough protein in your diet is vital to maintaining energy levels and keeping your mind sharp. Sneaking protein into your baking recipes is a great way to spice things up, especially around the festive season. Which recipe will you try first? It's time pack in the protein, sprinkle the spices and enjoy.