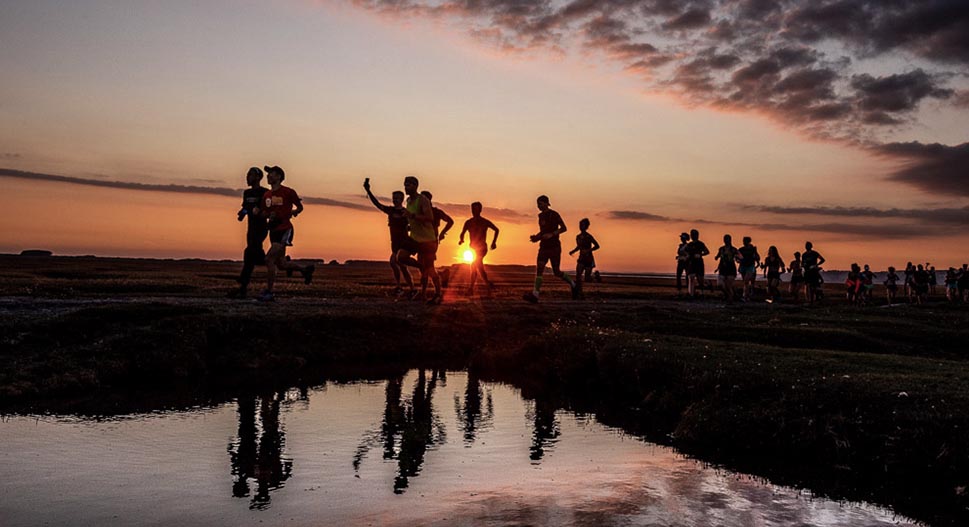 For many, Summer means festival season. Often these events involve a combination of long days and nights, mud-coated wellies, questionable nutrition choices, and camping in tents like sardines in a tin – not necessarily the depiction of good health.
New to the circuit are events that promote elements of wellness in addition to all the fun of a classic summer festival. Blazing the trail for these popular events are running festivals. Offering events for runners of all abilities and an array of workshops from environmental issues to mindfulness, running festivals are changing the game.
Sounds like your type of gig? Well, get your calendar ready, because we've gone ahead and picked our top running festivals across Europe.
Set in the picturesque Lake District, Keswick Mountain Festival boasts a weekend full of music and outdoor activity. The event welcomes adventurers of all ages, and has a unique schedule of water sports, trail-running through the fells, music and entertainment. Festival-goers have the opportunity learn unique new skills through one of the many workshops before settling down with some tasty food and drink at the campsite. With such a full programme, it's a wonder anyone could fit it all in just one weekend.
When
16-18 May 2019
Where
Keswick, England, United Kingdom
Chasing the runner's high? Love Trails Festival is the place for you. Experience the thrill of trail-running, adventure and wellbeing all fuelled by tunes from up and coming musicians as well as iconic DJ's. Hosted across 3 jam-packed days the festival is far more than just running: Love Trails is all about earning the party.
With activities like Run to Coasteering, Run to Rock Climbing and Run to Surf on the programme, there's plenty of opportunity to try something new. After completing guided trail routes from 3km to 55km, festival-goers can relax in a wood-fired hot tub. Don't be put off if running isn't not your thing, there is a range of personal development and wellbeing workshops to spark your fancy. In the evening, why not shake out those tired muscles at a dance party at the main stage.
When
4-7 July 2019
Where
Gower Peninsula, Wales, United Kingdom
Nestled in the Catalan Pyrenees, Buff Mountain Festival attracts adventurers young and old to the first real mountain festival in Southern Europe. Over the festival weekend, La Vall de Boí transforms into the ultimate natural playground for trail-running, orienteering, rafting, and Nordic walking. If none of these tempt you, why not try a two-seater paragliding flight?
The stunning landscape of the valley is enough to inspire celebration. Those looking to appreciate the regional history, La Vall de Boí preserves a number of churches declared World Heritage Sites by UNESCO. For a truly authentic mountain experience, festival-goers may take part in the traditional Festas De Les Falles, a tradition of purifying the forest by carrying torches down from the mountains to the town below.
When
12-14 July 2019
Where
Vall de Boí, Catalan Pyrenees, Spain
Adrift in the Atlantic Ocean, far from the coasts of Scotland and Iceland lie the Faroe Islands, a remote archipelago of 18 wind-swept islands. This unspoilt landscape of dramatic peaks is home to the Útilív Adventure Festival. Útilív is a new 5-day trail-running, adventure and music festival, the name of which means "Open-Air Life" in Faroese. It's the vision of the same mischievous London-based crew of trail runners, adventurers & party starters, who founded Love Trails Festival, so it's sure to be unforgettable.
Alongside the races, festival-goers have exclusive access to 4-nights of festival parties with live music & international DJs. Off-grid adventure parties include a party on the beach featuring a DJ and hot tubs, and a party at an abandoned lighthouse. Adventure activities on offer as part of the festival include coasteering, cold-water surfing, hiking, guided runs, wild swimming, sailing & rock climbing, taking place in the wildest and most remote areas of the islands.
When
4-8 September 2019
Where
Tórshavn, Faroe Islands
The North Face Mountain Festival
The North Face Mountain Festival challenges festival-goers to leave traditional festivals behind, and join an adventure in the Dolomites. Through its series of expeditions, activities, and music events this festival is an explorer's paradise. Make the most of nature's playground by building your programme from the range of activities on offer, all led by experienced North Face athletes.
For those seeking to develop new skills, festival-goers can hone their technique through workshops such as adventure photography or cooking up food they've caught themselves. Brought to you by The North Face, this weekend is sure to be an unforgettable experience set in the alpine lakes.
When
TBD 2019; 27-29 July 2018
Where
Val San Nicolò - Trentino, Italy
Next Up
Discover the top 6 wellness festivals for healthy hedonists >
Tried and tested: We review the adidas Ultraboost 19 trainers >