When it comes to fitness getaways, there's no better time than Autumn to make the move. It's a time of year when re-establishing routines and mindful movement after a summer of chaotic fun can really play dividends, both physically and mentally.
From Ibiza to Kent, we've handpicked 5 of Autumn's best fitness and wellbeing retreats from the best instructors in the game to really get you feeling inspired and motivated. So whether you're a retreat regular or looking to book your first trip, these getaways will have you clicking 'book now' in no time.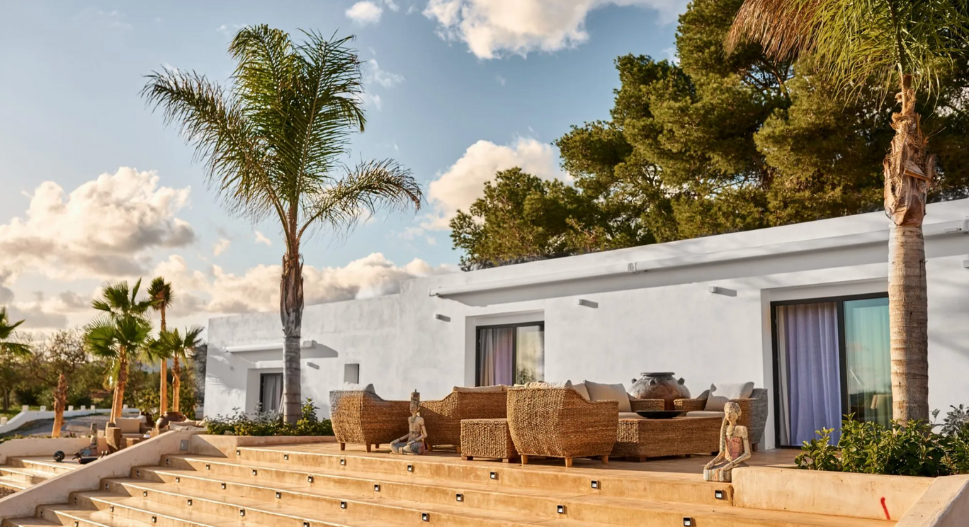 VIDAH RETREATS
Run by two of TSE's longest standing ambassadors, Tara Margulies and Charlotte Holmes, VIDAH Retreats is a fitness and yoga retreat in Ibiza. The week is perfect for anyone with a love of group fitness, exploration, connecting with new people and eating delicious healthy food.
Charlotte is former head of yoga at Virgin Active and will be teaching daily yoga and HIIT sessions, whilst Tara, who specialises gymnastics-style skills and movement will be teaching mobility and callisthenics classes.
Resident chef, David, who has lived in Ibiza for 14 years will be making fresh, healthy meals from locally sourced produce for you to enjoy in the luxury villa.
Summary
WHEN: 8-14 October
WHERE: Ibiza
WHAT: Yoga, HIIT, Mobility, Callisthenics
PRICE: £2,350 pp (based on 2 sharing)
What's Included
7 nights accommodation

3 daily movement classes

1 rest day brunch and hike

3 meals per full day, plus tea and coffee

Transport to and from the airport (provided that you arrive and leave on the start day and end day of the retreat)
What's Not Included
Flights (please book as early as possible for the best rates)

Extra food whilst outside of the villa

Alcohol (we may provide a glass of wine at dinner on occasion but anything else you'd like to bring to drink is not included)
PURA VIDA RETREAT
Looking for the trip of a lifetime? Pura Vida Retreat is your answer.
This adventurous retreat is based at Cala Luna, one of Costa Rica's most prestigious resorts. Prepare to hike incredible scenery, explore new cultures, work up sweat and watch the sun set while overlooking a private beach.
The trip includes a volcanic hike, a waterfall experience, quad biking, paddle boarding, farm-to-table food and daily HIIT, strength, boxing and running workouts from Sammy and TSE ambassador Esmee Gumner.
Summary
WHEN:

5th - 12th November

WHERE: Costa Rica

WHAT: HIIT, strength, running, hiking + adventure

PRICE: £2685-£3525
What's Included
Accommodation

x3 Lunch

x4 Dinners

Welcome Drink

Celebration Drinks

ATV & Snorkel

Hike Ricon Valley

La Senda Cacao & dinner

Paddle Boarding

Daily workouts - HIIT, strength, running, boxing led by Sammy & Esmee.
What's not included
Airport Transfers

Flights

Travel Insurance

Additional Accommodation Nights

Additional Specialty Beverages
SOUL BODY RETREATS
Phoebe Georgiou returns to Naxos in Greece for a beautiful Soul Body Retreat, filled with sun, sea, yoga, meditation and Pilates.
You will be staying in a traditional Cycladic accommodation called Georgilas Cave House. Steps away from the dreamy cave you'll find Amitis Beach, where you'll practice a yoga class dedicated to the water element, while you hear the waves breaking on the sandy shore.
Phoebe promises to take you on a transformational experience, to build confidence, strength and power. To heal and to reconnect with yourselves and the Soul Body community.
Summary
WHEN: 29 Sept - 4 Oct

WHERE: Naxos, Greece

WHAT: Yoga, mediation, Pilates

PRICE: £1,600 pp (or £1,250 pp based on 2 sharing)
What's Included
2 Daily Yoga Classes or mixed with Power Pilates

1 Yoga Workshop

Guided Meditations

Pranayama (breathwork)

Resistance Bands

Pre Yoga Snacks, Brunch + Dinner for your entire stay

Teas/Coffees/Water
6 days + 5 nights stay in a beautiful Cycladic boutique cave house with use of the pool.
What's Not Included
Flights & Transfer

Outside Extra Activities & Food

Alcohol (to fully immerse in the yogic experience we will not be drinking on the retreat)
SWEATY SOUL LIVING
Yoga by morning, sunset hikes by evening - this Sweaty Soul Living retreat in Crete offers the flexibility for adventure. So if an intensive yoga retreat feels too restrictive, then Molly McKeever's getaway is the one for you.
Expect 90 minute morning yoga sessions, beach time, organised hikes, sunset meditations and of course the most tasty and delicious greek food.
The week-long getaway offers a storybook setting to begin your physical and personal journey of empowerment, choice and creating space. Embrace the energy of human connection with one of the best teachers out there.
Summary
WHEN: 2nd-9th Sept

WHERE: Crete, Greece

WHAT: Yoga, Hiking, Meditation

PRICE: 1,099 euro (1,399 for a single room)
What's Included
7 nights accommodation based on two/three sharing

Breakfast and lunch each day

1 x hiking adventure

All yoga and meditation

1 Handstand Workshop

Manifest Your Dream Life workshop

Transfers to and from airport*
*Transfers to and from airport are only included if you are on the recommended flights or are available for pick up at the specified arrival times.
What is not included
Evening meal

Extra activities / hikes

Travel insurance

Flights to Crete
Chakra Cleanse Weekend Retreat
Set in the peaceful Kent countryside, this weekend retreat led by Angie Tiwari of Unearthed will allow you to tap into your inner world and learn about your chakras, authentically and truthfully.
You will learn to relax, connect and be present to the philosophy of yoga. The retreat is open to all levels, so you can choose to join in where you'd like. Angie will guide you through dhyana (meditation), pranayama (breath control), asana (postures) and so much more. Angie strives to decolonise the yoga practice, taking it back to the roots of ancient India to teach you the real yoga.
You'll also have time to explore and enjoy the ground's 19 acres, which includes a secret garden, tennis court, hot tub, pond and fields.
Summary
WHEN: 4th-6th November

WHERE: Kent, UK

WHAT: Asana, breath control, meditation, self care

PRICE: £400-700
What's Included
2-3 classes daily

2 workshops

2 nights accommodation

Light breakfast, brunch and dinner on all full days (vegan) and drinks

A chance to explore our chakras so you can understand yourself and others better

Ayurvedic self care rituals

A deeper understanding of the roots of Yoga so you appreciate rather than appropriate

Chanting, Pranayama & Meditation Circles

Dynamic & strengthening asana flows, grounding & restorative asana flows & Yoga Nidra

Yoga mats, blocks, cushions, blankets, straps, bolsters, eye pillows, sheepskin rugs are all provided

Stunning venue with hot tub, tennis courts, 19 acres & goody bags
THE TAKEAWAY
What are you waiting for? Our top 5 retreats are guaranteed to nourish your mind, body and soul. Book your spot and make 2022 one to remember. And when it comes to writing your packing list, don't forget to check out our yoga clothing and cardio kit for a truly stylish getaway!