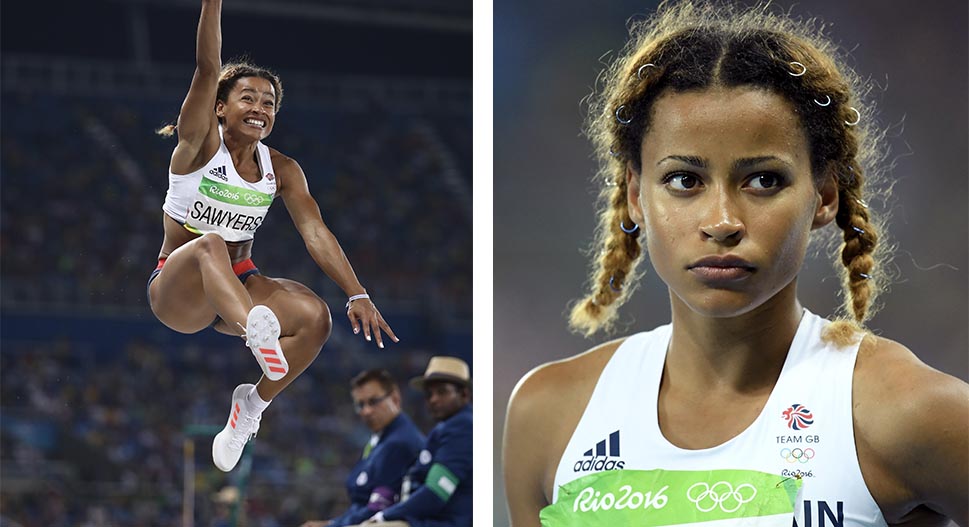 Jazmin Sawyers is an Olympic long jumper and adidas athlete, who will be leaping towards the podium for Team GB during the Tokyo Olympics. Not only has she inspired us countless times on the track; this law graduate has also scored medals in the Bobsleigh and even appeared on The Voice. We were lucky enough to catch up with her to discuss training tips, avoiding injury in athletics and what kit she can't live without.

FROM HEPTATHLON TO RELAY TO LONG JUMP, YOU'VE EXCELLED AT SO MANY TRACK AND FIELD EVENTS. WHAT IS IT THAT YOU LOVE ABOUT ATHLETICS MOST?
There's so much, but the variety is what I love. You have an event for so many different kinds of talent. The mix of things you get to see at one athletics competition is incredible. It mixes precise skill and raw athletic ability... and there's always some sort of drama!
YOU'VE WON MEDALS IN BOBSLEIGH TOO - WOULD YOU GO BACK TO THAT SPORT?
Yes, and I absolutely intend to after I'm finished long jumping. I miss the rush!
SO WHAT DOES A TYPICAL DAY LOOK LIKE FOR YOU?
I get up between 6:30am and 7am and stretch. Sometimes I do a full yoga routine (as well as athletics, I really love yoga), but if I'm not feeling up to it I'll just have a little stretch off, whatever my body needs. Then I'll shower and have breakfast, whether that's cooking something up there and then or having last night's leftovers, I'm not fussy with breakfast foods!
I'll head to training where we'll do our first session 9-11am, then break for lunch, which I try to always pack and bring with me, then we have our second session starting at 11am until around 1pm. After that I'll come home, eat again, shower, nap, and then generally just relax for the rest of the day, do anything pressing that needs doing, answer emails, work on any projects, until it's time to cook and eat again. And then bed! It's pretty chilled most of the time, I'm very lucky.
HOW DO YOU STAY MOTIVATED TO TRAIN WHEN THE GOING GETS TOUGH?
It's really a matter of keeping your goals in the forefront of your mind. I like to remember both good and bad times to keep myself motivated - I think about how I want those podium moments again, and I think about how I never want to feel how it feels to lose.
WHAT ARE YOUR TOP TIPS FOR AVOIDING INJURY
Keep on top of your stretching and mobility - if your body is moving properly it's way less likely to get hurt. Also watch your sleep and diet. Rest and food is how your body recovers, if you push it again before it is recovered, you're putting it at risk.
YOU COME ACROSS AS SO POSITIVE AT COMPETITIONS. HOW DO YOU HOLD YOUR NERVE AT A BIG EVENT, LIKE THE OLYMPICS?
I do get nervous, but only really before I get out in front of the crowd! My nerves come in the call room, where all the athletes are held before we walk out to compete. Those are the times I remind myself that it's just long jump. I'm going to run and jump into the sand the same way I have thousands of times before. It's no different.

YOU'RE AN AMAZING SINGER/SONGWRITER TOO... WHAT'S YOUR WORKOUT SOUNDTRACK?
Thank you! I don't have a specific training soundtrack but I do have a competition playlist! It includes the likes of Jump by Kriss Kross, Champion by Clement Marfo and the Frontline, and Go The Distance...from Disney's Hercules!
WHAT KIT COULD YOU NOT LIVE WITHOUT THIS SEASON?
There are a few adidas women's pieces I can't live without! Definitely my trusty Ultra Boost trainers, as they're the shoe I wear for warming up and drills. They're cushioned enough that I can wear them everyday on any surface, and they look good enough to walk around in wherever I might be going after training!
Also my Winner's Tank. I have a bunch of vests, but this is my favourite as it gives me that extra space to breathe during those really intense gym workouts. I have it in a bunch of colours and I'm always waiting for them to get back out of the wash!
And last but not least, my adidas leggings. I simply could not manage without a pair of leggings that don't ride up when I run, and don't fall down when I squat!
FINALLY, WHAT IS YOUR ULTIMATE SPORTING AMBITION?
To win a gold medal at every major championship - or else what is all this training for?!
Follow Jazmin's journey on instagram @jazminsawyers