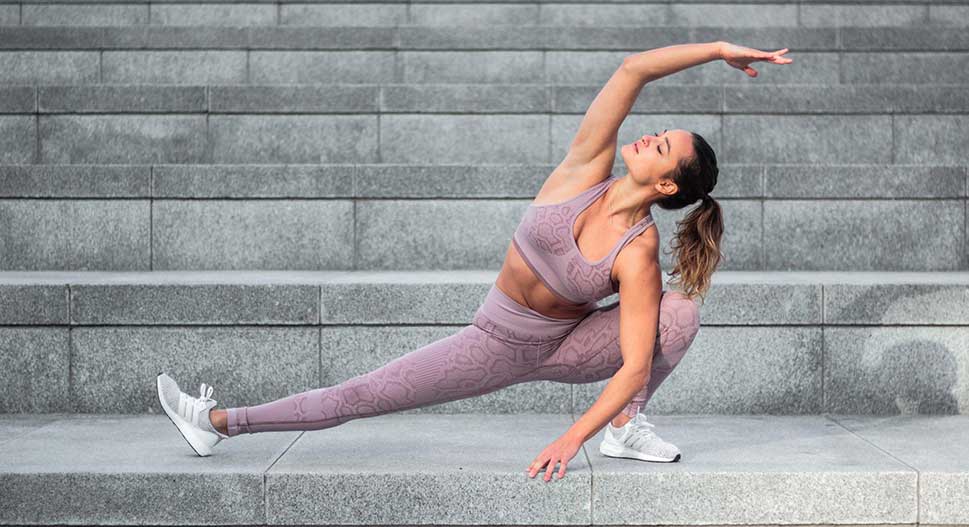 Tara is a fitness instructor and digital marketing pro. She's passionate about movement, particularly calisthenics, pole dance and yoga. Music is her other love, whether heading to festivals or mixing vinyl at home.
Tara embodies strength and beauty, and always shows up with the biggest a smile. That's why we love her! Read on to find out more from our ambassador Tara Margulies.
How did @movewithtara come to be?
It started out simply as my training diary, I'd post videos of my workouts and progress and people seemed to like getting workout ideas from me. Now about 5 years on although my training style has changed completely, I've tried to maintain the same theme of posting progress and information that I hope people can learn and take inspiration from (as that's what I like to see from people that I follow).
What gets you out of bed in the morning?
Work, training, holidays, friends. I'm fortunate enough to be doing what I love on a daily basis and surrounded by people who love and support me, I couldn't ask for more.
What does a healthy lifestyle mean to you?
Looking after ourselves both physically and mentally. On the physical side, making informed decisions about what we eat and making sure that our diet choices are sustainable. In other words, forget fads, crash diets and 'short cuts' like skinny teas and diet pills. Exercise should be something we do because we enjoy it and shouldn't feel like a chore. There are so many different ways to move, I genuinely believe that there is something out there for every one of us, we just have to get out and make the effort to try.
On the mental side, surrounding ourselves with positive people who share the same values as us and will support us whenever necessary. Also ensuring that we take enough time out to care for ourselves, de stress and do our best to let go of any societal pressures that we're subject to.
What are your fitness goals at the moment?
To continue to enjoy my training, support and help people with their training and learn as much as I can from others.
What are your tips for striking a healthy balance between online and offline life?
Awareness is the first and most important step. Be aware that we're all very much consumed in our online life and that even though it might not be immediately obvious, it affects us both mentally and physically. I try to delete my Instagram app for a few days at the start of a holiday, I find that when I download it again I spend much less time scrolling. It enables me to really take in my surroundings and be present.
Who is the person that inspires you most?
I've got three - first to mention are my mum and dad. I know it's cliché but even if they weren't my parents I would still be so inspired by them. My mum has inspired me to think differently and always keep learning. My dad taught me that balance is achievable and that life is about doing things that you love. The third person to mention is my best friend and business partner Sarah, who has taught me that hard work opens doors and to ask for help.
What's the best advice you've ever been given?
Know your worth, don't settle for anything less.
Quickfire:
Favourite music to workout to
Techno
Post workout snack
Food
Favourite holiday destination
Ibiza
Workout alone or with a partner?
Partner
Best festival you've been to
Luminosity Beach Festival, Sonar, Tomorrowland... making me choose just one is very mean!
What's in your gym bag?
Liquid chalk
Favourite yoga position
Front splits
Favourite brand at TSE
Tara shot by Sarah B, in and around The Sports Edit store in Kings Cross. Tara wears activewear from The Sports Edit.

Up next...
Tara's guide to learning handstands >