Whether you're a full-fledged yogi or simply starting your journey, your needs are the same. Getting the right shorts will not only make you feel more comfortable but could also allow you to enhance your skill too.
So, how can you find the best yoga shorts for men? Luckily, you've come to the right place. Let's take a look at everything you need to know.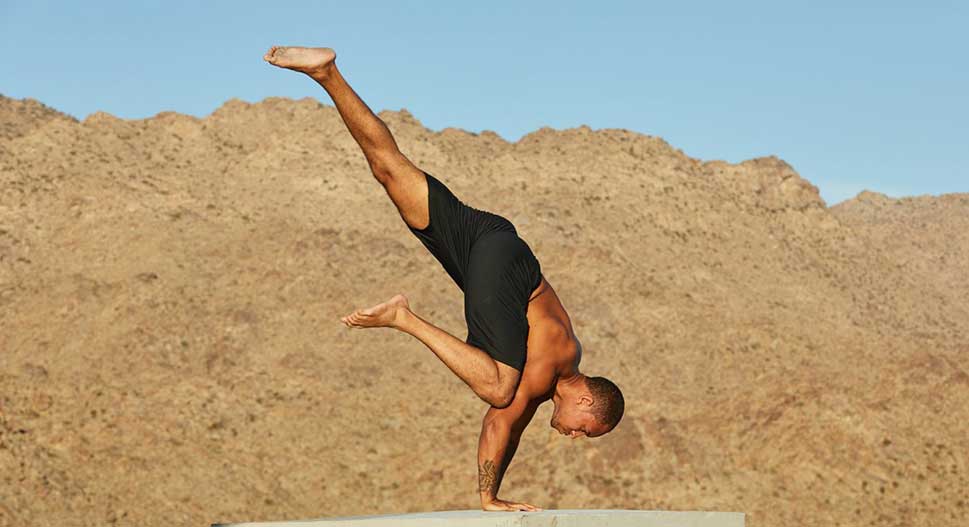 How to Choose Yoga Gear
Before we take a peek at some of the best yoga shorts for men, let's take a quick moment to talk about what we're looking for here. If you're new to the world of yoga, you may need an overview of the basics. The gear that you choose should have the following qualities.
In the midst of a session, you may or may not break a sweat. If you choose a niche regime – such as hot pod yoga – you could find that you perspire more than you imagine. For that reason, you should choose fabrics that are as light and breathable as possible. Gear that includes mesh panels and extra space could be the answer.
If you're not comfortable during your yoga session, it could ruin the whole vibe of the class. Ensuring that you get clothing which doesn't irritate your skin or restrict you is an absolute must. You will find that the best yoga shorts for men tend to be the ones that are ultra comfortable and made from soft, yet durable material.
Moving seamlessly from yoga pose to yoga pose is an essential part of the practice. When you first start out, you may find that this is the hardest element of yoga. With that in mind, having clothes that allow for the highest level of flexibility is certainly the way to go. Ensure that the gear you choose has enough elasticity to allow you to move.
5 of the Best Yoga Shorts for Men
Now that we've talked about how to choose the right gear, let's take a look at the best yoga shorts for men. It's important to shop around and find products that feel right for you. The more time you take to do your research, the more likely you are to find the perfect clothing for your needs. Here are five of the best yoga shorts for men right now.
If you're looking for super lightweight shorts that tick all the right boxes, look no further. The Eco Warrior II Lined Shorts from Ohmme come complete with an eco polyester exterior and integrated antibacterial compression underwear for extra compression. Plus, they dry super fast and are wrinkle-resistant. With a slick, minimal design and plenty of room for movement, you can't go wrong with this pair of shorts.
There's nothing worse than feeling uncomfortable and having to adjust your shorts during a yoga session. With the 2 Dogs Yoga Shorts from Ohmme that will never again be a problem. The product comes with antibacterial compression undershorts, which are made from recycled nylon. The stretch grey jersey material of the main shorts offers a silk-like feel along with loads of flexibility. What more could you want?
The Yoga Unity 2-in-1 Shorts from Alo Yoga are a true marvel. The sewn-in compression shorts along with a lightweight outer layer means that you have the ultimate level of comfort. If you happen to be worried about sweating during class, these shorts are a great option. They have a moisture-wicking antimicrobial treatment, which keeps sweat away from the skin.
Boasting four-way stretch material, the Drop Crotch Shorts from Alo could be an ideal addition to your current yoga gear. There's a drawstring waist here along with zipped-up pockets which means that you can keep things super safe. As though that weren't enough, the fabric also has cool antimicrobial properties which will help you keep clean and fresh.
Looking to make a stylish statement in your next yoga class? The Yoga Plow Board Shorts might be just the thing. With a trendy long-line cut, four-way stretch and a drawstring waist, it's hard to go wrong with this particular pair of yoga shorts for men. This particular pair also comes with a soft mesh lining for added comfort and breathability too.
Conclusion
Choosing the best yoga shorts for men doesn't have to be a trial. With any luck, this guide will have given you a basic overview of how to get it right. So long as you look for the three main features – breathability, comfort and flexibility – you should have no problem finding the right pair for you. Start shopping today and see what you stumble upon.