Whether you're hitting the gym, heading to a yoga session or simply running errands, the perfect yoga bra is a lifesaver. Comfortable, sleek and always in style, it's hard to imagine a more versatile piece of clothing. But wait a minute, how can you choose the right one?
Fortunately enough, you've come to the right place. In this guide, we will take a look at what you need to know before buying a yoga bra and some of the best options for you.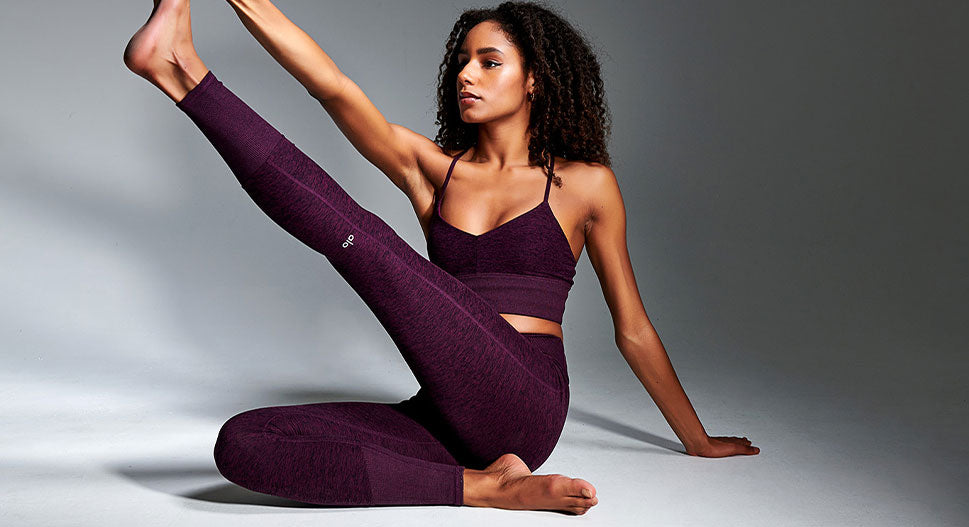 WHAT IS A YOGA BRA?
Any fully-fledged yogi knows that support is important during a session. For that reason, yoga bras tend to be low-impact bras or medium-impact bras, which are not ultra compressive.
Finding the perfect sports bra for your yoga class doesn't have to be hard. The good news is that there are plenty of excellent options out there. Which one you choose will mostly depend on the style you want and the support that you need.
Yoga bra vs sports bra
When you first start learning about different types of sports bras, you will notice one thing. There are three main styles you should know about: high-impact, medium-impact and low-impact. Each of these bras is specifically designed to suit a certain sport or activity.
Let's start with high-impact sports bras. These offer the top level of support and are primed for up-tempo activities, such as running, cycling or HIIT workouts.
Put simply, you don't need a high-impact bra when you are practicing yoga and, you should keep in mind, that this type of bra may actually restrict you during classes. Give it a miss.
Taking one step down, you have the medium-impact bras. These offer a medium level of both compression and support, and are ideal for most popular sports and activities.
In most cases, you don't need a medium-impact sports bra for yoga. However, if you have larger breasts or need extra support, you may want to consider one of these.
Most of the time, yoga bras are low-impact sports bras. These types of bras tend to be fashion-forward while also offering a decent level of support.
There are many leading brands from which you can choose including Alo Yoga, Girlfriend Collective and Nike. You should look for a bra that boasts slight compression and puts comfort first.
Yoga with or without a bra?
Should you do yoga with or without a bra? Whenever you're engaging in an activity or sport, it's important that you give yourself the support that they need. Failing to wear a sports bra can lead to pain, which may put women off certain sports.
Case in point, a study from the University of Portsmouth found that nearly half of British school girls avoid sports because of pain or embarrassment caused by their breasts.
With that in mind, it's difficult to overstate the importance of wearing a well-fitted, supported sports bra regardless of the activity you're doing.
One of the biggest misconceptions when it comes to yoga is that you can afford to go bra-free. While the activity is low-impact, you still need support and comfort when you're practicing your asanas.
While it's true that you don't need a heavy-duty sports bra, ensuring that you have a light one that gives you the compression you need is essential.
HOW TO CHOOSE THE RIGHT YOGA BRA?
Ready to get shopping? Finding the right yoga bra for you is the key to staying comfortable and supported. As we will see in this guide, there are a handful of styles you may consider from racerbacks to high necks. Which you choose will largely depend on your bust size as the decision comes down to the level of support you need during low-impact sports.
While we're on the topic of bra sizes, be sure to get measured ahead of investing in a new yoga bra. 80% of women wear the wrong bra size, according to research published in Chiropractic and Osteopathy. Needless to say, if you are wearing the wrong size, you won't be comfortable during your workout. It's always smart to check ahead of time!
WHAT IS THE BEST YOGA BRA?
Now that you're well-versed in what a yoga bra is, let's take a look at some options. There's a rainbow-array of styles out there. To give you a little inspiration and help you along the way, let's take a look at some of the best yoga bras you can buy.
Best yoga halter bra
First up, we're going to take a look at halter bras. These make the perfect yoga bras, offering a streamlined silhouette and a light level of support. If you're looking for a low maintenance option that ticks every box, you've found it. Here are three choices.
Alo Yoga Wild Thing Bra
Perfect for both street and studio wear, the Alo Yoga Wild Thing Bra is stylish and comfortable. Featuring a plunging v-neck, soft and smoothing cups, and moisture-wicking technology, there's so much to love about this yoga bra. What's more, the cool, ruched front gives it a unique and effortlessly stylish look.
FP Movement Good Karma Crop
Boasting a flattering ribbed underbust and a slick cross-back design, it's plain to see why so many people adore the Free People Movement's Good Karma Crop. The v-neck design and distressed fabric mean you can wear this one when you're brunching with the ladies or for your next yoga session. The choice is yours!
Beyond Yoga Lift your Spirits Bra
Offering the height of flexibility and light support, the Beyond Yoga Lift your Spirits Bra is a simple and sleek option. The four-way stretch and racerback design means that you will always be comfortable and free to move. Add that to the plunge-neck design and you've got a recipe for success. Beautiful and unassuming.
Best strappy back yoga bra
Next up, if you're searching for a strappy back yoga bra, we've got you covered. Combining a trendy style with functionality, these yoga bras could be just what you've been looking for. Here are some of the best options you can choose from.
Alo Yoga Lavish Bra
With a gorgeous glossy fabric, this light support bra is perfect for every occasion. The beautiful Alo Yoga Lavish Bra features a four-way stretch, strappy back and moisture-wicking technology. Plus, you also get removable cups and a cool mesh chest band, which means that the yoga bra is fully adaptable and easy to use.

Onzie Chic Bra
The Onzie Chic Bra will always be a winner when it comes to strappy yoga bras. The crisscross straps at the back are sure to turn heads while the scoop neckline only adds to the aesthetic. This yoga bra is perfect for slow flow or even more intense sessions.
Nike Swoosh Luxe Bra
Boasting the latest Dri-FIT Technology, the Nike Swoosh Luxe Bra should certainly be on your radar. The super-soft feel of the material combined with the built-in pads mean that this is one of the best yoga bras for low-impact sessions.
You can be sure that you will stay dry all session long as the yoga bra effortlessly sweeps sweat away as you move.
Best racerback yoga bra
Do you love a supportive racerback design? Should you have a larger bust, you will find that this type of yoga bra offers extra support and comfort. It's strong, sturdy and it will definitely get the job done.
What's more, these yoga bras come in a variety of suave designs that you're certain to love. Here are three options you can try.
Alala Essential Seamless Bra - Black
A Health Magazine favourite, the Alala Essential Seamless Bra is the seamless yoga bra of your dreams. Showcasing urban mesh details on the straps and an otherwise minimal design, this one is always a show-stopper. The low support bra also features pockets for optional cups, which means you can customise it to suit your style and needs.

SilverTech Active Workout Bra
Totally vegan and totally classy, the SilverTech Active Workout Bra is a must-have for yogis who need a medium level of support. The racerback design along with slightly thicker straps than average means that you will give the comfort you need during every session. The bra also has individually shaped cups, sweat-wicking and breathable fabric.
Alosoft Serenity Bra
The high-neck Alosoft Serenity Bra is one of the best yoga bras for everyday wear. Secure and flexible, the yoga bra offers a high level of comfort while also looking super simple and understated.
It includes a four-way stretch design, removable cups and moisture-wicking technology. Plus, as the name suggests, it's made from the signature Alosoft fabric too.
Best high-neck yoga bra
Looking for a chic high-neck yoga bra? If you want as much coverage as possible, opting for one of these yoga bras is the answer. Luckily, there are some at once trendy and functional choices out there. Here are three of the best bras you might want to pick.
Electric & Rose Grayson Crop
The hand-dyed Electric & Rose Grayson Crop is the height of fashion meets functionality. Showcasing an undeniably eye-catching design front and centre, along with a minimal style cut, it's ideal for the bohemian yogi.
The soft fabric is just the start. You've also got a high next and cross-back design, meaning the crop is cosy and fitted.
FP Movement Cropped Run Tank
Ideal for runners and yogis alike, Free People Movement's Cropped Run Tank is the low-impact sports bra you've been looking for. The compression fit design is well-suited to women with larger busts, making every workout as comfortable as can be.
The crop has both ribbed construction and flexible fabric, so you can move easily from pose to pose.
Alo Yoga Movement Bra
Combining an on-trend high neckline and a daringly eye-catching lace-up back, the Alo Yoga Movement Bra is a stunning option. This yoga bra offers you a truly sculpted fit, making it one of the most flattering pieces you could own.
Add that to the moisture-wicking antimicrobial technology and four-way stretch, and it's a staple every yogi needs.
Sustainable yoga bras
Sustainability is a hot topic for obvious reasons. If you're looking to be more eco-conscious when shopping, you might want to factor that into the yoga bra you choose. Naturally, some of the leading sports brands offer sustainable sports bras. Here are three options.
Girlfriend Collective Topanga Bra
Flexible, comfortable, and adjustable, the Girlfriend Collective Topanga Bra has everything you're looking for in a yoga bra. The soft fabric offers a second-skin feel while the high neck and cross back design completes the look.
Since this yoga bra is made from up to 11 recycled plastic water bottles, you'll also be helping the environment here.
Girlfriend Collective Paloma Bra
Similarly made from recycled plastic bottles, the Girlfriend Collective Paloma Bra boasts a minimal design and a sleek look. This one offers a compressive fit, an under band and medium support, all of which makes it ideal for women with larger busts.
To make matters even better, the opaque fabric is also stylish, breathable, and functional.
Organic Basics SilverTech Active Sports Bra
Both durable and breathable, the Organic Basics SilverTech Active Sports Bra is another sustainable option. With a low level of support and sweat-wicking technology, this yoga bra is ideal for low-impact sessions and medium-level flows.
Made from recycled material, the piece is one of the best sustainable yoga bras out there right now.
KEY TAKEAWAYS
Whether you're a Bikram babe or an ashtanga lover, finding the perfect bra shouldn't be a hassle. Now that you've read our buying guide, you should have no problem finding the right one for you.
When choosing your yoga bra, be sure to consider what level of support you need, your bust size and the type of fabric you prefer. Start now and get shopping!