Since being founded by supermodel-turned-businesswoman Elle Macpherson back in 2014, WelleCo has gained a cult-like following and their protein and super-green powders are recognised as the best around. We caught up with Elle to learn more about the key ingredients in WelleCo's success story.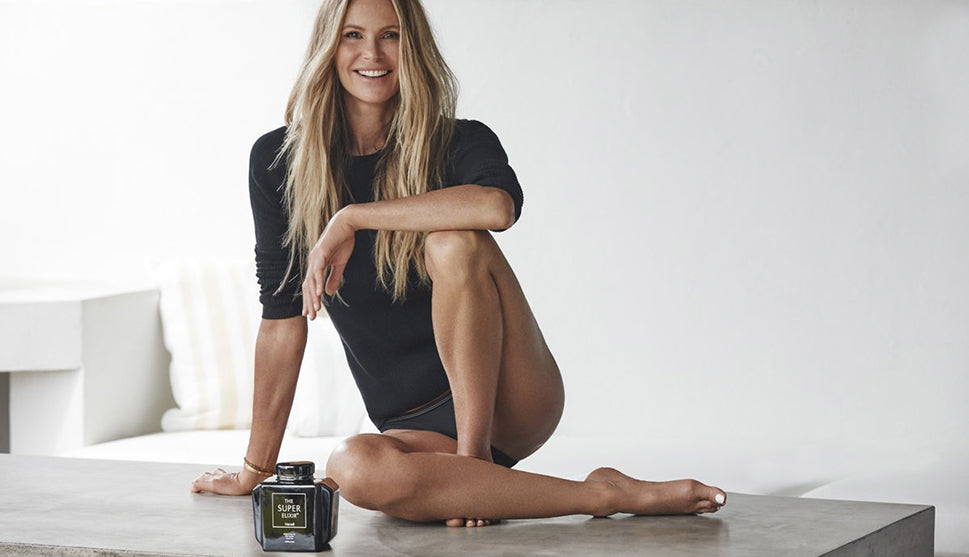 Tell us a bit about how you launched WelleCo back in 2014
I turned 50 in 2014, and to celebrate decided to start a business to share a complex greens formula I had been taking which was created by my nutritionist Dr Simone Laubsher PhD. I experienced such incredible personal benefits and results whilst taking it that I wanted to share with other people.
This original healing formula went on to become the foundation of WelleCo's hero product, the SUPER ELIXIR Greens. With Dr Laubscher's help and a whole lot of research, both practical and informative.
I deepened my understanding on the value of a plant-based diet, conscious lifestyle choices, the correlation between physical and emotional health, and the body's ability to heal itself if provided the right environment.
I realised the power of taking responsibility for my own health and wellness, and this has since become a foundational core value of WelleCo. Our aim is to empower people to positively influence their health and make it easier for people to be healthy on the go.
I've found (quite surprisingly ) the wonderful bi product of a healthy inside is glowing beauty – from my hair, skin and nails and eyes to a lean body and general vibrancy.
Working and building WelleCo as an authentic quality brand means we focus on our products and formulas to make sure they are high quality and efficient. Australians are renowned for being health conscious, curious and authentic.
Because we search for the highest quality in all our experiences, we also ask not only what's clean and best for our health, we check for sustainability and sourcing.
We ask lots of questions – is this ingredient organic and where did it come from? What practices were used to make this food? What is in our food and how will it benefit my body?
As an Australian-based company that prides itself on only using premium wholefood nutrients formulated by nutritional experts, we ask these questions for our customers. I think that this, combined with the fact that we are a brand that has spearheaded the ingestible health and plant-based movement.
I believe this has allowed us to formulate products that answer those questions. I believe this is what has provided WelleCo longevity and ongoing relevance. We are fast becoming the 4th pillar in beauty.
I've always been captivated by the idea of merging health and beauty with pure natural products and resources, so WelleCo's initial foundation was a natural fit that felt aligned with my values from the beginning.
Discover our WelleCo Range >
How quickly after adding the Super Elixir to your diet can you expect to see any effects?
It's different for everybody, but we advise taking 2 teaspoons everyday without fail for 30 days to see and feel a difference. For me, I saw a dramatic difference very soon after I started.
My body felt lighter, brighter and cleaner and I had an increase in vitality. I started making better food choices too. My immune system was stronger and I woke up feeling more rested, my skin improved dramatically, and was spotless and glowing.
My hair and nails began to grow quickly and I generally felt inspired, strong and upbeat. It is my daily one-and-done for great gut health and beauty benefits from the inside out.
What other vitamins and supplements do you find most people still need to take alongside Super Elixir?
I follow a 3-step wellness routine every day, and the first step is The SUPER ELIXIR. I have two teaspoons with filtered water every single day, and I am loving our new Lemon and Ginger flavour at the moment!
Step 2 is our NOURISHING PROTEIN - a clean, lean and complete, powdered plant protein designed by nutritional doctors for nourishing and maintaining a lean and strong body.
It is the perfect mid-morning or afternoon nourishing snack. I am obsessed with the chocolate; it tastes naughty without any of the bad stuff.
My third step is our SLEEP WELLE Calming Tea. I have always had quite a lot of trouble sleeping, so this tea has now become my nightly ritual.
It is blended with natural herbs including Valerian, Hops and Skullcap to calm the mind and help the body rest, rejuvenate and recover. Be prepared for a very deep and restorative sleep! It's truly amazing.
In addition to this, I use our range of SUPER BOOSTERS that are designed to 'boost' The SUPER ELIXIR and protein for targeted support, be it bone strength, immune support or liver health.
How do you usually take your Super Elixir? Straight shot or with a mixer?
I like to take mine very simply - just 2 teaspoons in icy filtered water and blitz. Otherwise I add to a smoothie or a greens juice. It's that easy! In addition to the Super Elixir you now also offer protein powders, tea and skin care products.
Can we expect any exciting product expansions in the near future?
We have so many exciting things on the horizon for WelleCo. We love creating quality products that are simple to integrate into people's lives, and that help them balance their inner and outer beauty.
We remain absolutely focussed on authenticity, quality, relevance, innovation, inspiration, growth and an ability to understand, adapt and evolve in the rapidly growing wellness category. The most exciting thing is we are really only just getting started!
What is your number one argument for choosing plant protein over whey protein?
I love our NOURISHING PROTEIN because I had tried whey and found I put on weight. I was looking for a clean and lean solution and so that's why we formulated our plant-based protein.
I wanted something smooth and chocolaty without added fillers or sugars and yet something that was super beneficial for health and wellness without being heavy.
When the body is nourished effectively at a cellular level it shows on the outside, which is why the WelleCo elixirs are plant-based ingestible powders.
When taken with water, the body recognises plants as food and efficiently absorbs them at cellular level right down to the mitochondria, for health and beauty benefits that start from the inside out.
For this reason, every ingredient we use is honest, sustainable and premium. Selected with care and consideration, every single one comes from the earth - not a laboratory.
Because we want to know that what we are putting in our bodies is the very best available, we travel all over the world to find produce that is grown using the best practices to reduce their environmental footprint.
Apart from taking WelleCo supplements and proteins, what's your advice to women who would like to start their wellness journey to a better wellbeing?
To try and take a holistic approach to wellness. First of all love and laughter does wonders for the immune system! When I get enough sleep, exercise, drink 3 litres of water a day, meditate, ground outside and get plenty of fresh air, and nourish my body with wholefood plant-based nutrients at a cellular level, it shows on the outside.
For this reason I aim to live every day as clean, green and active as I can. For me, it has had truly transformative effects. I highly recommend it.
Finally, tell us a bit about yourself
Your hometown?
I am Sydney born-and-bred and currently reside in Miami Florida. Dream destinations? Cuba, Argentina, Kakadu in Australia, Northern India, Antarctica, Peru, Bhutan, Patagonia and the Galapagos.
Favourite way to sweat?
Wellness is the new fitness! I believe in doing things you love with purpose and joy. In the mornings I go to the ocean for a swim, or I go for a walk in the woods near my home.
Sometimes I train at home with my Liv O2 Oxygen sail and elliptical machine and in the evenings, I cherish my local yoga class. I also love my Therasage healing portable infrared sauna. I sit in it at least 3 times a week. It's a brilliant healing detox and great for immune system and lymph.
Favourite way to chill out?
One of my favourite ways to unwind is to prep great food. Cooking is a great way to relax and unwind. I put on music and have a dance, or I curl up with a pile of books or a movie and my labradoodle.
My favorite thing to do though is sit and chat with my boys. I gravitate towards non-fiction and inspirational books. I love anything informative from home decoration to a human journey. I enjoy the benefits of Aromatherapy.
At night, I do yoga and have a SLEEP WELLE Calming Tea formulated with Valerian, Skullcap and Hops to calm the body and mind. It is my ritual.