Powering your workout when you lead a plant-based lifestyle doesn't have to be hard. There's a straightforward way to ensure you get the nutrition you need.
Supplementing a healthy diet with some of the best vegan protein powders is quick, easy, and a no-brainer. So, why should you use them and what are the plant based protein powder options?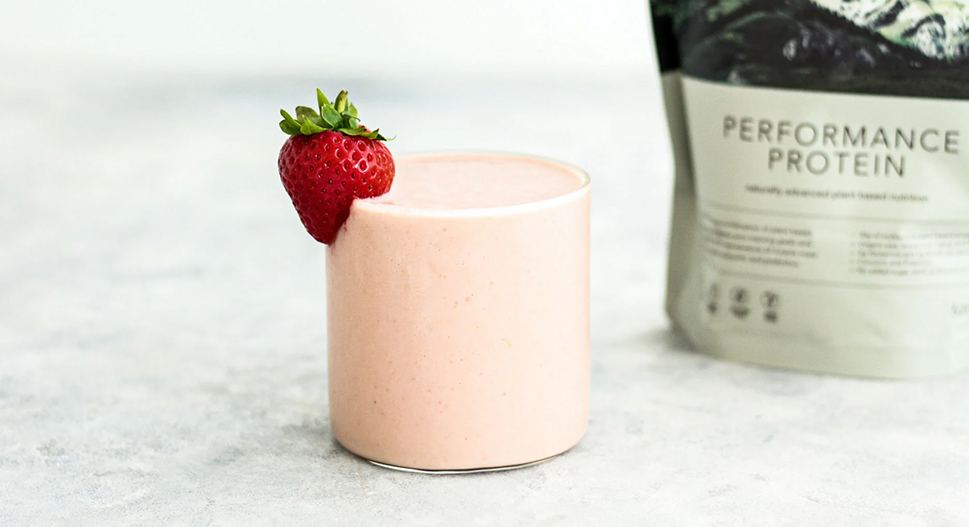 WHY IS PROTEIN SO IMPORTANT?
Protein gets a lot of hype, but why is it so important? According to the British Nutrition Foundation, it is essential for muscle repair, good health, and provides essential energy.
If you're following a workout or training regime, you will naturally need to boost your protein intake to support your general health. What's more, the amount of protein that you need on a daily basis will change over the course of your lifetime.
Understanding the crucial role that protein plays will help you when it comes to perfecting your nutrition game. Providing between 10 and 15% of the energy you need, it is the second most important compound in your body after water. For that reason, you should ensure that you get enough of the stuff in your everyday diet.
THE BEST NATURAL VEGAN PROTEIN SOURCES
If you're following an omni diet plan, you can get your protein from meat, fish, eggs, and dairy products. However, that doesn't mean that you can't get the protein that you need on a plant-based diet.
The truth of the matter is that there are plenty of vegan protein sources that are healthy and natural. Should you be looking for a simple way to get more protein each day, here are some of the sources:
1. LENTILS
With more than 17g protein per cup of cooked lentils, adding this staple to your diet is a simple way to get more protein. You can put lentils in a curry, use them as a quick substitute for meat, or add them to a whole food salad. Why not experiment with different recipes and figure out what works for you?
2. PEAS
Pea protein is becoming more and more popular—and it's plain to see why. Green peas pack more than 8g of protein per cup and offer a wealth of nutritional value. Featuring Vitamin A, Vitamin C, Vitamin E, and Vitamin K, these pods could have everything you need. Look out for pea protein in the best vegan protein powders.
3. QUINOA
With over 8g of protein per cup, quinoa is a pseudo grain that packs a real punch. You can prepare quinoa the same way you would rice and have it with stews, curries or salads. Getting used to using this one in your everyday cooking could help you increase your protein intake in a simple and healthy way.
4. BROWN RICE
Another popular vegan protein source is brown rice. With 4.5g of protein per cup, this grain is an easy option for anyone wanting to enhance their nutrition. Of course, you can add this ingredient to your everyday diet. However, you may also want to look out for it in any vegan protein powder you happen to choose.
5. SOY MILK
Finding the right plant-based milks for you doesn't have to be a struggle. One of the most protein-rich options has to be soy milk. With a massive 6.9g of protein per cup, this alternative to cow's milk is always a smart option. If you want to increase your protein intake even more, make your shakes with this milk substitute.

THE BEST VEGAN PROTEIN POWDERS
Now that you're well-versed in why protein is so important, let's talk about which vegan protein powders are the best, and which shakes you should try. Since the plant-based lifestyle has boomed in recent years, there are loads of excellent and wholesome options for you. Here are some of our favourite picks to get you started.
Specialising in plant-based nutrition, Form Nutrition is one of the best places to start when it comes to vegan protein powders. Offering a whole host of products created to help you elevate your training and live a healthy lifestyle, the options are well worth your time.
If you're looking for recommendations, the Pureblend Protein Powder is one not to miss. With pea protein, brown rice protein, and Algavia®, it's a powerful combination.
From post-workout shakes to cleansing powders, there's a lot to love about Bodyism. Designed to nourish your body and support your fitness regime, you can get a load of different options here.
The Protein Excellence shake is ideal if you're looking for a way to meet your nutrition goals while also keeping it plant-powered. Featuring pea protein, brown rice protein, and amino acids, this one is a powerful combination.
Gluten-free, soy-free, and vegan, Indi Supplements should be on your shopping list. Try the Indi Tone powder. Packed with pea protein, cherry powder, and heaps of natural flavouring, this protein powder is a winner.
Mixing it with some plant-based milk (or even water!) is a quick way to fix yourself an effective post-workout drink to support recovery. This one speeds up your metabolism and helps your muscles to repair fast.
If you're looking for a clean and natural protein powder, checking out the Puori range is the way to go. Many of these holistic products are packed with Omega 3 and a whole host of other natural ingredients that you will fall head over heels in love with.
The Plant Protein Booster powder is a great place to start. If it's good enough for Victoria Beckham, it's good enough for us! Combining pea protein with minerals, you will get everything you need to support your fitness routine in one place.
KIN
With added probiotics and fibre to support digestion, KIN products could be the best vegan protein powders for you. To kick things off, try the OMG! No Whey Blueberry protein powder.
The product is GMO soy-free, gluten-free and, most importantly, vegan too. With pea protein isolate, hemp protein and natural flavourings, this combination is healthy and nutrition-rich. Add it to your favourite smoothie or simply mix some into water.
Founded by Elle Macpherson and Andrea Horwood, WelleCo Nutrition features whole food ingredients specifically designed to give your body what it needs to excel. The Plant Protein Chocolate Powder is a sweet treat that will leave you feeling more energised than ever and could give you the boost you've been looking for.
Combining pea protein, brown rice protein and cocoa powder (among other healthful ingredients!), this vegan protein powder could be the way to go. Mix it with plant-based milk or make it into a smoothie.
VEGAN PROTEIN vs. WHEY PROTEIN
Whey protein is an animal-based option, since it is derived from milk. While it's packed with healthy nutrients and (of course!) protein, it's not suitable for people following a plant-based diet. Fortunately, there are loads of vegan protein shake options. That means that you can stick to your diet and get the nutrients you need.
WHEN IS THE BEST TIME TO TAKE A VEGAN PROTEIN SHAKE?
Vegan protein shakes can help boost your nutrition, but when you take them matters. Most of the time, you should drink these right after your workout. The quick protein boost could do wonders for your recovery and give your body everything it needs.
However, you can include the plat based powders as part of your everyday diet to make sure you're getting enough protein to support the body.
THE TAKEAWAY
Ready to enhance your nutrition? Adding some of the best vegan protein shakes to your diet takes no effort and could have a big impact. Why not start looking at the options today and see which ones suit you?