Gone are the days when activewear meant an oversized tee and jogging bottoms. Women's sportswear has elevated its offering to a whole new level, where fashion collides with functional styles that are designed to work as hard in the studio as on the street.
Lucas Hugh takes the modernisation of activewear to the next level with its new collection. For Summer 2017 its designers fuse high performance pieces with artistic illustrations, to emphasise the elegant beauty and dynamic movement of the female form.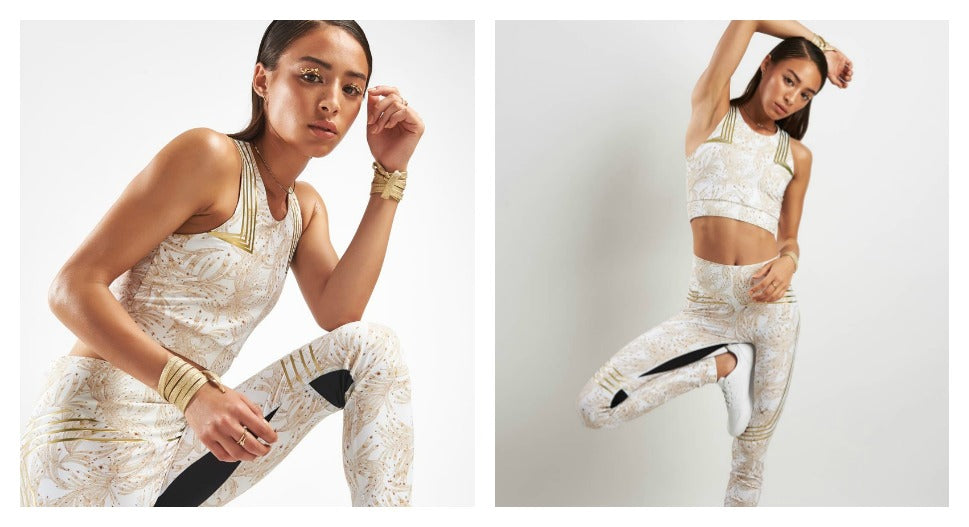 Inspired principally by iconic artist and designer Erté, the London-based brand presents rich illustrations and embellished prints across the most athletic of styles.
From the stylish metallic etchings to the supportive gold foil panels, Lucas Hugh's Goldleaf Crop Top and Leggings fuse art and athleticism without compromise.
The brand's bestselling technical knit styles also get an artistic makeover, via the Hummingbird Tech Knit Crop and Leggings. These pieces perform as a second skin, as embroidery-style hummingbirds inspired by ancient Peruvian designs dance across the luxurious knitted fabric.
"The intricate print placements and sprinkle of pizzaz across the Goldleaf and Hummingbird Collections are so unique", says Katy, Buying Executive at The Sports Edit.
"Lucas Hugh has long been my go-to for all activities, from HIIT class to casualwear. The tech knit styles are a particular favourite as the high waist and knit fabric fits my body like a glove, wear after wear. So it's a big yes please to this season's printed updates…"
Take your performance to the next level. Discover Lucas Hugh >