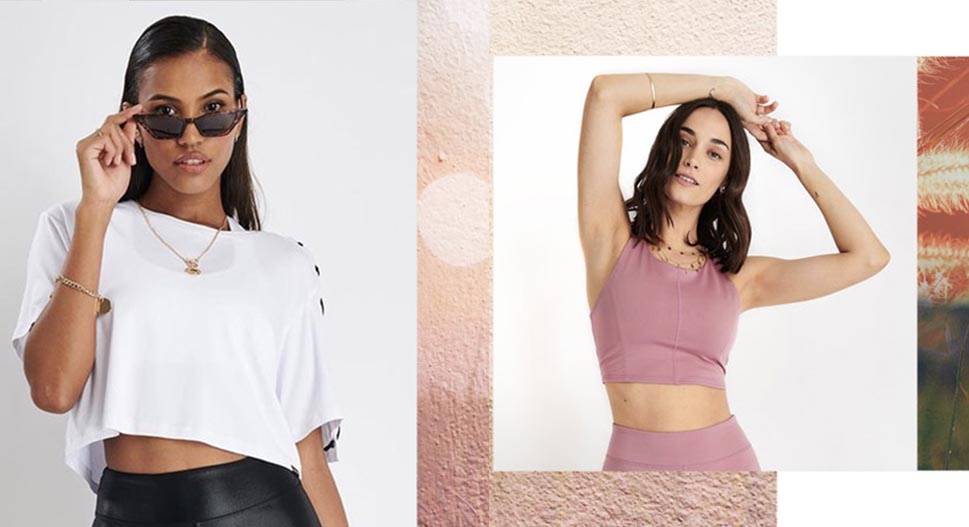 Summer is fast approaching and we're dreaming of alfresco workouts, music festivals, beer gardens and of course, cute clothes. Whether you're on a vacation by the beach, or enjoying the sunny weekends with friends, summer is the perfect time to try new styles and make a statement.
We've curated the best emerging summer trends as inspired by the catwalks to keep you one step ahead in the fashion stakes. Scroll down to view the vibrant styles that'll transform your season.
ANIMAL PRINTS
Summer's looking wild, with animal prints seen across the catwalks of Burberry, Gucci, and Zadig and Voltaire. Sportswear brands such as Varley, Dharma Bums and Stella McCartney similarly show leopard print, snakeskin and zebra stripes as prevalent through the approaching season.
From cheetah co-ords to sporty accessories, this trend can be worn as bold or subtle as you like. The animal print is set to remain at the top of the Fashion chain for a while, so whether you're sticking to timeless leopard pieces or embracing new iterations of the trend these charismatic prints will have you feeling fierce for seasons to come.
Shop animal prints >
CO-ORDINATED SPORTSWEAR SETS


There's nothing like a new sporty co-ord to make you want to smash your next workout. This next trend will not only motivate your gym goals; it's also a powerful athleisure trend that works beyond the workouts. Take inspiration from the likes of Dua Lipa, Jenifer Lopez and Gigi Hadid, who are consistently spotted rocking a chic pair of coordinated workout clothes, whether en route to the gym or brunch.
Colour blocking has never been more satisfying, with LNDR, P.E Nation and Michi going bold with this trend. Printed sets also dominate, with beautiful matching styles from Varley, The Upside and Free People.
If you aren't a fan of vibrant patterns or colours, then look to more subtle coordinated sets from Girlfriend Collective, who's sustainable designs will make you feel as good as you look.
Want to go more 'leisure' than lycra? Consider updating your loungewear with a Champion jogger paired with a retro crop for a laid back ensemble. Complete the look with a pair of chunky white trainers for added old school flare.
By compiling perfectly coordinated sets you'll be feeling motivated, fabulous and comfortable, all with little effort. Whether you're hitting the gym or running errands, this Athleisure trend offers you the versatility you're seeking.
Shop co-ords >
TIE DYE // OMBRÉ
Feeling nostalgic? Tie dye is back with absolute force this summer to offer a kaleidoscope of captivating visions. The re-emerging trend of Tie Dye and Ombre might give you severe nineties flashbacks, but the approach this time round its a fusion of '90's surfer' with creative art, across a breadth of fresh colour palettes. 2019's updated version offers a tribute to the trend's former hippy days, through more muted or unusual tones and elevated fabrics and style options.
Free People, Alala and Electric and Rose have successfully transformed this print onto Athleisurewear staples like hoodies, leggings and co-ords, which we can see ourselves wearing at both fitness classes and festivals.
With so many variations of the trend, you can find your self-expression through darker, gritty colourways or opt for brighter boho styles. Either way, it's time to get creative and colourful!
Shop tie dye >
CYCLING SHORTS
Remember when Kim Kardashian was first seen in Cycling Shorts and people lost their minds? Well this summer the trend has re-emerged for 2019 with more styles and colours, making it considerably more versatile than first imagined.
You don't need to be training for the Tour de France to let Cycling Shorts have their moment in the limelight. Cycling Shorts are not only functionally fab for heatwave workouts - they also look great with oversized sweats and chunky sneakers on casual days a la Bella Hadid, or paired with heels, crop tops and tailored blazers for a night out a la Fendi, Stella McCartney and Chanel.
It doesn't matter what styling direction you opt for; as soon as this staple style is in your wardrobe you're already a step closer to looking and feeling fresh this season. Whether you want to go colourful, sporty or demure, check out our favourite sports luxe styles from Free People, LNDR, Michi and Koral.
Shop sports shorts >
LILAC TONES
Make this the most colourful summer yet. From light Lavender to puchy lilac, purple pantones have really stepped into the limelight this season. From Alo Yoga to Stella McCartney, these ethereal shades translate so beautifully into sportswear. Associated with rejuvenation, lavender and wellness go hand in hand, making this trend an uplifting addition to your active wardrobe.
If you want to go matchy-matchy with an activewear co-ord, this ice cream co-ord is the absolute colour de jour. Lilybod and Alo Yoga both have some beautiful lilac sets on offer.
Looking for a more off-duty look? Then pair your purple with khaki, silver or animal print to really maximise this retro colour trend.
Shop lilac >
NEXT UP
Our definitive guide to athleisure >
Everything you need to know about our new eco-friendly brand, Girlfriend Collective >