Since its launch in 2015, adidas has been happy to make only minor tweaks in each new generation of Ultraboost shoes, choosing to leave well alone. And it is easy to understand why.
The Ultraboost is widely recognised as one of the best sneakers released in the last decade, combining iconic cushioning, sleek silhouette, and stylish knit upper.
A shoe initially pitched at long distance runners was quickly adopted by sneakerheads. Boost has been a hugely important franchise to adidas, especially in restoring its status as a sneaker powerhouse in the US.
See our full range of adidas Boost trainers >
In February 2021 adidas launched the all new UB21 which represented the best update in years - read our adidas Ultraboost 21 review here.
A radical redesign
There had been four iterations of the original Ultraboost, but these were all minor changes and tweaks centred around the construction of the knit upper.
All that changes with the Ultraboost 19, or 'UB19', which represents a radical redesign, reimagining every element of the shoe, and taking a philosophy of stripping the shoe down to its essential elements. So, how much better is it?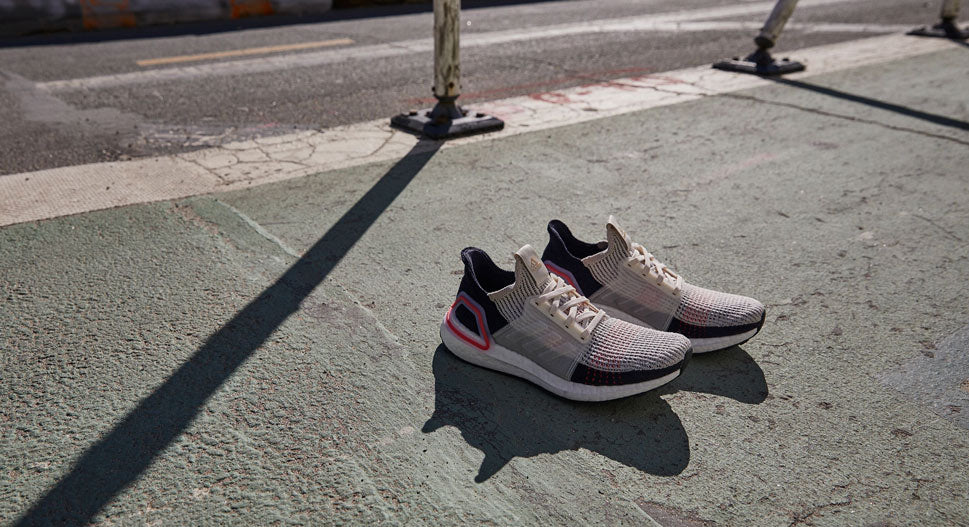 How does the UB19 look?
The fact that there has been a radical redesign is obvious from when you first open the box; the adidas UB19 looks very different to the original. It has a totally different heel counter, sidewall cage, knit construction and a chunkier sole.
So far, this has not been met with universal approval. The original silhouette was much loved by sneakerheads and runners alike, and one of the Ultraboost's best attributes was that despite being a top end performance shoe, it was stylish enough to wear casually.
Is that still the case? It has a much chunkier sole (which admittedly is the direction of fashion sneaker trends), and what has been described as an 'unfinished' look in some of the launch colourways.
This is partly due to the upper construction, but also the new sidewall cage which is made of a transparent mesh material. This is lighter, moves better with your foot and provides more dynamic support than the original plastic cage, so makes sense from a performance perspective, though it doesn't look as good on some on colourways.
But then again, remember that the plastic cage in the original version was deemed such an eyesore by influential sneakerheads, that YouTube videos on how to cut off the cage with a knife became something of a phenomenon.
Also the sidewall cage looks very different depending on colourways. Likewise the look of the upper, which also hasn't been met with universal approval. With its two-tone design, using two different thread colours split between the top and bottom of the shoe, the visual appeal varies enormously depending on the colour combinations.
I've seen AW19 and SS20 versions and they are stronger and more varied. I think it is fair to say reviews on looks have been mixed; the original silhouette was so universally loved that the change will take getting used to.
One thing to note though is that the shoe looks much better on than when you see it on a shoe wall, and overall it is growing on me.
Ultimately the UB19 is a performance running shoe, so leaving aside aesthetics, is it the upgrade adidas claims? The shoe has improved in three key respects; better cushioning, much better fit and support, and a slight improvement in what was already very good traction.
The BOOST™ mid sole
The biggest single change in the UB19 is adidas has managed to pack 20% more Boost in the midsole. Critically it has done so without increasing the weight of the midsole.
A re-engineered process allowed the designers to optimize the fusion of the Boost pellets, allowing them to add more Boost without adding weight (both old and new versions are 310g for men's size 8.5 UK).
The additional Boost is really striking when you put the UB19 alongside an original Ultraboost, as you can see below.
This results in an even plusher running sensation than before. I've tested them on a series of 5 mile runs on the road and along bumpy stretches of the Thames path, and the increased Boost is really noticeable, especially over rougher ground, with an unparalleled level of cushioning and comfort.
The UB19 is now at the extreme end of cushioning and will handle your longest runs in supreme comfort. Remember the fundamental Boost innovation by the chemical company BASF and adidas was resolving the historic dilemma between comfort and cushioning vs. performance and speed, with a unique combination of softness and high elasticity in the midsole.
No other midsole on the market generates more rebound (energy return) than Boost. The UB19 is the plushest of the Boost range, and hence not the fastest, so if you're after that PB you're better off with an Adizero Adios, but if you want to put in serious miles in comfort with good energy return then the UB19 is hard to beat.
Also check out our adidas Pure Boost DPR vs Ultra Boost Review >
Improved fit & support from the upper
I've always loved the fit of both the caged and uncaged Ultraboosts, but my one criticism has been that your feet don't feel really locked down. The knitted upper is comfortable, but has a little too much give in it (especially in version 3.0 and 4.0) for when you are doing stop/start urban runs or making sharp turns. The UB19 solves this.
It delivers a much more secure fit, and I felt locked down without any constraints on movement. The upper is constructed as a full sock that completely surrounds your foot, and is tacked to the midsole at the edges.
In contrast, the old Primeknit upper only covers the top of the foot, and is glued to the midsole. The 3D knit sock is built to follow your natural foot shape and really does deliver a precise and seamless fit without irritation points.
The new knit is less stretchy then previous editions, especially over the forefoot. There is also an integrated 'motion weave' technology that acts like a ballistic band (you can see it in the red threads in the image below), allowing your foot to expand up to a point, but keeping it in place during running.
Even on fast corners I've felt locked down and secure, yet not constricted. One other observation on fit is that there is less padding on the tongue and ankle area, so it feels a bit more like an NMD than previous versions, but this doesn't compromise comfort.
3D Heel Counter
One of my favourite features is the new 3D heel counter, and is the best example of the philosophy of simplifying and reducing the shoe to its essential elements. Gone is the solid piece of plastic, replaced by a lighter, more adaptable wire inside a padded sleeve.
It looks striking, is a similar shape to the old heel counter, but just as an outline, and is soft and comfortable against the heel bone. It allows heel expansion in key zones and distributes pressure through a combination of flexible and supportive materials. I didn't have any issues with the lack of conventional structure and my heel felt locked down.
20% Better Grip
The Stretchweb design on the Continental rubber outsole has been updated, with slightly different diamond like shapes with hard edges. adidas claims this gives 20% better grip.
It is hard to validate this vs. the original versions, but it definitely delivers excellent hold on slippery surfaces. I tested them against some Under Armour HOVR shoes on a damp athletics track and the UB19 was an order of magnitude better.
The Verdict
Maybe it won't be as universally loved for its aesthetics, but it is a better running shoe, and there are stronger colourways to come. It delivers a more locked down, secure fit, achieving that with just the right amount of adaptability.
The mesh cage is more comfortable than the old plastic one, and the new 3D wire heel counter is a clever innovation, giving the heel support without any resistance.
The 20% increase in Boost means a huge chunk of responsive cushioning under your foot, so the ride is pretty hard to beat, especially if you want a trainer for steady long-distance runs. Overall, the UB19 is a step forward in terms of a performance trainer.