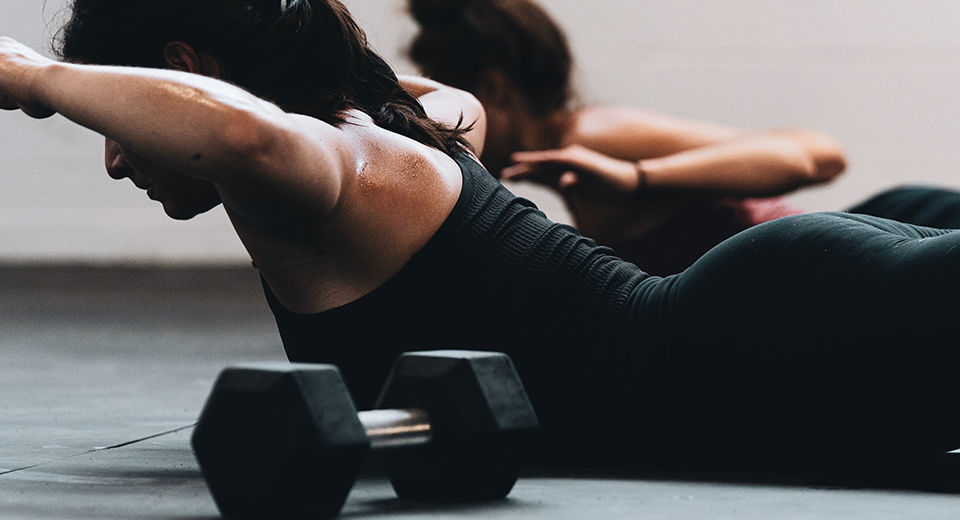 Ready to supercharge your fitness regime? Strength training isn't only about building muscle. Research from the University of New South Wales suggests that it can also help you burn fat. Whether you're new to this approach or an old-timer, there's no harm in getting some expert tips. Here are seven golden rules.
1. START WITH THE RIGHT WEIGHT
First things first, you don't want to dive in and try to lift huge amounts of weight. While you may be eager to kickstart your strength training journey, the fact of the matter is that you need to take things at your own pace. When choosing the right weight for you to begin with, you need something that you can comfortably lift.
One way to test this out is to look for a weight that you can lift around 15 times without it becoming too difficult. Start with a smaller weight and work your way up to see which one suits you. Remember, it's better to find the ideal weight for you rather than trying to overdo it and injuring yourself in the long-term.
2. SLOW DOWN YOUR MOVEMENTS
Trying to get your reps in? If you're rushing your strength training, you might not be getting all that much out of it. One of the mistakes that people make is trying to up their tension and speed through their repetitions.
"Time under tension every time," suggests Helen Barlow, Online Coach and Personal Trainer. "Work your tempo! By slowing down the movement, the muscle is held under tension for a longer period. This forces your muscles to work harder, and therefore optimises muscular strength, endurance and growth."
3. PAY CLOSE ATTENTION TO YOUR BREATHING
Spoiler: breath work matters when you're strength training. If you want to make the most of these exercises, you should be paying close attention to your breathing at all times. To up your game, try breathing out when you are initially lifting the weights and feeling that resistance. As you release, you can breathe in slowly and steadily.
4. LIFT BOTH WEIGHTS AND YOUR BODY WEIGHT
Varying your exercises could be the key to getting more out of your workouts. If you always hit the gym and stick to the same routine, you could be making a mistake. Instead, you may want to try a range of different strength training exercises and mix things up session by session.
"Practice lifting both your body weight and weight training, as one will help improve the other!' says Charlotte Holmes, The Sports Edit Ambassador and Head of Yoga at Virgin Active. Why not look into different ways to train and see which movements suit your physique and goals?
5. INCREASE THE WEIGHT OR RESISTANCE
When you are well on your strength training journey, it's time to challenge yourself. Incrementally increasing either the weight or resistance will help you improve your strength. You may want to work directly with a personal trainer to get this aspect of your training right. Going at the right pace is the key to your success.
Looking to make the most of your workouts? One of the best tips you will get is to keep track of your journey. Be precise when it comes to recording your activities, reps and even how you found each session. This information will prove golden when it comes to planning your upcoming sessions and moving forward.
6. PERFECT YOUR FORM
While many people pay close attention to the weights they lift, you also need to work on your form. It's no good lifting super heavy weights if you don't have this part of your weight training down. Fail to perfect this and the worst-case scenario is that you end up injuring yourself. The best-case scenario is that you're doing the activities but not reaping all of the rewards that you otherwise would. Either way, it's not great.
When you're working out, take the time to align your form well from the start. That way, you should be able to move smoothly through each of the exercises and get the most out of them. Whenever something feels 'off', take a moment to stop and adjust your position. It could make a huge difference.
7. GIVE YOUR MUSCLES TIME TO RELAX
Is it 'rest day' yet? When you're upping your strength training routine, you simply must make some time to relax. You can't and shouldn't train seven days a week. Trying to do so will lead to burnout fast. When you're creating your schedule, be sure to leave a couple of days in between each session to allow your muscles to repair.
THE TAKEAWAY!
Yes, there is a
right
way to strength train. Making sure that you get the most out of your exercises is all about perfecting your art. Now that you've got these expert tips, what are you waiting for?