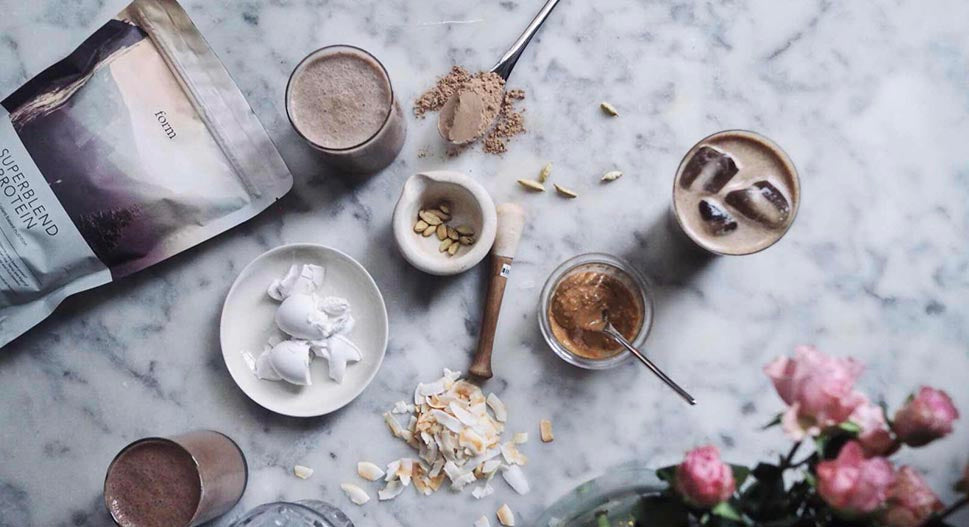 So you've got your hands on our award-winning Form Nutrition protein (or at least we hope you have, it's always selling out so damn fast!), and what better way to inspire you post-workout nutrition than with some delicious and nutritious vegan smoothie recipes?
We're not going to lie, our Form Nutrition protein powders taste pretty unreal with nut milk alone. However we guarantee that the recipe combos below will really satisfy your appetite and take those tastebuds to the next level...
Each smoothie recipe below is nutritionally balanced, giving the perfect blend of healthy vegan fuel to help you recover from every workout. So what are you waiting for - get blending!
1. Green Goddess
INGREDIENTS
350ml of raw coconut water
40g Form Vanilla Performance Protein (40g = 2 scoops = 1 serving)
50g of pineapple (chopped and peeled)
1/2 peeled kiwi
1/4 avocado
1/4 fennel
1 handful of spinach
1 handful of mint
2. Monkey Mocha
INGREDIENTS
350ml of almond milk
40g Chocolate & Peanut Performance Protein (40g = 2 scoops = 1 serving)
1 ripe frozen banana
1 shot of cold coffee
2 tbsp chia seeds
1 tsp vanilla extract or vanilla powder
1/2 tsp cinnamon
3. Blissful Berries
INGREDIENTS
350ml of raw coconut water
40g Form Pureblend Protein (40g = 2 scoops = 1 serving)
50g of frozen blueberries
50g of frozen raspberry
50g of frozen strawberries
2 tbsp of cashew nut butter
4. Choco Chia Coconut
INGREDIENTS

350ml raw coconut water
40g Chocolate Salted Caramel Superblend Protein (40g = 2 scoops = 1 serving)
5 frozen coconut cream cubes
1/2 ripe banana
2 tbsp chia seeds
1 tbsp desiccated coconut
1/2 teaspoon cardamon
5. Caramel Frappucino
INGREDIENTS
350ml of oat milk (we recommend Oatly)
40g Chocolate Salted Caramel Superblend Protein (40g = 2 scoops = 1 serving)
20g Oats (finely grounded)
2 medjool dates
1 tbsp almond butter
1 shot of cold coffee
1 tsp vanilla extract or vanilla powder
1/2 tsp cinnamon
Up Next:
The irresistible protein pancake recipe >
Our favourite vegan protein powders >