On Running and Hoka are two of the fastest growing running shoe brands in the world. Both founded within a year of each other, Hoka One One in 2009, in France, and On Running in 2010, in Switzerland. The unique style of both brands makes them instantly recognisable, On for its 'clouds', and Hoka for the maximalist cushioning.
So what's the difference, and which one should you choose?
Their very first shoes couldn't have been more different, On's was a road shoe called the Cloudracer, featuring the iconic CloudTec®. Hoka's first shoe on the other hand, was actually a trail shoe, which founders Nicolas Mermoud and Jean-Luc Diard designed to help them run faster down hill - Hoka running shoes are actually named after the Maori Language phrase, 'fly over the earth'!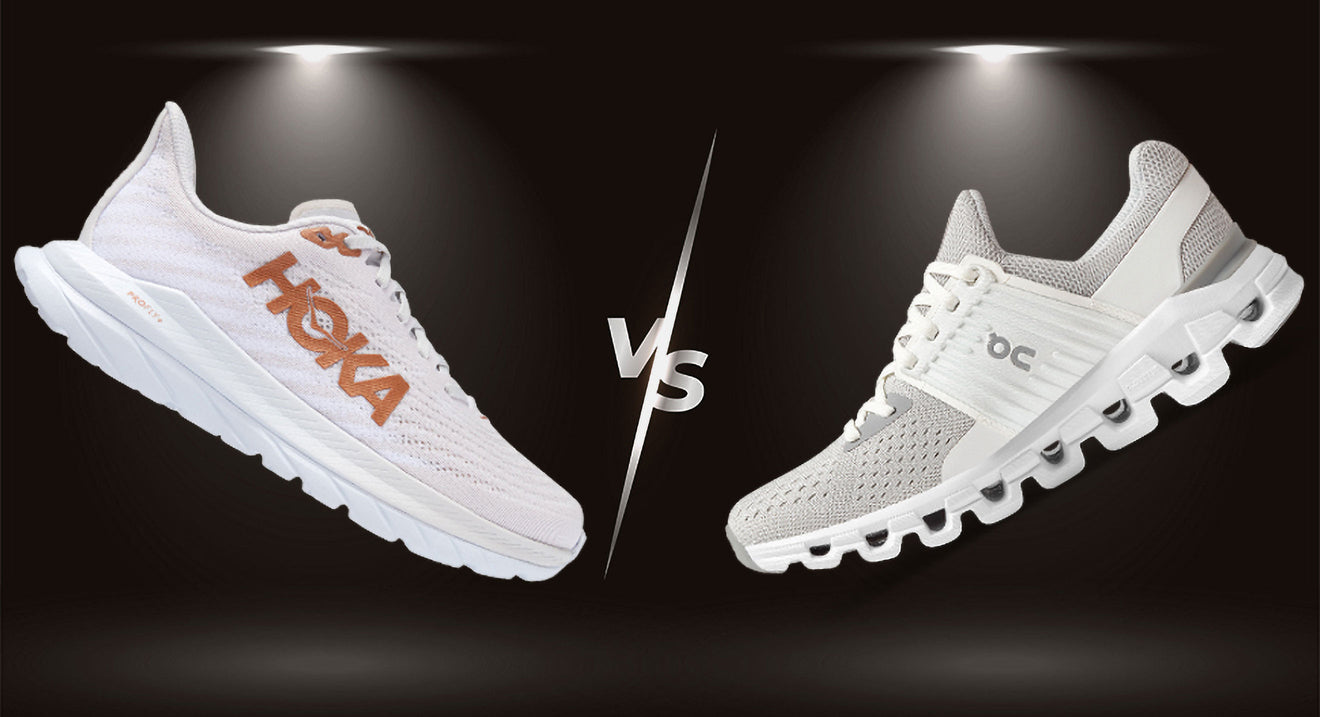 What are the key differences between On and Hoka?
On Running and Hoka One One have come a long way in the last 12 years. On has developed its CloudTec®, to provide more stability, cushioning, as well as releasing a range of different styles, from road to trail, hiking and everyday shoes.
Hoka is no different, since the product launched, the founders have constantly been tweaking the shoe, bringing out new models, including road shoes like Bondi and Clifton, which provide enough cushioning to soften rough terrain and offer good energy return, but aren't so heavy that they weigh runners down.
What are the key differences between Hoka and On trainers?
The midsole
The main difference is in the midsole. Hoka's are big, very big - some people think they look almost clumpy. Made from ultra-soft memory foam, the sole is very large, both in depth and width, and is designed with an Active Foot Frame, which means that the foot sits down inside the midsole, instead of the top.
You'll also notice it has a Meta-Rocker, a combination of a low heel-toe drop and a rounded sole shape, which complements your natural stride and helps propel you forward. Sure, the sole is big, but that's how they achieve maximum shock absorption and stability. The wider design of the midsole gives a slightly more roomy ride, but a heel counter and foam collar ensures the ankle and heel are supported.
On Running's CloudTec®, made from ultralight Helion™ super foam, consists of multi-directional clouds, active only during landings, which react to a person's unique movements. The clouds started off small, take the Cloudflow 4 for example, which remains very popular with many athletes.
Now though, On Running has really stepped it up. Its latest launch, the Cloud Monsters, is the brand's most maximal running shoe, with a double layer of clouds.
The weight
Despite the look of the Hoka, you'll be surprised to hear that they're actually quite light, with the standard road shoe around 252g with a 4mm drop. The trail shoes, like the Speedgoats, are even lighter, at 234g, and the racing styles, like Hoka Mach, 192g.
On Running's most maximal shoe, the Cloud Monster, is 275g, however, the Cloudflow is 238g. Because they have so many styles, their shoes range in weight from 190g (racing shoes) to 300g. Similarly, so do the drops, from 6mm to 9mm.
How do Hoka and On shoes fit?
On Running shoes generally come up smaller and narrower, due to the design - although in some shoes they do a wide version. On shoes tend to come up small. If you are a long-distance runner, sizing up in an On is always recommended, as it makes for a more roomy toe box. Hoka shoes tend to fit truer to size, with a wider sole and more space in the toe box.
Stability: Hoka and On take different approaches
The big sole of the Hoka is how the shoe offers runners more stability - think back to that first ever shoe designed for speedy downhill running. The stability comes from the J-Frame technology, which offers added stability on the inner, medial side of the shoe to help prevent your foot from rolling inward. There are three different levels of stability offered by the Hoka shoe: Neutral, Moderate, Stable. Longer, slower runs tended to require shoes with more stability, whereas races are for quick, explosive take offs.
Similarly, On has a variety of shoes offering different levels of support. This comes from the positioning and size of the clouds. Those with the highest support have larger cavities under the arch of the foot than on the outside. Rather than stopping the pronation of the foot, it slows it, giving tiring muscles the time to respond, and support your natural rolling motion.
If you suffer from foot pain and plantar fasciitis, it's worth checking out the Hoka Bondi 8, which has the American Podiatric Association approval. It's the most cushioned road shoe from Hoka, with a 'plush' midsole, rather than 'balanced' or responsive'. Great for long runs or even long days on your feet.
Value and affordability
On Running Shoes range from around £120 to £170, depending on the style, whereas Hoka One One shoes range from £110 to £160. There isn't much in the price, and both are pretty durable. Granted, On shoes used to fray at the laces and wear in the hot spots, but they've made a lot of adaptations, which have really made them worth their money.
Is the Cloudmonster On's move in a Hoka direction?
I mentioned the Cloudmonster above, and had On not released this shoe earlier this year, this review would probably be a little different - a real minimalist vs maximalist shoe review. However, On has begun moving in a more 'Hoka-like' direction - the first sign of this was the new version of the Cloudstratus, the first shoe to have double cloud tech.
The Cloudmonster feels very different to any other On shoe. Much more cushioned, soft, and explosive - it's my go-to shoe for long runs or after a long race, when I need a bit of extra support and cushioning.
Sustainability
While most brands are speeding ahead in terms of sustainability, Hoka One One still has a way to go. HOKA One One scores three out of five on Good on You and is dubbed 'not good enough'. The sustainability-rating site states that while the company uses some eco-friendly and recycled materials, there is no evidence that this minimises waste.
On Running's score is quite similar, with three out of five (however its animal welfare score is slightly higher than Hoka's). The Sports Edit's own sustainability rating for On is also 3/5. The brand has recently been making a lot of progress in this areas, using a lot of recycled products in its shoes, and has just launched the On Running Cyclon.
One of the lightest, fastest shoes ever engineered by On. And it can be 100% recycled. It works on a subscription basis, so you run - until you can't run any more - then On will swap them with a new pair and use the worn out ones as raw materials for new products.
Pros and Cons
| | | |
| --- | --- | --- |
| | Hoka One One | On Running |
| Stability | 5/5 | 4/5 |
| Cushioning | 5/5 | 4/5 |
| Technology | 4/5 | 5/5 |
| Sustainability | 3/5 | 4/5 |
| Value for money | 4/5 | 4/5 |

Verdict
Hoka One One and On Running are two very different brands. The ride of one shoe feels very different to the other, especially when compared to an older model of the On Running shoes. 10 years ago the line between them was more visible, both appealing to different audiences.
But now things are starting to change as On broadens its range. Overall the choice between the two largely depends what type of ride you prefer…if you want maximalist cushioning then Hoka is still the go to option, whereas if you want something more responsive and lower profile, On has the best range of options.