The Nike SuperRep family just got bigger. Built specifically with HIIT sessions in mind, the
Nike Air Zoom
SuperReps
are the latest addition to the already popular line.
Sporting a unique design that looks akin to a chunky fashion trainer, these shoes are actually highly technical. Every quirk has been strategically created to give the ultimate performance. Before now, there was an untapped gap in the mainstream trainer market: group fitness sessions. If you're a fan of getting your sweat on with a group of fellow-minded fitness lovers, chances are, you wear running shoes.
Most people do. Sure, these trainers do the job, but they aren't specifically designed with a variety of moves in mind. That's where the Nike Air Zoom SuperRep trainers come into play. These new trainers are solid all-rounders that give you the comfort and stability you need. Here's what you need to know.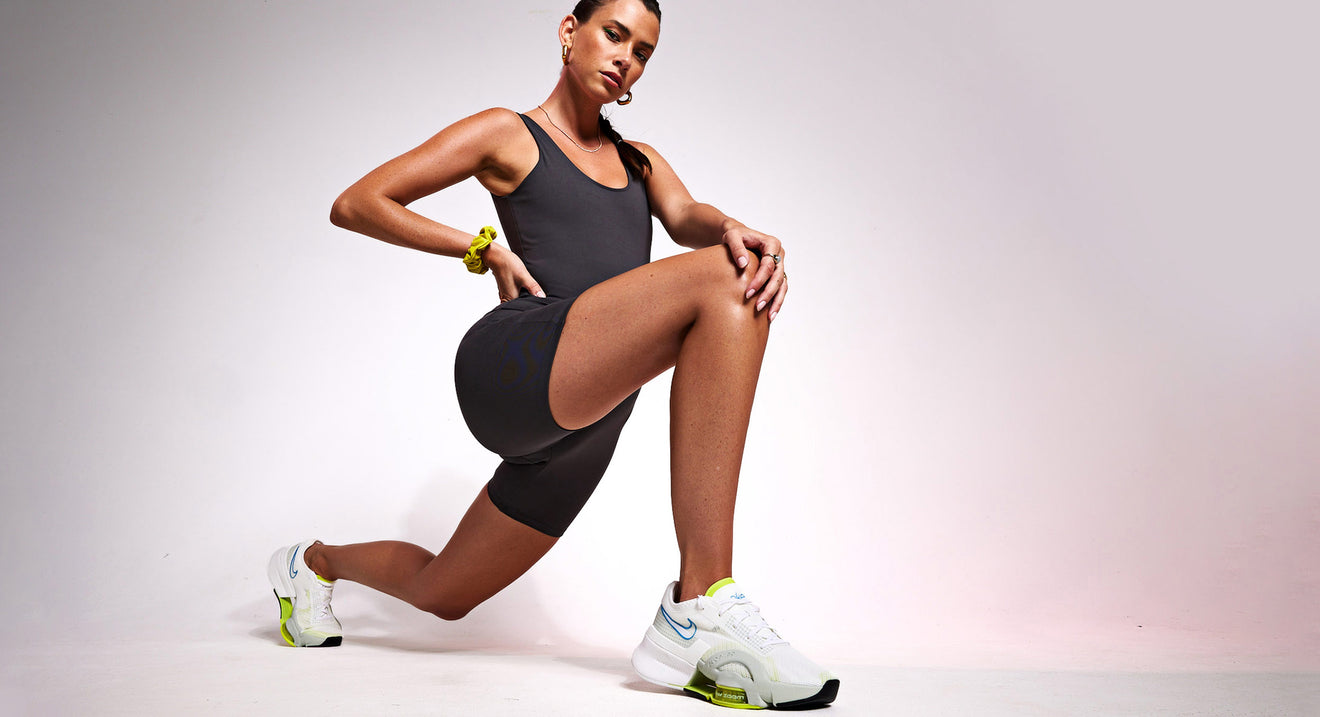 What are Nike SuperRep Trainers Designed for?
With an entirely unique aesthetic, you may wonder what these Nike SuperRep trainers are all about. While these shoes look similar to platform heels (yes, really!), they are highly functional trainers that offer excellent performance.
Since your typical HIIT class features a rainbow array of disciplines—from sprints to lifts—the trainers have been designed to help you move swiftly, precisely, and comfortably. Whether you're testing your metal on circuits or doing any type of fast-paced workout, these trainers give you the support you need.
But don't just take our word for it. "I love that they are so lightweight and versatile for different training styles. I would feel comfortable wearing these for most training activities. An all-rounder!" says Personal Trainer, Helen Barlow.
According to the experts at Nike, "The design of the Nike Air Zoom SuperRep takes into account hundreds of hours spent sweating it out, studying and observing fitness classes. In those classes, it became apparent that athletes were either wearing shoes that were cushioned or shoes that were supportive, but there wasn't a shoe that provided both cushioning and support specific to fundamental HIIT movements."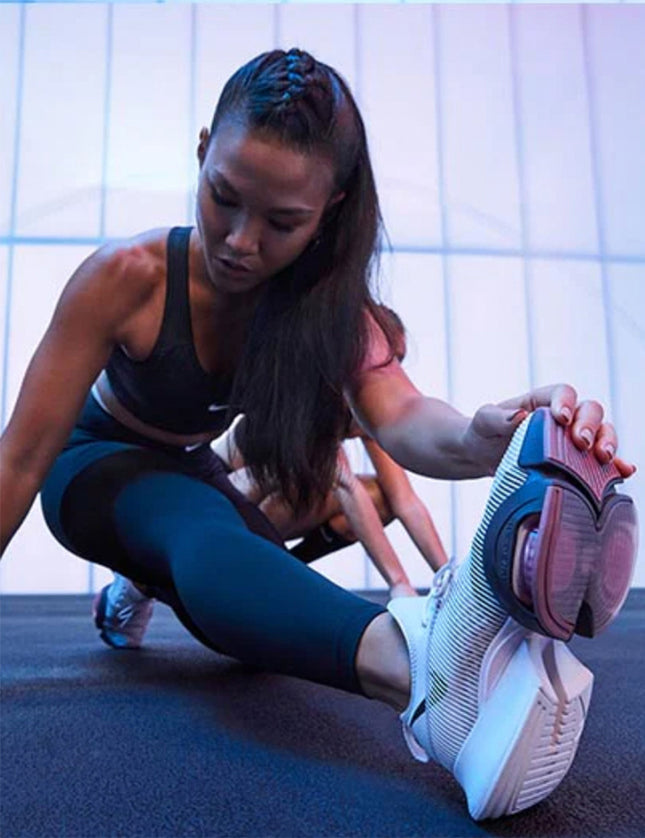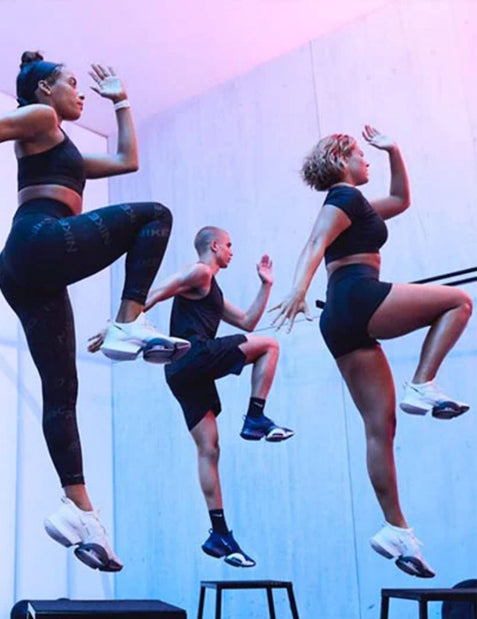 Shoes:
Are Nike SuperRep trainers good for running?
The Nike Air Zoom SuperRep trainers were designed for HIIT classes, not running distances over 500 metres. However, if you're in the mood for some short sprints, these trainers could be just the thing. Thanks to the chunky design, you get all the support of a cross-training shoe alongside the cushioning of a running shoe. That's win-win.
Looking at the design of the Nike Air Zoom SuperRep shoes, there's an exaggerated arc near the ball of the foot. That helps to provide stability and support when you're moving from position to position.
When you're in a fast-paced class, this element will give you just what you need to move swiftly and accurately. Despite this fact, the design doesn't lend itself to longer stretches of running, such as urban runs or marathons.
Are Nike SuperRep trainers good for CrossFit
Much like HIIT classes, CrossFit features a variety of disciplines and can be extremely demanding. If you're looking into getting the Nike Air Zoom SuperRep trainers for your classes, you might find that you can wear them for both.
As we have already mentioned, the Nike trainers are designed to make moving from activity to activity a complete cinch. The famous Zoom Air is at the forefront of these trainers, offering impact protection no matter what movements you're doing. However, if you deadlift or squat as part of your CrossFit training, these are not the shoes for you.
You will need a flat platform, rather than a big heel so you get the stability you need. The Nike Metcon fit the bill—with a high level of durability that makes them perfect for heavy lifting workouts.
Are Nike Air Zoom SuperRep trainers comfortable?
The short answer is yes. The experts at Nike have worked hard to create a HIIT-specific trainer that gives you all the comfort you could ask for. You've got a two-unit system under the foot of the shoe, which provides you cushion-like support no matter what you're doing.
It doesn't end there. When you're doing lateral movements, you get the structure that you need too. The containment shield arcs mean that your feet don't flop around when you move. That can be a massive plus when you're mid-session and could protect you from any nasty injuries to boot. Plus, to help you get down and mountain climb, the 'burpee break' gives you the ultimate level of flexibility.
You can quickly move into this position and get moving, without having any rigidness stopping you in your tracks. "They are great! Super light so great for HIIT, lots of support and feel very 'bouncy'," explains Personal Trainer, Helen Barlow. "I find them very comfortable. They support my feet well but maintain a good amount of flexibility."
Are Nike Air Zoom SuperRep trainers true to size
The Nike Air Zoom SuperRep trainers are true to size. You want to get a supportive and comfortable fit when you choose these HIIT trainers. For that reason, avoid going slightly bigger on these trainers.
Instead, opt for your standard shoe size, which should fit like a glove. Since the design is intricate, ensuring you have the correct size is essential here.
The takeaway!
Ready to upgrade your HIIT class gear? The
Nike Air Zoom SuperReps
could be the answer. These unique trainers have been created to help you supercharge your cardio sessions and give you all of the support you could need.
Our verdict is that these shoes are an excellent new addition to the Nike SuperRep line-up. Perfect for fast-paced sessions plus any other classes you may have in mind. Give them a whirl.