Words by Isobel Coughlan
Ensuring your shoes are right for your weather conditions is essential. So, as the drizzly months roll in, it's time to discover the world of waterproof running shoes. These specialised trainers are designed by experts to keep your feet dry and supported during the wet season. Because your workout schedule shouldn't stop because of the weather!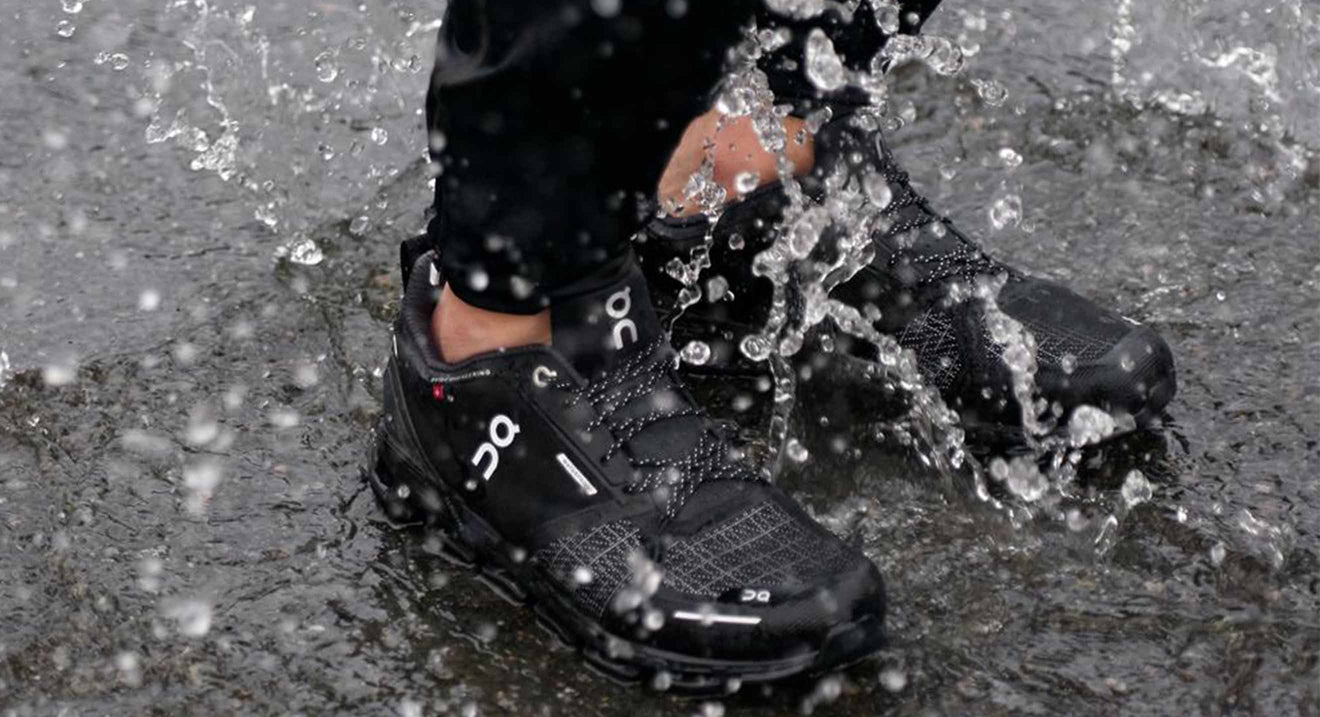 Finding the perfect waterproof trainers isn't as simple as some would think, so we've done the hard work for you and rounded up the best waterproof running shoes for women out there. In this guide, we summarise what you need to look for in a waterproof running shoe and the top options to try, so let's get into it.
What To Look For in a Waterproof Running Shoe
If you're looking for a pair of waterproof running shoes, you need to consider a few factors. These include:
Materials
Breathability
Durability
Firstly, you should look at what the shoes are made from. They'll need a waterproof upper, so they should be made from a well-known waterproof material like Gore-Tex or water-resistant fabric, at least. Gore-Tex running shoes are the best for wet weather, as this specialised material keeps you dry while still allowing your feet to breathe. Any product with an official Gore-Tex tag is totally waterproof, windproof, and breathable.
As we just mentioned, you'll also want the shoes to be breathable. Feet still get sweaty, even when the weather is cold. So, a pair of waterproof trail running shoes needs to allow airflow to keep you comfortable, cool, and dry.
Finally, when looking for waterproof running shoes for women, keep durability in mind. You don't want your shoes to wear out too quickly, as this can lead to your slipping or injuring yourself in the wet weather.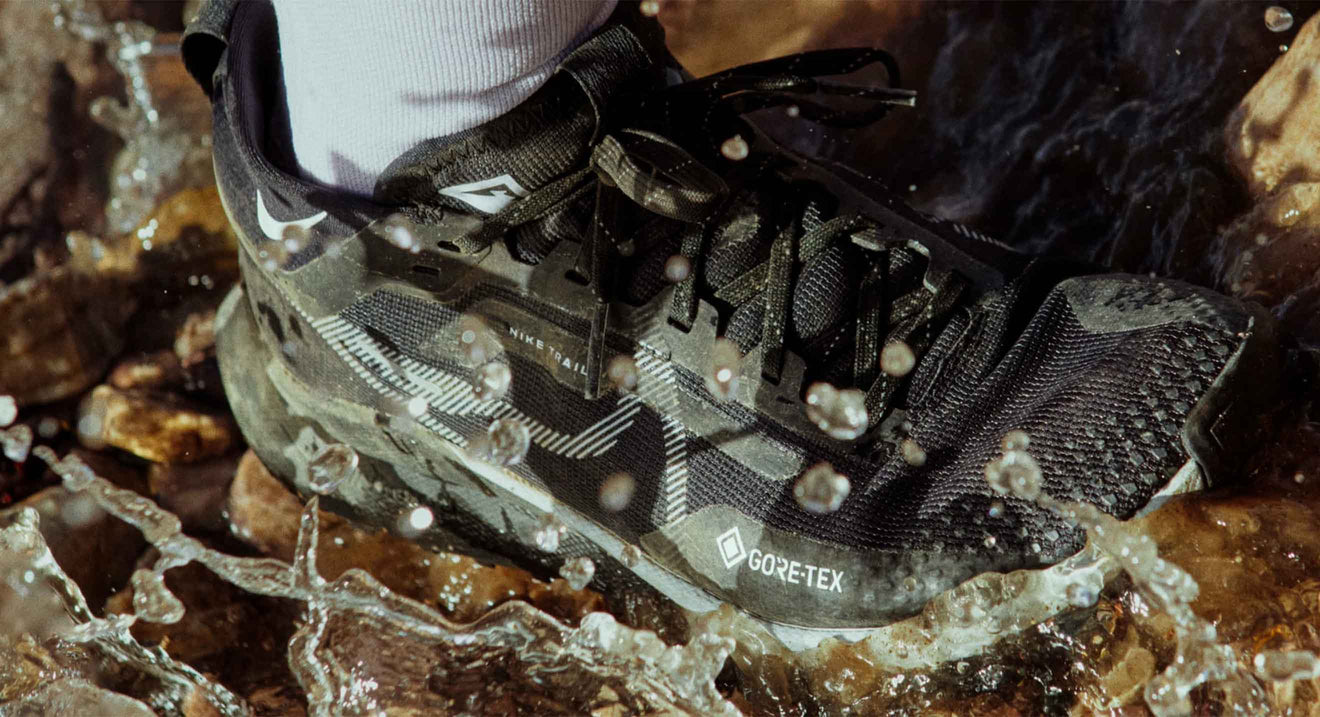 Top 4 Waterproof Running Shoes
Ready to buy a pair of the best waterproof running shoes? Here are some of the top picks you should consider for your running gear collection.
ON Running is a brand that ensures runners' needs are met, and the ON Running Cloud 5 Waterproof is proof of this.

This cult favourite running shoe has been reimagined with waterproof materials and sustainable components to ensure running enthusiasts have waterproof running shoes womens for the wetter months.
The shoe is sustainably waterproof, thanks to the upper made from 100% recycled materials. Plus, this eco-friendly waterproof material acts as a membrane, allowing air in and out to keep your feet cool. It even featured small reflective elements to ensure you're seen when the weather conditions are drab. Perfect.

Pros:
Reimagined popular shoe
Made with CloudTec technology
Membrane for breathability
Locks liquid out
Sustainable
Cons:
Some might want a more cushioned sole
Not optimised for trail running
If you're looking for Gore-Tex trail running shoes, consider the HOKA Challenger 7 Gore-Tex. Another popular brand, HOKA, also ensures runners have optimised shoes for all conditions.

The Challenger 7 Gore-Tex show includes a mesh upper with soft new foam and Gore-Tex invisible fit technology to protect you against the weather. The shoe also has a higher stack height for a more comfortable feel. The sole also has tightly spaced lugs and aggressive lugs to tackle uneven terrain.

Pros:
Uses Gore-Tex
Ultra comfortable fit
Great for road and trail running
70% recycled polyester
Moulded EVA foam midsole
Cons:
Some might want less cushioning
Out of the many Nike waterproof running shoes, the Pegasus Trail 4 is one of the best for the rainy months. This specialised shoe combines waterproof Gore-Tex and a flexible ankle cuff for comfort. This cuff also keeps dirt and debris out, which is excellent for those muddy trail runs.

The Pegasus Trail 4 also features a full-length React midsole for a responsive and smooth feel on any terrain. It's complemented by a grippy outsole that provides durable traction for uneven surfaces and roads. This is one of the top Nike Gore-Tex trail running shoes around.
Pros:
Optimised for trails and roads
Outside provides a durable grip
Gore-Tex waterproofing
Flexible ankle cuff to reduce dirt
Lightweight feel
Cons:
Expensive price
Some may not want a trail shoe
Another essential ON Running shoe, the Cloudrunner, is here to give maximum support and maximum waterproofing.

While ON Running shoes aren't official Gore-Tex trail running shoes, they use Swiss engineering to provide reliable 360° waterproofing with serious breathability. So, if you're searching for "Gore-Tex trail running shoes womens," these are a great pick.
The shoes also feature CloudTec cushioning and Zero-Gravity foam for a super supportive feel. The sole even has a cradle-shaped construction to help you run comfortably and easily. The whole shoe weighs 282g – pretty impressive.
Pros:
Lightweight feel
Very cushioned feel
Supportive shape
360° waterproofing
Breathable
Cons:
Some might want a smaller heel-to-toe drop (9mm)
Might be too cushioned for short-distance runners
Not optimised for trails
The Takeaway
Has your waterproof running shoes search come to an end? Or are you still looking for the perfect fit? Hopefully, our guide has helped you find the perfect winter running shoe. Remember, look for high-quality materials, breathability, and durability for an enduring choice!
Or continue researching on our blog. See The Sports Edit editorial page now.