Style, performance, and comfort come in a small package. Yes, we're talking about Stance socks, the latest piece of sports gear to become a global sensation.
Offering everything that athletes and fashionistas could ask for, these socks are a sight to behold. If you're considering treating yourself to a pair, you've come to the right place. Here's a complete buying guide along with some handy answers you might be looking for.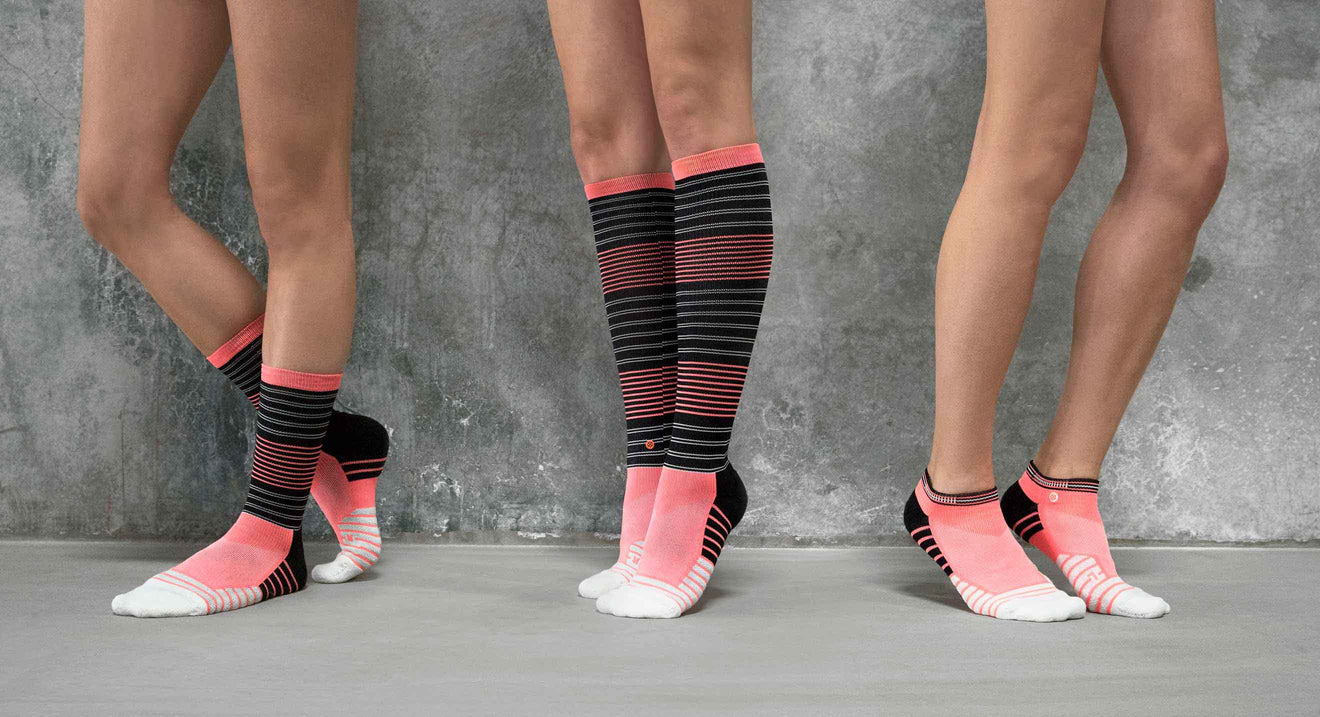 How Stance Socks Started
Founded back in 2009, the founders of Stance did the unimaginable. They took the humble sock—which had previously been an afterthought—and brought it to the forefront of sports fashion.
Jeff Kearl, John Wilson, Aaron Hennings, Ryan Kingman and Taylor Shupe were the brainchildren behind the brand that soon took the athletic world by storm.
Kearl was previously the chairman of the board of Skullcandy, the leading headphone brand. He has stated that the idea behind Stance came from seeing that categories suffering 'benign neglect', such as socks and headphones, hold great potential.
The first line of Stance socks hit stores in 2010 and the rest, as they say, is history.
What's So Special About Stance Socks?
Stance elevates the simple sock to a completely new level. You might say these socks are a work of art. Each pair delivers on three core fronts: style, comfort and performance.
Combining cool designs, vibrant colours and a high level of functionality, it's plain to see why people all around the globe have fallen head-over-heels in love with these products.
Aside from the undeniable level of quality, Stance has also enlisted some impressive brand ambassadors, known as Punks & Poets.
From Willow Smith and Rihanna to Kevin Lyons and Andrew Reynolds, the star-studded list goes on and on. With the support of some of these leading names, the socks have become high-end fashion products.
Are Stance Socks Good?
Put simply, the answer is yes. Here at The Sports Edit, our staff has bought into Stance socks and given them a whirl. After trying (and testing!) them for ourselves, the majority of us only use this brand of socks when it comes to athletic training.
The unique combination of a cool aesthetic and high performance means we're completely won over. Look at any Stance socks review and you're likely to hear the same thing.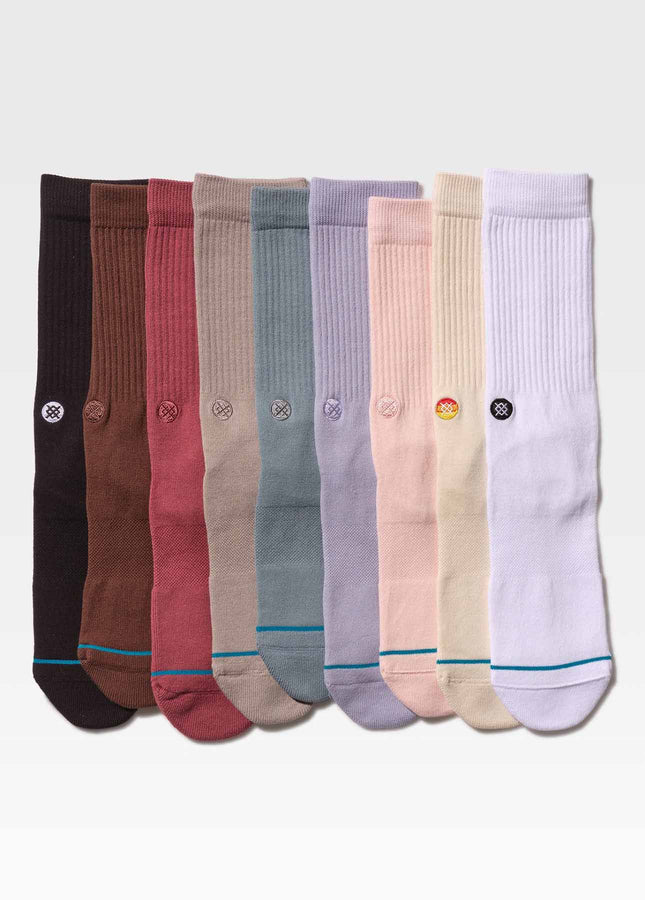 Why Are Stance Socks Expensive?
Let's deal with the elephant in the room. Stance socks cost between £12 and £16 per pair on average. It's more than your standard pair of basic socks. However, the reason is that these are not basic socks.
They are cleverly designed pieces of sports gear that come complete with an eye-grabbing design and fresh looks. Cool Stance socks are much more appealing than your average pair while also ticking all of the right boxes. It's win-win.
What's more, unlike many other sports sock brands on the market, Stance socks are anatomical. Simply put, that means that they are right and left-foot designated, offering the perfect fit.
They also feature mid-foot arch support, giving athletes an extra level of security and comfort as they work out. Not to mention, Stance socks are entirely seamless so you never get irritating wads of fabric under foot when you're in the middle of training.
When it comes to the Stance Run Collection, there's more exciting features to behold. Each pair of socks in this range is made from the trademarked FEEL360 fabric.
The ultimate breathable mesh means that your feet stay perfectly dry when you're running and getting your sweat on. Plus, the unique material includes silver ions which decrease odor-causing bacteria too. That equals smell-free, sweat-free feet when running.
Are Stance Socks Worth it?
Before you get some Stance socks, you may be wondering if they are worth it. If you're looking for a pair of athletic socks that look great and also give you the performance you need, you've found them.
These are products that will last and endure even the most gruelling of workouts, which is why they are so popular with athletes globally.
Stance Running Socks
Are you an avid runner? If you love nothing more than hitting the track, investing in a pair of Stance socks is the way to go. Here's what you need to know about this range.
Are Stance Socks Good for Running?
Yes, yes, yes! The truth of the matter is that there's a variety of Stance socks specifically designed for this activity. You can get women's running socks and men's running socks from this ultra high-end brand.
Be sure to check out the special features of each design before choosing the one that is right for you and your workout style.
Run Tab - White
The Run Tab range is what you might call the 'essential running socks'. Complete with elastic arch support, seamless toe closure, and a reinforced heel and toe, they give you the extra support and comfort you need for your everyday runs.
As we have already covered, these socks feature the trademarked FEEL360 fabric. That means that you can expect a breathable mesh, silver ions (to reduce any odours!), and a comfortable feel to boot. Put simply, there's so much to adore about this unique fabric.
Price: £12.00
Run Light Tab - Black
Featuring the same technology as the white version, the black Run Light Tab socks are worth your time. These socks have been technically-designed to support your run. Featuring the previously mentioned FEEL360 fabric and design flairs, you can get the support you need as you move. The black colourway gives the socks some extra pizazz.
Price: £12.00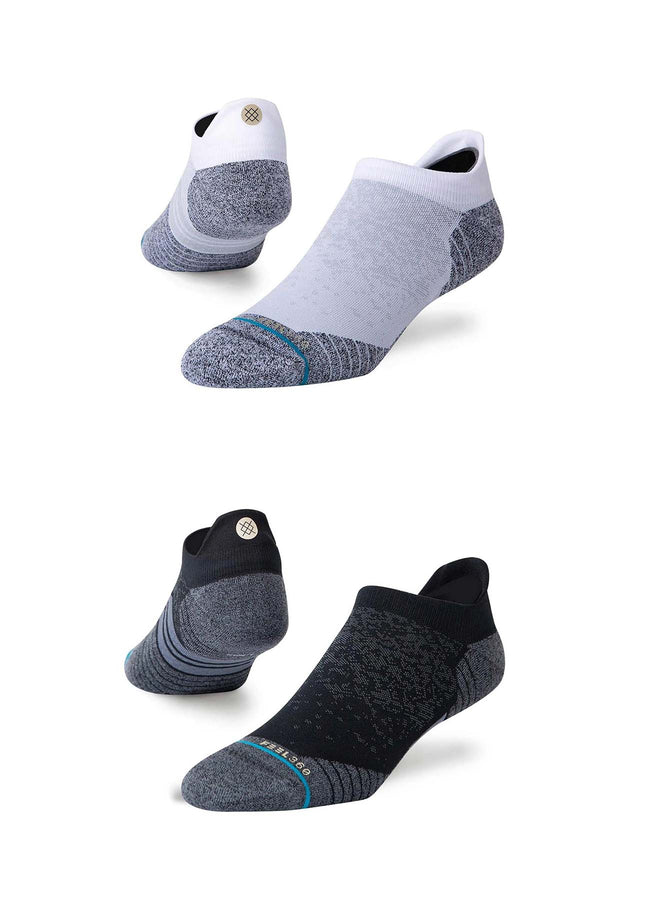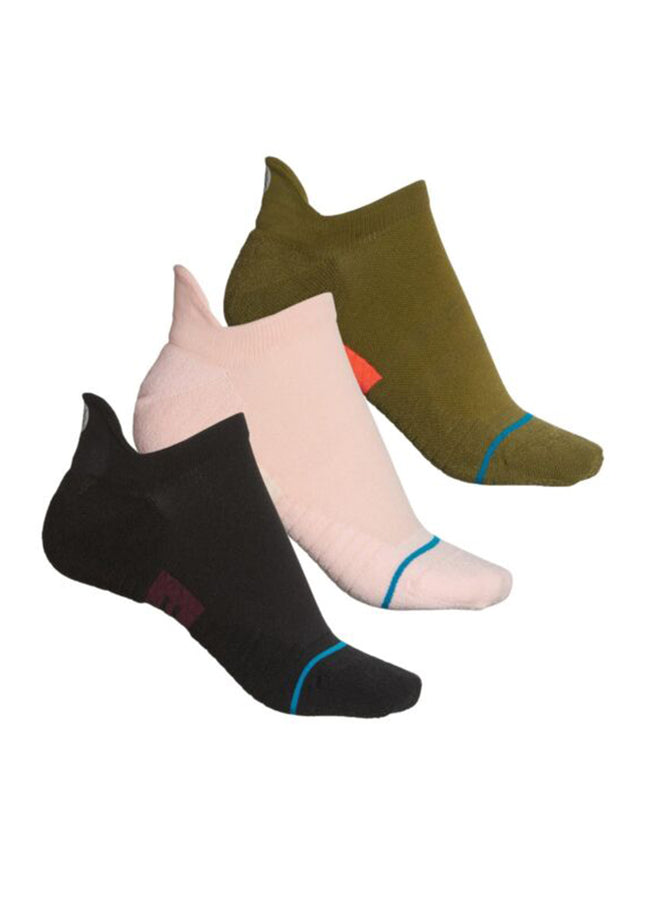 Stance Training Socks
Next up, let's take a moment to appreciate some of the best Stance training socks. Whether you're hitting the gym or heading to a class, you need a pair of high-quality socks that will give you the support you deserve. Let's take a look at the options here.
Montalvo Tab Socks
Price: £13.00
Packed with antimicrobial properties and Infiknit fibres so they don't fray, the Montalvo Tab Socks are ideal for your next training session. Fans of Stance socks will love the reflective logo while the engineered ankle protection may help to keep you sturdy and safe.
As if that weren't enough, these Stance socks also include channelled air cushioning, performance mesh, and performance mid-cushioning — all in one package. Add that to an eye-catching and colourful design, and you might just fall head over heels in love here.
Skedaddle Tab Socks
Price: £29.99 (3-pack)
Backed by the moisture-wicking FEEL360 fabric and performance mesh, the Skedaddle Tab Socks are a shining jewel in the Stance brand. When you're looking for training socks that will stand high levels of endurance, these ones are worth taking a look at.
Much like the Montalvo socks, you get the reflective logo and a cool design that is sure to turn heads. You get some light cushioning here too which is a real blessing — especially if you're engaging in high-endurance sessions down at the gym.
Everyday Wear Stance Socks
The beauty of Stance socks is that there's a product for every scenario. Aside from the well-known training and run socks, the company also sports a variety of everyday items. Whether you're headed out for the day or running errands, these socks are the height of comfort and style. Let's take a look at a couple of options that we simply love:
Sensible Two Socks
Price: £26.00 (3-pack)
Finding the perfect pair of trainer socks that don't show over the edges can be hard. Luckily, the Sensible Two Socks tick all of the boxes for you. The deep heel pocket and seamless toe closure mean that these socks are super comfortable no matter what.
It doesn't end there. You also get the combed cotton blend along with some light cushioning. Stock up your drawers with these no show socks and wear them each day.
Leopard No Show Socks
Price: £26.00 (3-pack)
Yes, there's another beautiful option you might want to consider. The Leopard No Show Socks are a design feat with Infiknit technology and light cushioning too. As if that weren't enough to tempt you, you get the targeted cushioning and engineered arch support.
These Stance socks are the epitome of a 'feel good' fit meaning that you should have the ultimate in comfort whatever you're doing. Plus, as the name suggests, they come in a chic leopard print design, stripes, and block colour. What more could you ask for?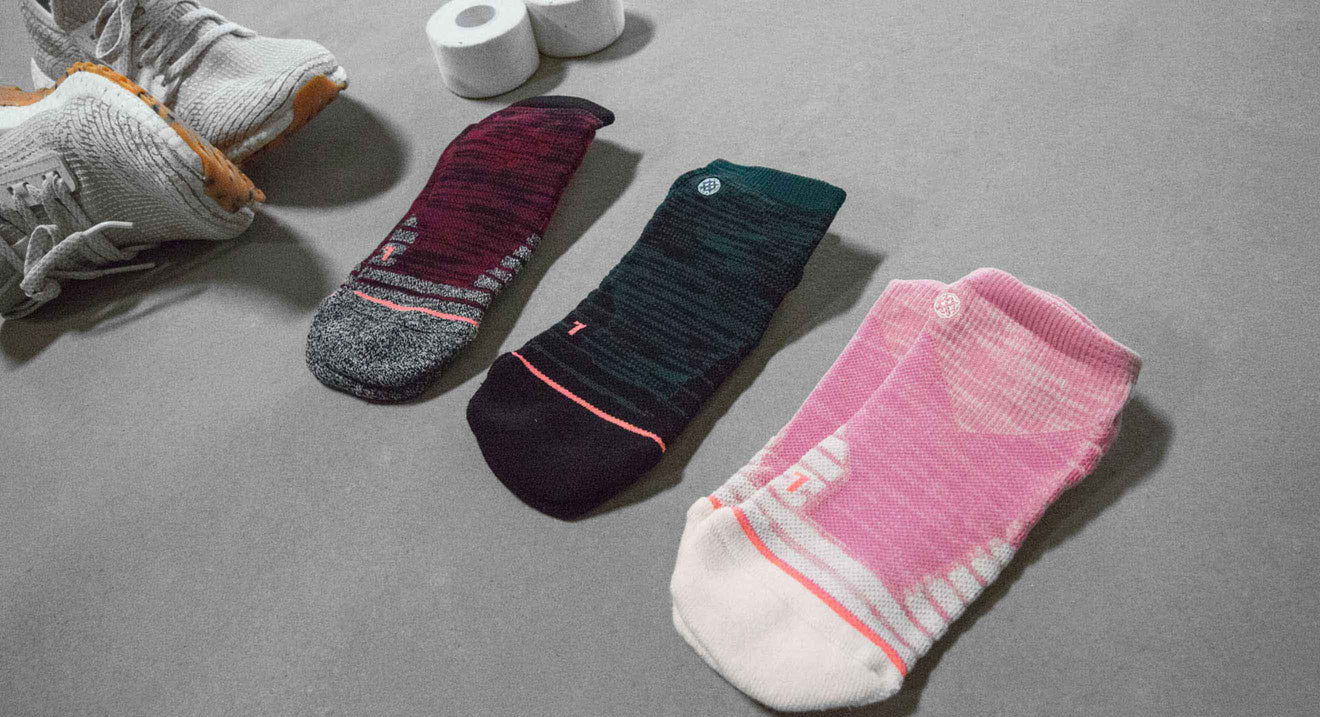 Stance Sock Styles & Cuts
Ready to get started and join the Stance sock revolution? Choosing the right pair for you doesn't have to be a trial. Let's take a look at some of the Stance sock cuts.
Stance Crew Socks
The Stance Crew Socks also have reinforced heel and toe fabric. These fitted socks come up above the ankle giving you a good level of coverage. The line of crew women's Stance socks come in a variety of vibrant designs.
Stance No Show
As the name suggests, the Stance No Show Socks are designed to be almost invisible when you're all geared up. These are the lowest height available and the seam of them should sit right below the side of your trainers or shoes. Simple!
Stance Ankle Socks
The Stance Ankle Socks are what they say on the tin. When you're wearing a pair of trainers, you will likely be able to see the edge of these socks right above the side of your shoes. However, they are still discreet, fit perfectly, and come with cool designs.
Stance Tab
The Stance Tab Socks are one level up from the No Shows. Offering a modest rise above the side of your shoes, these socks are ideal for runners. Since you get a good level of coverage as well as ultimate flexibility, the Tab design is always a real winner.
How Do Stance Socks Fit?
Most of the Stance sock designs come with a fitted feature. That means that these socks will support your feet and give you the comfort that you need.
However, when you first get started, you might find it hard to decipher the sizes. Luckily, there's a simple solution.
Stance Size Guide
Most women's Stance socks come in size S and M. However, some of their newest performance socks are unisex and are available in size S to L.
Choosing the right fit for you isn't hard at all. Here's a quick guide to help you along the way.
How To Wear Stance Socks
When you've invested in some cool Stance socks, you might be wondering how to style them. Fortunately, we have a few answers you may be looking for.
The rich, vibrant designs of these socks means that they work well with any outfit—athletic or otherwise. Here's what you need to know about making them look effortlessly stylish.
Which Way do Stance Socks Go?
First things first, do you wear the logo of your Stance socks on the inside or outside? It's quite the conundrum. That's why, back in 2016, Stance asked the people of Twitter for their answer.
In the poll, over 53% of customers said they wear their logo on the outside. Of course, the choice is completely yours! Wear them the way that feels right for you.
How to Style Stance Socks?
Styling your Stance socks isn't difficult. The stunning aesthetics speak for themselves. When it comes to the higher crew socks, it's all about showcasing the design.
That means pairing them with low-rise trainers or sneakers and maybe even some cropped trousers too. The Stance socks should be front and centre of your entire outfit; show them off.
With the lower rise, ankle or No Show socks, pair them with running shorts or leggings. These cuts will work with almost any outfit.
Both unassuming and cool, the socks look remarkable with most athleisure looks. Take the time to find out what works for you.
Stance Socks FAQ
Where are Stance Socks Made?
While the brand's HQ is over in San Clemente, California, Stance socks are manufactured in various locations around the world.
What Material is Stance Socks?
The material of each pair of Stance socks depends on the range. For example, the FEEL360 training socks are made from unique FEEL360 fabric.
However, other variations, such as the Uncommon Train socks are made from a blend of nylon, polyester, combed cotton and elastane. Read the product description before choosing your socks!
Are Stance Socks Thick?
Stance socks offer a high level of comfort and thickness. However, some ranges are thicker than others. For instance, the Uncommon Solids running socks are made from wool and are, therefore, naturally thicker than other ranges.
Conclusion
Are you itching to invest in a high-quality, high-fashion pair of socks? Stance has you covered. These products are always popular with customers here at The Sports Edit and it's clear to see why. Offering unrivalled performance and a great look, we love them!