Words by Isobel Coughlan

Stocking up your wardrobe with fresh activewear and plus size gym leggings is an exciting experience. From brunch-ready yoga leggings to supportive gym leggings for running, we have lots of options in inclusive size ranges.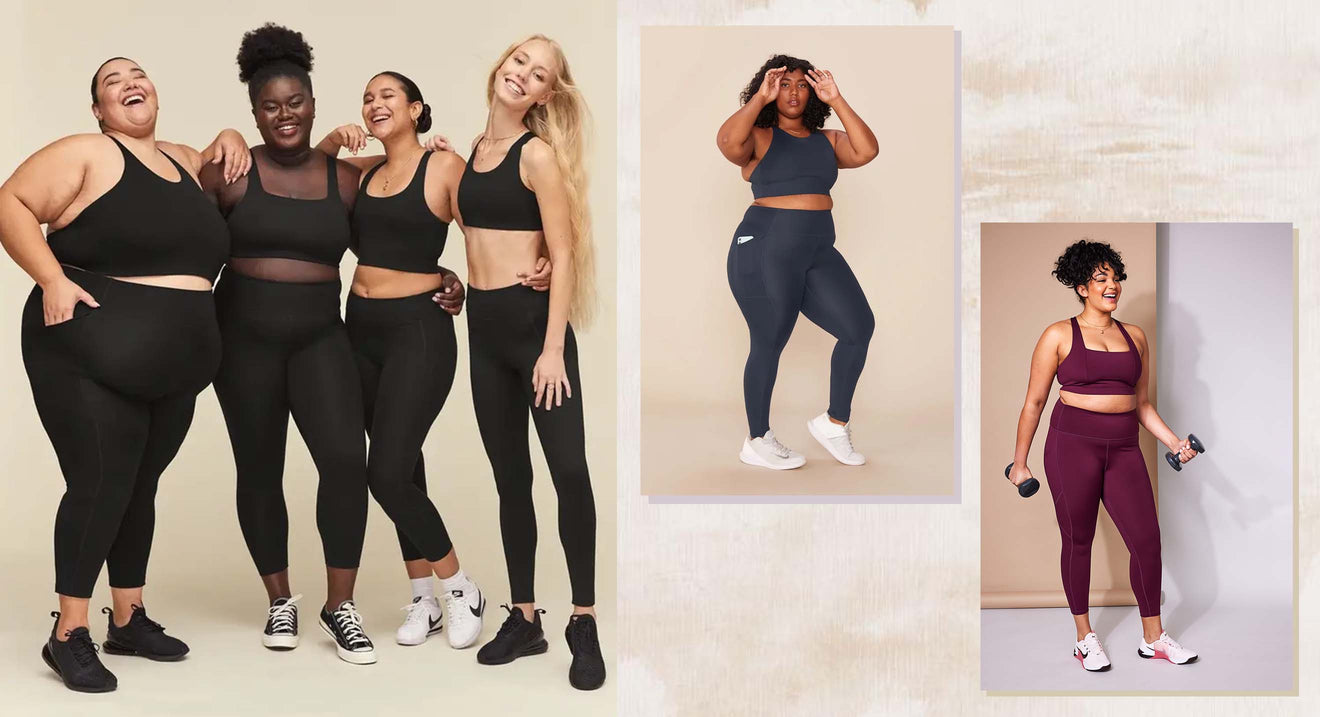 To help you find the perfect pair, we've done the research for you. We've got the best plus size activewear brands you need, and they have the reviews to prove it. Scroll down to learn about the top plus size activewear pieces, and get ready to add them to your cart. Let's go.
The Best Plus Size Gym Leggings - The All Rounder
In our opinion, the Sweaty Betty Power Gym Leggings are one of the best gym leggings we've seen in a while. With flattering sculpting seams, sweat-wicking and quick-drying properties, and two pocket options, this flexible garment is ready for all occasions.

You can find this Sweaty Betty favourite in sizes up to UK18 with an inseam length of either 27"/68cm or 24"/60cm. Whether you're going on a run, hitting the gym or want to chill in some soft and supportive leggings, the Sweaty Betty Power Gym Leggings are the ones we'd recommend as the best all rounder plus size gym legging.
Check out the Sweaty Betty Power Gym Leggings here.
The Best Plus Size Gym Leggings With Pockets
Do you prefer your gym leggings with pockets? If so, Girlfriend Collective is for you with their High Waisted Pocket Leggings. These sleek workout leggings are compressive, have an ultra-high waisted fit, and include double side seams. Oh, and they have pockets on each side!
These plus size gym leggings with pockets are available up to size 6XL (UK 28-30) and come in either a 28.5" inseam (full length) or 23.7" measurement (⅞ length). Note! These compressive leggings mould to your body over time. But if you want a less restrictive fit, we recommend sizing up.
Learn more about the Girlfriend Collective High Waisted Pocket Leggings online now.
The Best Plus Size Yoga Leggings
The perfect addition to your routine? Yoga, and some cute plus size yoga leggings. Get rid of your old and see-through pairs and replace with the YMO Daybreak Full Length Legging, a pair made from high-performance recycled materials with a buttery-soft finish. Plus, they're high-waisted and have a waistband pocket. What more could you ask for in a pair of yoga leggings?
These full-length gym leggings are available in four colours, including Black, Jade, Mazarine Blue, and Sky-Blue, and come in all sizes up to XL (UK 16). Ideal if you're ready to practise your downwards-facing dog with confidence.

Find out more about the YMO Daybreak Full Length Leggings here.
The Best Plus Size Running Leggings
Plus size running leggings that tick all boxes? Check! Meet the Nike Epic Fast Pocket Running Leggings, a favourite for runners worldwide. These sleek running leggings include mesh panels for breathability and reflective elements to ensure you're visible in dark conditions. Excellent for those dark and cold winter runs.
These leggings are available in all sizes to XL, which for Nike is a UK 20-22. They give a tight fit for a compressive, body-hugging feel. If you want leggings for runs and high-impact workouts, these are perfect. However, if you're after soft yoga leggings, these might be slightly restrictive.

See more about the Nike Epic Fast Pocket Running Leggings now.
The Best Plus Size Wide Leg Gym Leggings
Who says leggings have to be leg-hugging? The Girlfriend Collective Compressive Flare Legging is here to prove you can feel supported without the skinny leg style fit. These fashionable leggings are high-waisted, sweat-wicking, stretchy, squat-proof, and have a wide-leg design. Great for light exercise, yoga, and athleisure street style.

These endlessly cool leggings are available up to size XXXL (UK 20-22) and have a 32" inseam. While the leg design is floaty and wide, the high-waisted section of the leggings offers a compressive fit.
Explore the Girlfriend Collective Compressive Flare Legging here.

The Best Plus Size Activewear Brands
Never Google "plus size gym leggings" again. We've done all the hard work for you. Whether you're looking for leggings or a supportive sports bra, you can trust the brands below for functional and fashionable gym wear in plus size sizes and fits.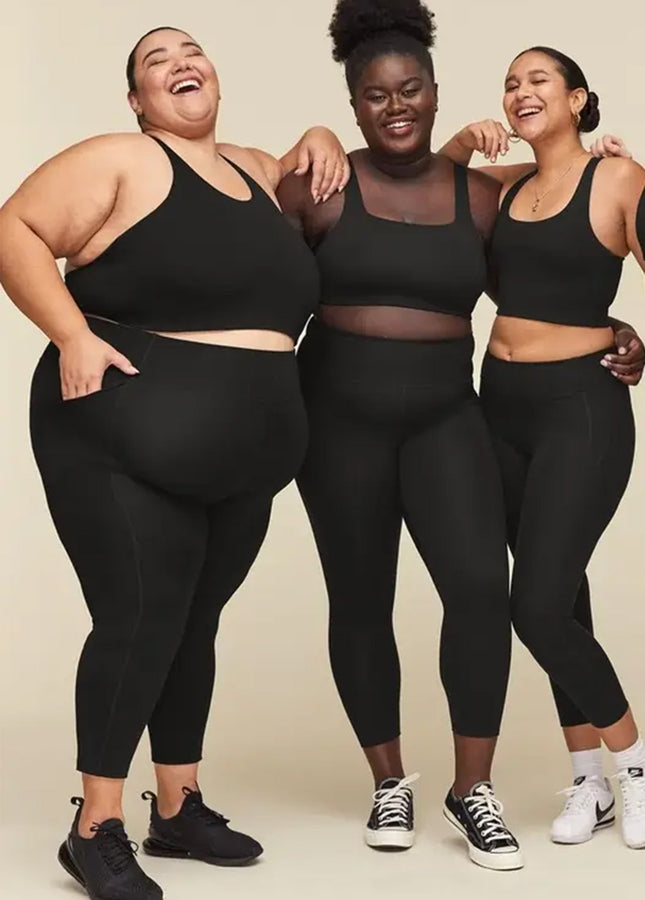 The Girlfriend Collective is an ethically made and sustainable activewear label that's here to change your gym style for the better. Whether you're looking for a size-inclusive and eco-friendly brand or simply on-trend pieces, the Girlfriend Collective should be on your shopping list.
YMO is here to provide gym wear for every situation. From lifting and running to hiking and yoga, YMO has trendy sportswear pieces for all tastes. Plus, YMO actively listens to their customer's fit and sizing suggestions, ensuring all garments don't just look good but feel good, too.
Goodmove by M&S has become one of the UK's top activewear brands in the blink of an eye. Since 2020, this leading brand has grown to provide comfortable and stylish activewear options for all sports, sizes, and needs. From chic shorts to premium fleeces, Goodmove is one to watch.
Nike is one of the best sportswear brands of all time, and their quality lives up to their reputation. With specialised fabrics, attractive styles, and an inclusive range of sizes, Nike is a go-to for ladies worldwide. If you're considering this brand, try their iconic Dri-FIT fabric for a comfortable workout.
Sweaty Betty is a UK activewear brand that's taken the international market by storm. Since 1998, this London-based brand has focused on offering innovative and comfortable workout clothes for all ladies. Their iconic Power Leggings sell every 60 seconds. Now that's impressive.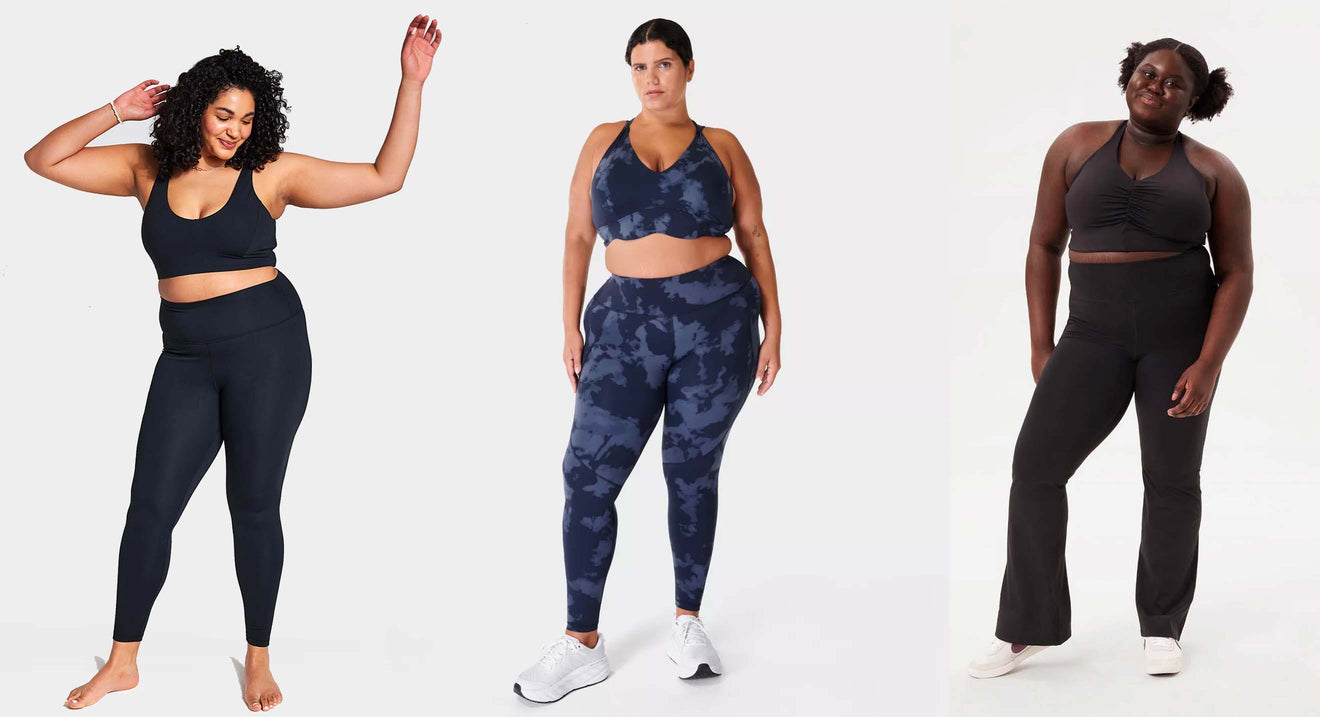 Final Thoughts
So, that's the wrap on the best plus size gym wear. What do you think about our featured plus size gym leggings? Are these your go-to brands? Let us know in the comments. Don't forget to bookmark this page so you can come back and shop.