Words by Talia Hopkinson
Sweaty Betty is a best-selling activewear brand based in the UK that has made a name for itself in the women's fitness wear industry. Sweaty Betty's message is to "empower women through fitness and beyond" and their Sweaty Betty leggings consistently put that message into action.
Each release consistently outdoes the other and customers are actively waiting for the next drop of these must-have leggings.
Sweaty Betty is also currently celebrating their 25th birthday so there couldn't be a better time than now to join the community, right?
Are Sweaty Betty Leggings Worth the Money?
Sweaty Betty understands that not all women love the same workouts. So whether you're a yoga class regular, feel revived from lifting weights in the gym or adore a runner's high, they have a pair of leggings that fits your vibe.
Sweaty Betty also makes activewear that is built to last. The clothes are crafted from recycled bottles and sourced from responsible materials. Which means you can care for both you and the planet.

It's also worth mentioning that the incredible sense of community that comes from this brand is something to be reckoned with. Inclusivity is a huge priority for Sweaty Betty. Every woman has a place within this brand and they design activewear with real women's bodies in mind.

If you're still on the fence about whether these leggings are worth the money, you are in luck. We have created this expert guide on their range of leggings so you can find the pair of leggings that is right for you.

Interested in Sweaty Betty's entire range? Check out this guide!
Introducing Sweaty Betty Leggings
Before we get into the full guide, here is a mini breakdown of the Sweaty Betty's leggings.
Power Leggings "The must-have pair" - The signature and best-selling leggings from the Sweaty Betty franchise. Designed for both cardio and weight training.
Zero Gravity Leggings "The runner's dream pair" - Leggings specifically curated to help push you on the track.
Super Soft Leggings "The newest innovation" - Created for low-impact sports such as yoga, pilates and barre.
All day Leggings "A girl's best friend" - Versatile leggings created for low impact sports or simply lounging.
Now that you know what to expect in these leggings, here are their key attributes.
Once introduced to a pair of Sweaty Betty Power Leggings, you'll never look back.
One pair of these leggings is sold every 60 seconds so if you can bag yourself a pair before they sell out, you're one of the lucky ones. We struggle to keep these in stock.

But the popularity doesn't go unwarranted because these Sweaty Betty leggings have it all.

Compressive fit, high-waisted and made from a sweat-wicking material are just a few key components that make these leggings what they are. The breathable material is designed for women who love to hit the gym hard and look great doing it.
You'll also be glad to know that these leggings are 80-90% squat proof and feature bum-sculpting seam lines for a flattering look.
Most of all, these leggings easily transition from sport to sport. Whether you're a yoga class attendee or prefer to get your rush of endorphins in the gym, these leggings will accompany you through each activity.

It goes without saying that this bestselling pair of leggings has a discrete pocket feature in the back too.
Try out the Sweaty Betty Power ⅞ leggings or pair them with the Power Bra and smash your next workout.
"I can't overstate how much I love zero gravity leggings." - These are the types of reviews we love to see.

Known as the "bum-sculpting superhero," you can just bet that these leggings are as flattering as they are stylish.
These leggings feature all the essentials of Sweaty Betty leggings including sweat-wicking material, a high-waisted fit and they are quick drying.

Most importantly, these Sweaty Betty running leggings are lightweight and made from a honeycomb fabric which is designed with cardio in mind.

Also featured in a 7/8 length with a reflective design, there's no excuse to avoid those dark winter morning runs anymore.
Featuring a handy side pocket, you can also keep your phone nearby and play your favourite tunes on the track.

Sweaty Betty also released their Zero Gravity Running Sports Bra which matches perfectly with these leggings. With both the support of the leggings and the bra you will easily push past your personal best.

But don't take it from me, take it from the customers instead as they say "I honestly believe they make running easier and recovery quicker."
The Super Soft range is the newest innovation from Sweaty Betty and it has exceeded expectations. If you're looking for Sweaty Betty yoga leggings, these are it.
But do not let the soft design fool you.

These leggings are not your average soft leggings that fall apart when washed. These leggings are durable, sweat proof and offer sculpting support.
If you love yoga, Pilates, dance or barre workout classes, then you need to add these leggings to your wardrobe.
The 90% squat proof material allows you to transition from downward dog to child's pose and feel confident in doing so.
I also had to mention the Sweaty Betty Super Soft Sports Bra that they released with this range. The design and colour of the bra is truly elegant.
If leggings are a staple for your everyday outfits then you'll want to grab these Sweaty Betty black leggings.

Made from a buttery soft material and offering a four-way stretch, these leggings are extremely comfortable.
They are designed with sweat-wicking material that dries quickly so you can wear these leggings to studio workouts. However, they are great for lounging and everyday wear too.

Feel like "that girl" and pair with the chic After Class Sweatshirt.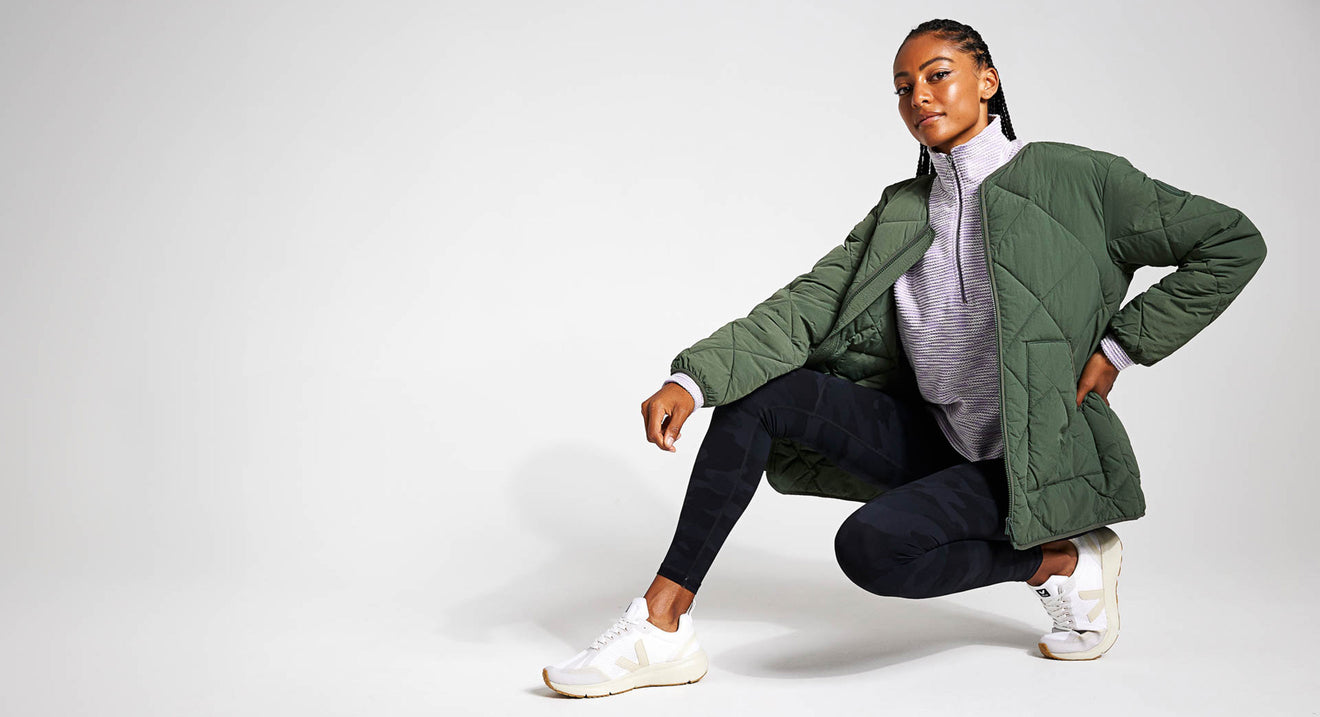 Key Takeaways
Do I even need to say anything else..?
Seriously though, this entire brand just knows how to do fitness wear for women well. The leggings are consistently their bestsellers and it's easy to understand why.

Not only has this brand committed to providing activewear that never fails you but the community that comes with it is top-tier.

If you're still undecided, I recommend the Sweaty Betty Power Leggings. They sell out fast for a reason. They're not only versatile in fit but design too. Plus, they will look great with all your workout tops and jackets.

Support your fitness journey by investing in responsibly sourced leggings and become part of the Sweaty Betty community. You really can't fault the brand.

Discover the rest of Sweaty Betty's range here.