Summer is quickly approaching, and it's time to prepare our wardrobes ready for warmer days. That's right! We're kissing our long leggings goodbye and looking forward to the new it-garment — bike shorts.
These comfortable and stylish pants are the ideal summer layer. Flexible enough to offer movement yet on-trend and stylish for street style looks. This versatile look is ready for the hiking trail, the beer garden, and everywhere in between.

But do you know how to style this athleisure favourite? Don't worry if you're new to the trend! We've got the lowdown on bike shorts and how to rock them. Keep reading for more!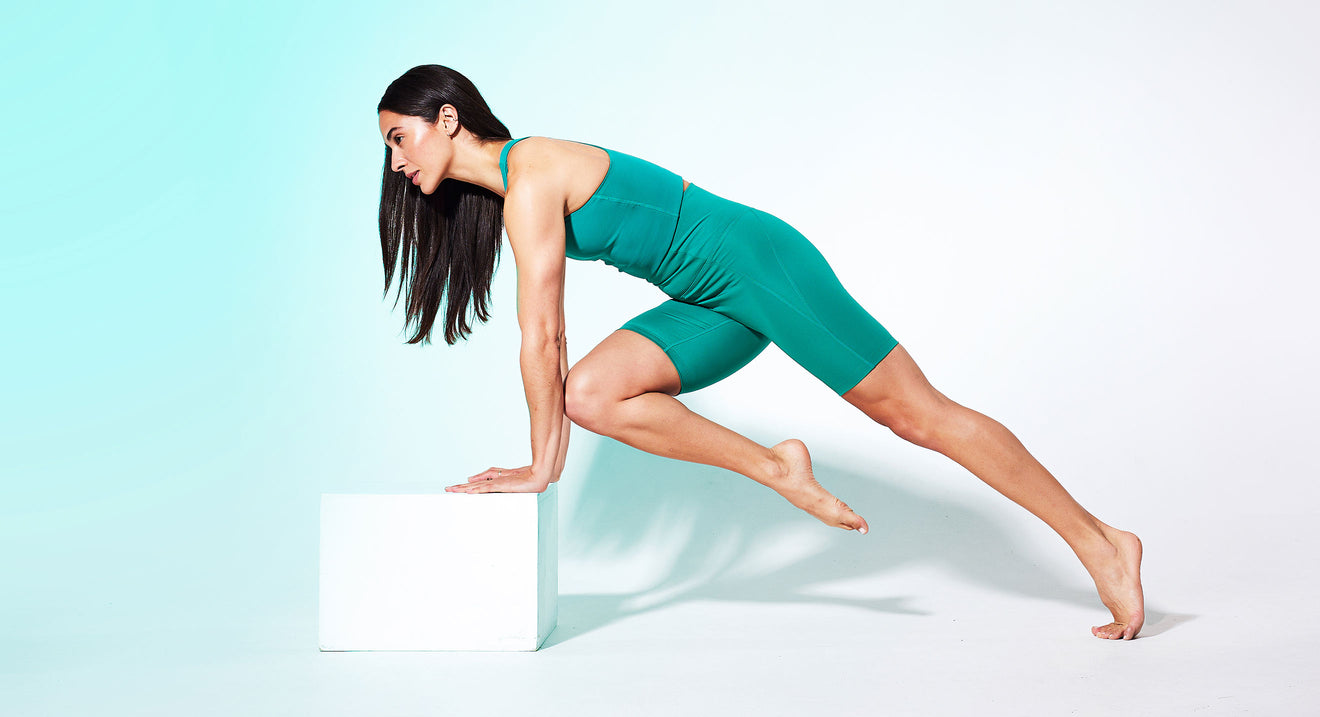 The history of the bike short
Trends come and go, but they always begin somewhere…
The humble bike shorts were originally designed to keep cyclists comfortable and cool during long races. These functional shorts date back as far as the early 20th century, but they became a sports staple in the 1960s with the invention of spandex, Lycra, and other innovative materials.

However, when you jump forward to the 1980s and '90s, bike shorts become more of a fashion statement than a cycling accessory. From Madonna to Sarah Jessica Parker, celebrities and fashion icons embraced these mini shorts outside the gym. Even Princess Diana embraced the trend, and today she's closely associated with activewear trends and styling bike shorts with effortless grace.

In the 2000s, bike shorts fell out of favour as other new trends took over. Goodbye Spandex shorts, and hello denim mini skirts, low-rise jeans, and velour tracksuits. But this isn't where bike shorts disappear. Nope. These shorts with a vengeance in the 2020s, and we're all about them.
Bike shorts as a trend today
Today, Bike shorts are back and ready to party.

Women's fashion tends to revolve in 20-year cycles. However, trend cycles are getting shorter thanks to social media and digital style platforms, and we're embracing garments from every decade. Though the 2000s were 20 years ago, current trends are taking inspiration from the '80s and '90s, and thus bike shorts are in vogue again.
No matter which fashion outlet you explore, bike shorts are featured. From style blogs and influencer feeds to high-end brands and runway shows, these teeny shorts are at the forefront of every athleisure trend.

You can find these in all colours and fabrics, and there's a wide variety of different waistband details, too. Each designer has their own rendition. No matter your aesthetic, you can match bike shorts to your 'fit.
6 ways to style your bike shorts
Get your wardrobe ready. Bike shorts are here to mix and match with your favourite looks! See the top six styles for this summer trend below.
Sweat style
While these shorts have become a street style must, they're still a top contender for workout style.

If you're about to smash a sweaty workout, style your bike shorts with trainers, a high-impact sports bra, and a lightweight vest. This way, you'll be able to move easily and not get too hot.

Pro Tip: These Nike bike shorts wick sweat away to keep you dry while you exercise.
Yoga mood
Yoga will always be a popular workout trend. Whether you're training your flexibility or mindfulness, yoga is always more effective when you're in the right activewear.
To ensure a 10/10 session, opt for a comfortable and tieable vest tank and spacedye bike shorts. Easy to slip on and ideal for working out in the heat.

Pro Tip: Make sure you pick super-soft bike shorts with a high-rise design for ultimate comfort.
Festival ready
Festival season is on the horizon, but are your festi-outfits planned yet?
Festivals are the place to embrace trends, vivid hues, and funky outfits. In 2023, bike shorts are joining the line-up, and we expect to see them at every event. Pair bike short onesies with statement sneakers and cross-body bags for the summer season.
Pro Tip: Bike short onesies are the best option for a comfortable all-in-one outfit. Experiment with neutral colours and pops of colour to see which suits your festival personality best!
Choosing the right bike shorts for you
A bike short look is nothing without confidence, so choosing the right shorts for you is key. These handy bottoms suit every body type, but there are some tips and tricks to ensure your pair feels as good as they look!
Opt for compressive fabrics and high waistbands if you're into active workouts or have a curvier figure. These shorts are designed to keep you comfortable while moving, ideal for hitting the gym or strutting around town.
Pick softer waistbands for yoga practices or leisurewear. You don't need as much support when embracing low-impact movement. Unless you want it!
If you have wider hips or thighs, explore longer leg inseams. This gives you extra comfort, and the shorts are less likely to ride up.
Take time to try different styles and brands before buying. Not all shorts are the same, and finding the perfect match for your body type is important.
Go with whatever makes you feel your best. At the end of the day, you want to feel amazing in your shorts. If you have any doubts, move on to the next pair!
Conclusion
Bike shorts are the gift that keeps on giving. Seriously.

Whether you want to lounge at home or look on-trend during a city break, bike shorts rise to the occasion. This versatile piece can be styled for any occasion, allowing you to create endless outfit combinations with just one garment. Buh-bye, outfit panic!
This summer 2023 style won't be going anywhere soon. Start styling now to get ahead of the trend!