Words by Phoebe McRae
In case you missed it, VEJA trainers are in high demand, hitting the mainstream in 2018 after trendsetter Meghan Markle wore the VEJA Esplar trainers in Australia
Since, the brand has firmly cemented itself on all the best sneaker lists alongside the likes of sneaker giants Adidas and Nike.
But how much do you know about VEJA sneakers? Keep scrolling to learn all about the brand, its sustainability efforts, and the reason why celebrities and the style set are obsessed!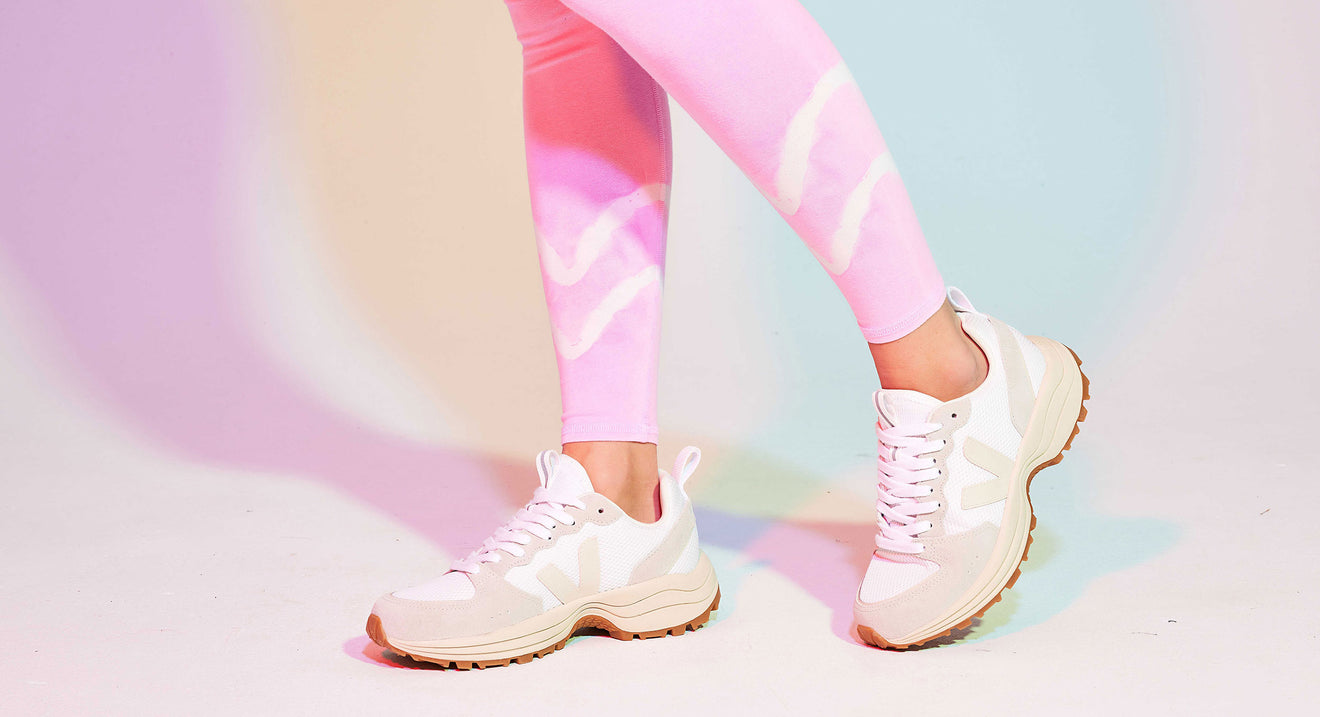 WHAT ARE VEJA TRAINERS?
Founded in 2004 by friends Sébastien Kopp and François Morillion, VEJA's coveted sneakers are leading the way in sustainable footwear.
Brazilian for "look" (meaning to look beyond the trainers into how they're made), the brand refuses to choose between design and social responsibility, leading them to create 25+ different sneakers that are as stylish as they are sustainable.
Crafted with the likes of Brazilian and Peruvian organic cotton for the canvas and laces, Amazonian rubber for the soles, and various materials conceived in recycled plastic bottles or recycled polyester.
The popular shoes are renowned for their minimalist aesthetic that's guaranteed to stand the test of time.
ARE VEJA TRAINERS VEGAN?
While sustainability and veganism are often linked, in the fashion world, they are completely different things. Sustainable sneakers, for example, are designed to minimise the possibility of waste and impact on the environment.
Vegan sneakers, on the other hand, are crafted without any animal products or materials that are tested on animals. However, only 1 out of 3 VEJA trainers (like the VEJA Condor, VEJA Marlin and VEJA Urca) are considered vegan.
VEJA is B. Corp certified, meaning the brand meets the highest standards of social and environmental performance, transparency, and accountability.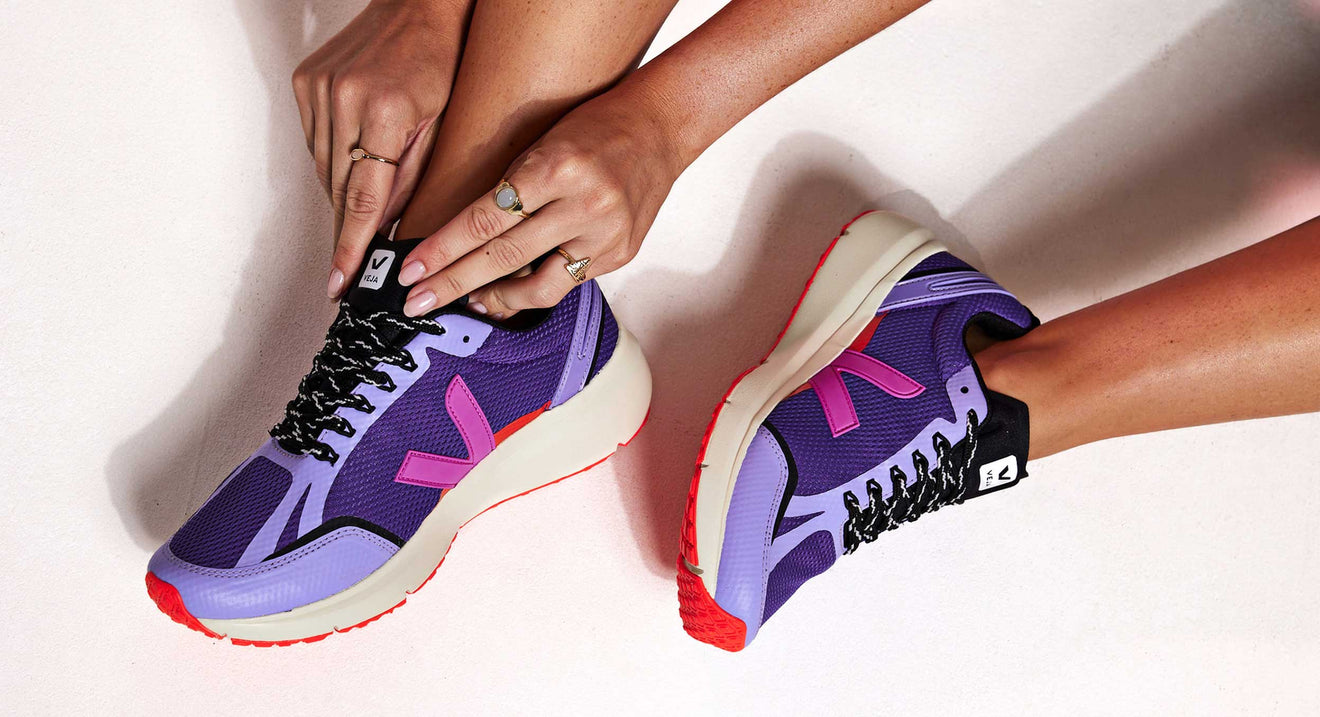 WHO WEARS VEJA TRAINERS?
Ever since Meghan Markle was spotted wearing a pair of VEJA shoes, the brand has achieved a cult-like status. But she's not the only royal who appreciates the brand's timeless aesthetic and do-good attitude.
For example, Kate Middleton, Princess Beatrice and even Crown Princess Mary of Denmark has been seen donning the must-have sneakers, too.
While model and street-style icon Emily Ratajkowski is rarely seen without them, actors like Emma Watson, Katie Holmes and Reese Witherspoon can't seem to get enough of VEJA trainers either.
Even Kourtney Kardashian approves, opting to pair her all-black athleisure wear looks with VEJA running shoes on the regular when breaking a sweat.
Whether they're hiking up to the Hollywood sign or heading to brunch at the latest restaurant, these celebs have proven time and time again that VEJA women's trainers are worth investing in.
Image sources: ca.style.yahoo.com & cosmopolitan.com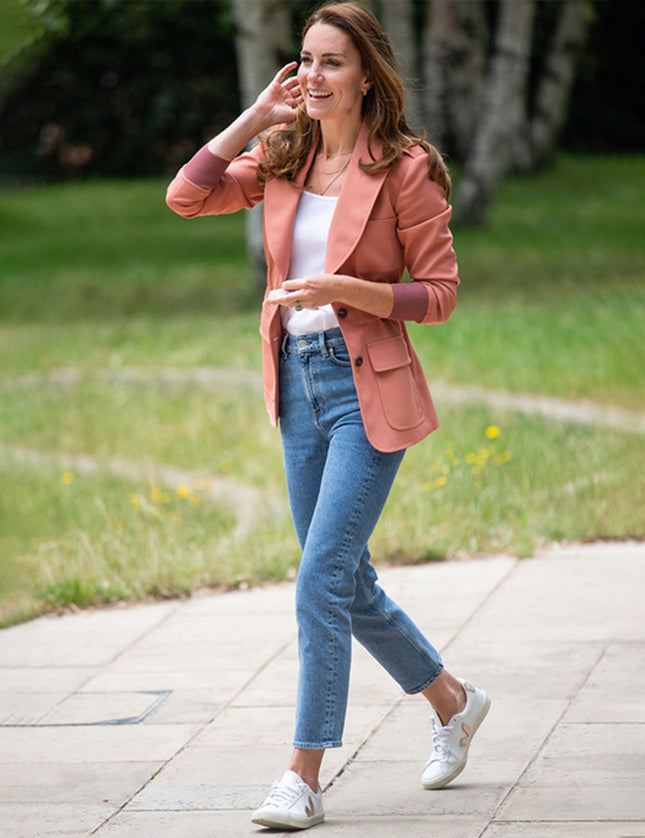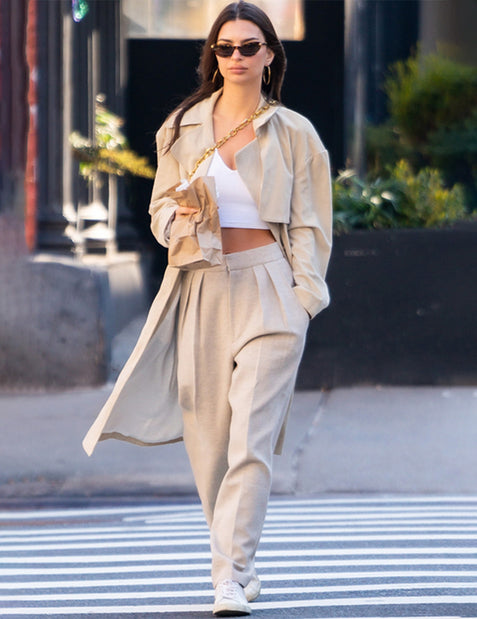 Veja Campo: Veja, Campo Leather - White NaturalVeja V-10: Veja, V-10 Leather - White Platine

HOW TO WEAR VEJA TRAINERS?
There is no wrong way to wear a pair of VEJAs. In fact, the very best thing about VEJA trainers is that there are absolutely no rules when it comes to styling them.
While jeans and a nice top may be the obvious outfit choice, make your VEJA shoes work harder by wearing them with almost everything in your wardrobe.
For work, VEJA sneakers add a touch of cool when put together with relaxed tailoring and smart co-ords. For a modern business look, opt for bright suits, accessorising with all-white VEJA trainers, minimalist gold jewellery and a structured bag.
For a slightly more conservative look, wear your VEJA sneakers with leather pants and a black knit.
For weekends, follow the lead of the Parisian style set by pairing your VEJA trainers with a silk midi skirt or floral sundress — just add a cardi for cool nights. You can also pair them with maxi silhouettes as most VEJA designs are ideal for dressing things down.
But don't forget about your activewear! Whether you're heading to the studio or meeting friends for brunch, VEJA trainers always make comfort look chic.
Take the cue from the likes of Kendall Jenner, Hailey Baldwin and Bella Hadid by styling them with high waisted leggings and a one shoulder crop top.
WHICH VEJA TRAINERS SHOULD I BUY?
VEJA Campo
Footwear doesn't get much more versatile than the VEJA Campo trainers. Made with smooth and light bovine ChromeFree leather and finished with the signature "V" and a discreet logo print on the back end of the shoe, they boast a sleek yet low-key silhouette that suits any style.
For a colourway that will work with any outfit, look to the versatile VEJA Campo white natural sneakers, available in ChromeFree leather or ChromeFree leather with a nubuck upper. For a bolder take, check out the VEJA Campo silver white trainers.


VEJA Esplar
Named after the Brazilian NGO which brings technical support to the organic cotton farming families that VEJA works within North Brazil, the VEJA Esplar trainers boast a classic low-top design.
With a lighter sole and slimmer fit, the VEJA Esplar sneakers offer a slightly more refined yet minimalistic look than the VEJA Campo trainers.
Invest in the VEJA Esplar white sneakers with the signature "V" logo and logo print on the back of the shoe in the colourway of your choice.
VEJA Venturi
With a streamlined, sporty silhouette, the VEJA Venturi trainers were made for those who like a chunkier shoe. Made with various different eco-friendly materials, we tend to favour the Alveomesh design, which is a technical fabric made out of recycled polyester.
As chic paired with athleisure wear as they are with relaxed tailoring, if you're looking to add a subtle pop of pink to your wardrobe, opt for the VEJA Venturi Alveomesh trainers in Gravel Petale.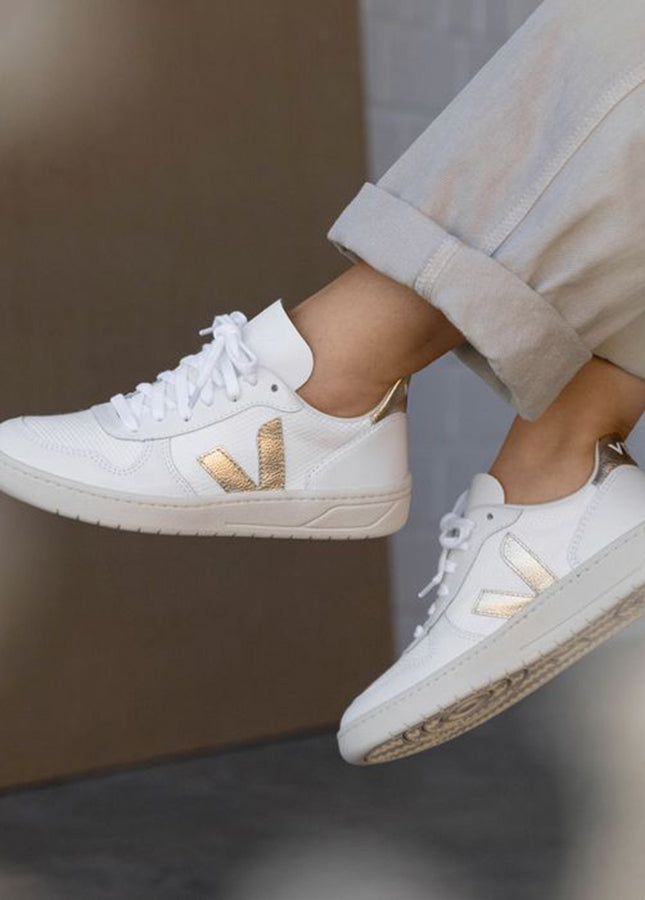 VEJA V10
The VEJA V10 trainers may have been created to celebrate the brand's 10th birthday but it's safe to say the design will stand the test of time.
With their perforated details, thick wild rubber soles and responsibly sourced leather uppers, the retro-inspired VEJA V10 women's
sneakers are effortlessly cool. Available in a range of colourways from pastels like White Matcha to metallics like White Platine, there's a VEJA V10 for everyone.
VEJA V12
With a choice of upper, crafted from either a sleek leather or breathable B-mesh option, the VEJA V12 trainers are very similar to the VEJA V10. The main difference?
The VEJA V12 sneakers are noticeably narrower for a more locked-in feel around the midfoot. A classic tennis shoe, they're guaranteed to work in any wardrobe.
Wondering how these different VEJA styles fit? Find everything you need to know in our VEJA size guide.

WHERE CAN I BUY VEJA TRAINERS?
If you're wondering where you can buy VEJA trainers, you've come to the right place — we stock various styles and colourways online.
Whether you're after the VEJA V10, VEJA Campo, VEJA Esplar, VEJA Venturi or VEJA V12, you can find the perfect VEJA shoe on The Sports Edit. Browse our selection and hunt down the design that feels most like you.