Words by Isobel Coughlan
How will you beat the cold this winter? Choosing a winter jacket that provides protection against cold weather and delivers winter-ready style is challenging, but not impossible, as proven by the trusty Columbia puffer jacket range!
That's right, today we're focusing on these functional yet stylish jackets. Each is packed with expert technology, defensive design, and top materials to ensure you feel as great as you look — even when the temperature drops!
From the Columbia hooded puffer jacket to the Pike Lake II style, endless options exist. Today, we're looking at the bestsellers to help you decide. Scroll down to find which puffer jacket is right for you.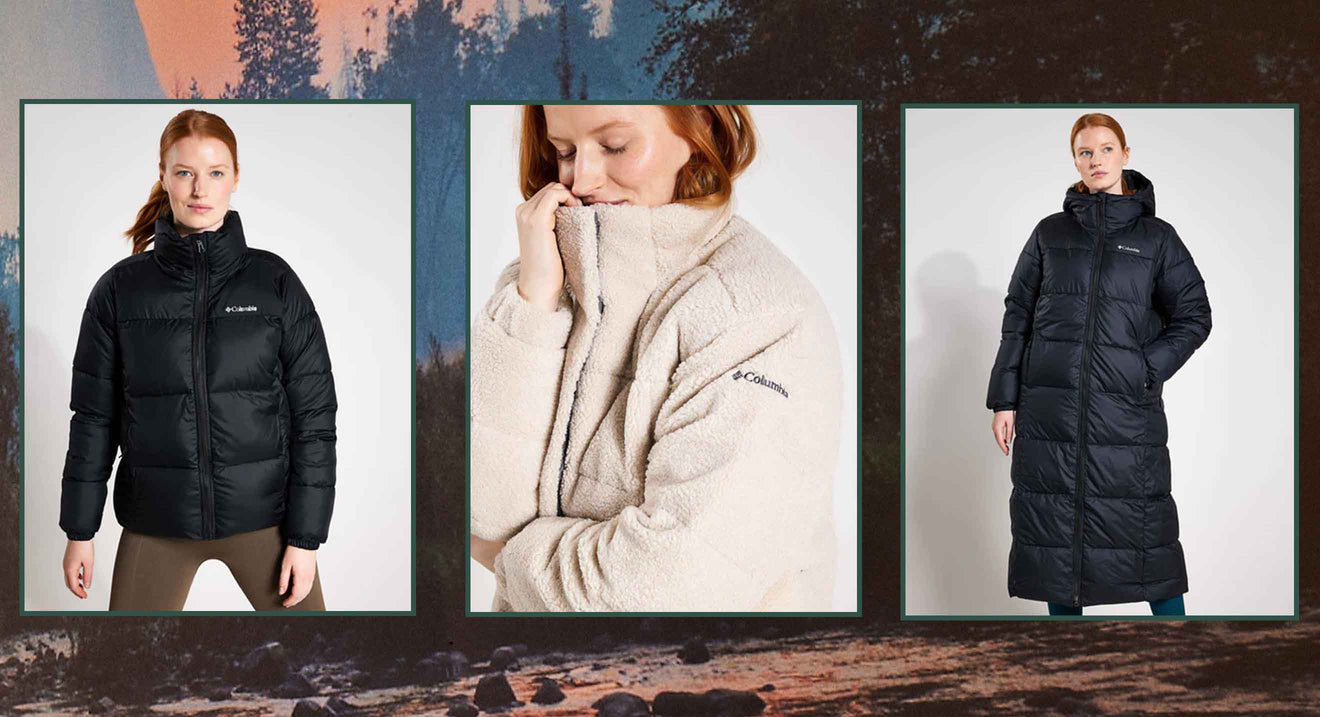 Columbia Puffect Puffer Jackets
The Columbia Puffect Jacket is one of the brand's most popular winter jacket styles, and for good reason. These jackets combine the look and feel of down with the strength of synthetic insulation to keep you extra toasty in the cold, thanks to the brand's iconic THERMARATOR™ insulation. THERMARATOR™ provides featherlight warmth, without the feathers. It has a high warmth-to-weight ratio, with the ultra-fine fibres being able to trap warmth and retain heat, even when wet.

All Puffect jackets are water-resistant, so whilst they won't protect you in a downpour, they do resist saturation and penetration, meaning it takes a little while before it starts to soak in.
Puffect puffer jackets are most suited to Urban activities meaning they can be worn from the hillside to the city centre.

TSE Tip: Our customers have found that Columbia Puffer & Insulated jackets are slightly slim fitting - so if you're going for that cosy layering look, we'd suggest sizing up.
The different Puffect Puffer Styles:
The standard Women's Puffect Puffer Jacket is a winter classic. This jacket finishes at your hips, ensuring your torso is cosy in the cold. The design also features a chin guard, elastic cuffs, and zippered hand pockets for extra protection.

If you're after more protection from your Columbia Puffect, the Women's Puffect Long Puffer Jacket might be better for you. This jacket provides synthetic down insulation thanks to THERMARATOR technology, a 2-way centre front zipper, elasticated cuffs, and zippered hand pockets. The jacket finishes around your mid calves, ensuring your whole body is warm throughout the winter. The Long Puffect even also has an adjustable drawcord waist.
The Cropped Puffect Jacket concludes the winter-ready Puffect Columbia Puffer Jackets line. This design is more style-conscious, as it finishes at your waist. As with the other styles, this jacket is finished with technical insulation, a chin guard, zippered hand pockets, and elasticated cuffs. Perfect for chilly city days.

Columbia Pike Lake II Puffer Jackets
The Columbia Pike Lake range is designed to give you the perfect puffer style without sacrificing warmth. These jackets include Omni-Heat™ thermal reflective technology, which reflects and retains body heat using little silver dots on the inside lining of the jackets.

Omni-Heat is highly breathable and moisture-wicking, meaning it allows moisture to escape. The other great thing about Omni-Heat™ is that it is really lightweight and reduces the need to multiple layers.

Pike Lake II Puffer jackets are PFC-Free Durable Water Repellent. Water repellent is a step up from water resistance, which means water cannot easily penetrate the material. Instead, water beads on the outside.

The Pike Lake II Jacket is best for prolonged exposure to cold, and activities requiring lightweight warmth. It's a jacket that is made for the outdoors but with modern an urban design.
The Columbia Pike Lake Hooded Jacket is perfect for anyone who wants to enjoy the winter without worrying about cold temperatures or rain. This puffer jacket has an attached, adjustable hood for extra protection and warmth, zippered pockets, elastic cuffs, and a drawcord adjustable hem.
The Columbia Pike Lake Long Jacket might be best for you if you prefer full-coverage styles. This long-length jacket protects you against the elements, guaranteeing warmth and comfort no matter the weather.

The Long Pike Lake Jacket II was designed for the outdoors, so if you're an avid hiker and don't want to stop when the temperature drops — consider this jacket. It comes with a chin guard, jersey-lined sleeve cuffs, snaps at side seams, and an interior security pocket.

Columbia Sherpa Puffer Jackets
Sherpa puffer jackets are here to stay, and we're obsessed with these cosy styles from Columbia. These cuddly jackets are perfect for comfort and warmth on any adventure. Unlike synthetic styles, the Sherpa styles are filled with RDS Certified Down, and 450 fill power insulation for cold days.
However, some Sherpa styles aren't great if you need a waterproof jacket, as they're made from a fluffy, non-water-resistant material.
The Ruby Falls Sherpa Puffer Jacket is a must if you love the fleece-like look. With a Sherpa-lined collar, interior pockets, and winter-proof insulation, this jacket is great for completing any winter style. It can be worn on outdoor hikes and will keep you toasty thanks to the sustainably sourced down insulation, but unlike other Columbia Womens puffer jacket styles, it's not waterproof., so it's best worn on those dry crisp days.
One of our all time favourites, the Leadbetter Point Sherpa Hybrid Puffer Jacket mixes cosy Sherpa style AND water-resistant fabric. This is the best answer if you love the Sherpa style but need rain protection. It's still not as 100% waterproof as other jackets but has water-resistant fabric panels to keep you dry when caught in a storm.
This hybrid puffer jacket also features a built-in chin guard, THERMARATOR insulation, which provides featherlight warmth, without the feathers, and interior pockets. Perfect!

FAQs
What Is the Difference Between Puffer and Down Jackets?
Puffer and down are different winter jacket designs, and it's important to remember that down jackets are made from feathers and puffer jackets are sometimes made from synthetic materials (but not always!) Down jackets tend to be lighter than puffer jackets, and you can also compress them into packable bags.
Are Columbia Puffer Jackets Waterproof?
It depends on the styles. Puffect Puffer jackets are water resistant, so whilst they won't protect you in a downpour, they do resist saturation and penetration, meaning it takes a little while before it starts to soak in. Pike Lake II Jackets are water repellant, which is a step up from water resistant and the Sherpa puffer jackets vary. The product description on each page will give a guide to how waterproof the Columbia jacket is.

Are Columbia Puffer Jackets Warm?
Yes! Columbia's puffer jackets include inner technologies that provide extra insulation and protection against the cold. The puffer jackets come in different warmth levels for all outdoor activities. Warmth technologies used at Columbia include OMNI-HEAT INFINITY, OMNI-HEAT 3D, OMNI-HEAT REFLECTIVE, DOUBLE WALL, TURBODOWN, and THERMARATOR.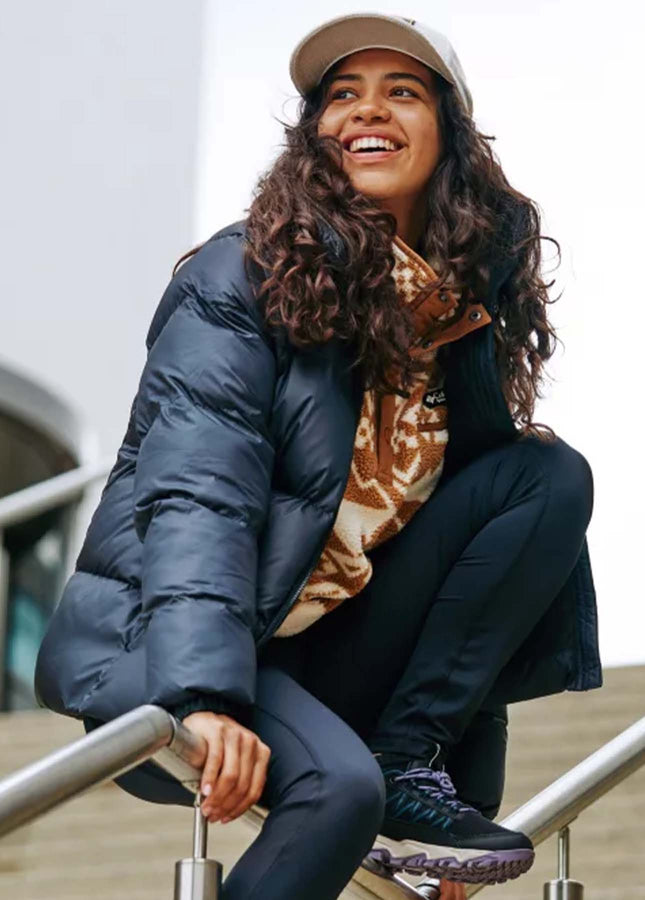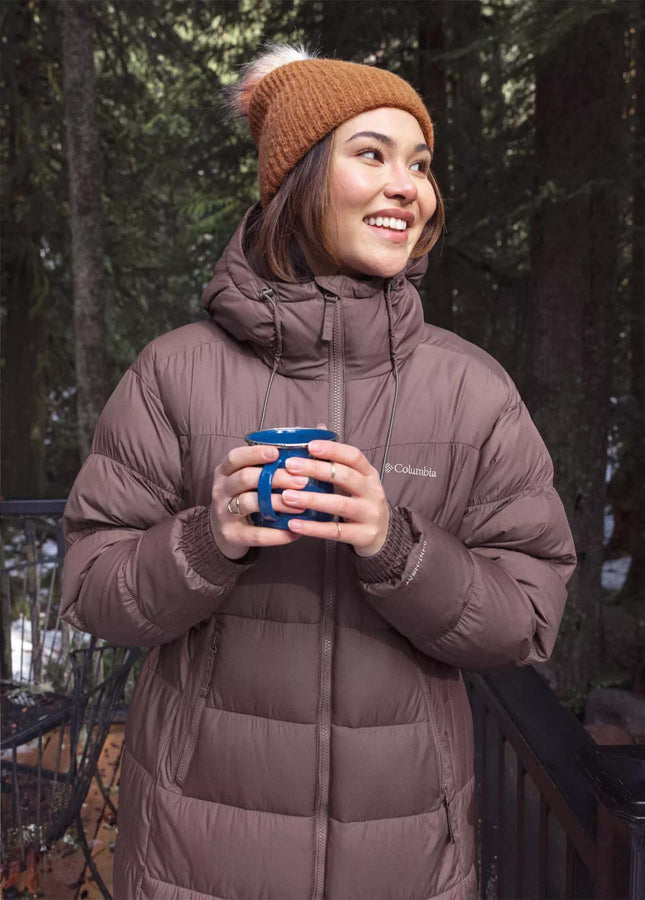 How To Wash a Columbia Puffer Jacket?
Washing your Columbia puffer jacket depends on which materials your jacket is made from. However, always turn the jacket inside out, use extra mild or delicate detergent, not add bleach or fabric softener, and dry it on low heat. You want to be as gentle as possible with your jacket.
How To Dry a Columbia Puffer Jacket?
For a natural down jacket, you must dry it on low to no heat. This is because high heat can damage the down feathers. You may even want to add two or three tennis balls to the dryer to restore the down's fluffiness. You must tumble dry on low heat for a synthetic puffer jacket and remove it promptly after the dry cycle ends.
How Should a Puffer Jacket Fit?
The fit of a puffer jacket ultimately depends on your style. For an urban look, you can opt for an oversized or cropped jacket, as functionality isn't always the aim of this style. But if you're buying a puffer jacket for outdoor activities, you should look for a technical fit that is comfortable and not too loose or tight.