Words by Hannah Abu

Are you searching for the perfect pair of sports shorts that can handle spin classes, long-distance running, and intense training sessions with style and comfort? With a sea of options, it can be overwhelming, to say the least. However, you don't need to look any further than The Sports Edit. In this comprehensive guide, we'll break down the key factors to consider when choosing the best bike shorts for your activities. Plus, we'll introduce you to some top brands that know a thing or two about creating the ideal bike shorts. Let's dive in!
Why are bike shorts so popular?
Since they're so versatile, it's no wonder bike shorts have taken the world by storm. Firstly, their form-fitting yet comfortable design provides excellent support during workouts, making them a go-to choice for various activities like spinning, running, and gym sessions. Many people prefer wearing bike shorts for running because of their snug fit, moisture-wicking technology, and elimination of thigh rubbing. They offer comfort and confidence during long runs, making them a popular choice among cyclists and runners.
Secondly, the moisture-wicking design of bike shorts keeps sweat at bay, ensuring you stay dry even during intense workouts. Furthermore, preventing thigh rubbing and irritation is a big benefit, especially if you've been unlucky with other types of shorts. To get the most out of your bike shorts make sure you get the perfect fit. Bike shorts should fit snugly without being too tight. They should stay in place during your activities, preventing any riding up or bunching. The waistband should sit comfortably on your hips or waist, and the legs should have a secure but not constricting fit. For more info on sizing, check out our handy size guides.

Additionally, the sleek and stylish look of bike shorts allows for easy styling, making them the perfect addition to any outfit. Styling bike shorts is all about creating a chic and comfortable athleisure look. Pair them with a loose-fitting tee or a sweatshirt for a trendy, relaxed vibe. For warmer days, a crop top is a perfect addition for keeping you cool. Don't forget to complete your look with your favourite footwear and accessories like a cap or statement sunglasses.
What Should You Look for in Bike Shorts?
General Features of Bike Shorts
Before we dive into the specifics of various bike shorts, let's explore why these form-fitting shorts have become a staple in activewear wardrobes.
Comfortable Fit: Bike shorts are designed to provide a snug and supportive fit. They stay in place during high-intensity activities, eliminating the need for constant adjustments.
Moisture-Wicking: Many bike shorts are made from moisture-wicking materials that keep sweat away from your body, helping you stay fresh and dry during workouts.
Preventing Thigh Rubbing and Irritation: The snug fit of bike shorts helps prevent rubbing and irritation, making them the ideal choice for long runs and intense workouts.
Versatility: Bike shorts are no longer limited to cycling. Their comfortable fit, four way stretch, and minimalistic design make them perfect for all kinds of activities.
Style: Bike shorts offer a sleek and stylish look, adding flair during workouts. You won't have to worry about excess fabric or awkward bulges.
With these general features in mind, let's take a closer look at some top brands that have mastered the art of creating the best bike shorts.
Key Brands to Know
Nike
When it comes to sports apparel, Nike is a household name, and they don't disappoint with their bike shorts. The Dri-Fit One 7in Biker Shorts offer the perfect blend of fashion and function. With moisture-wicking technology, these shorts keep you dry, while their 4-way stretch ensures ultimate flexibility during workouts. If you prefer a shorter length, the Dri-FIT Advantage 4" Tennis shorts are packed full of the same technology but in a shorter length. Nike also offers innovative options like the One Leak Protection Period Biker Shorts with the iconic built in liner for added convenience and peace of mind.
Girlfriend Collective
If sustainability is a top priority for you, consider Girlfriend Collective. Their High-Rise Bike Shorts are not only eco-friendly but also incredibly comfortable. The ribbed high-waisted design provides excellent support during workouts, and their moisture-wicking fabric keeps you feeling fresh. Whether you choose the classic High-Rise Bike Short, the Rib High Waisted Bike Short or the Float HW Bike Short, you're making an environmentally conscious choice.
Goodmove
For those seeking versatile shorts that transition seamlessly from the gym to outdoor activities, Goodmove has you covered. Their Go Move Shorts offer comfort and support, making them perfect for any adventure. The high-waisted design provides excellent support, and the moisture-wicking fabric keeps you dry during intense workouts. If you prefer a hybrid option for a bit more coverage, check out the Woven Layered Gym Shorts, combining the best of bike shorts and running shorts via the looser overshort.
Some other honourable mentions of our favourite women's bike shorts: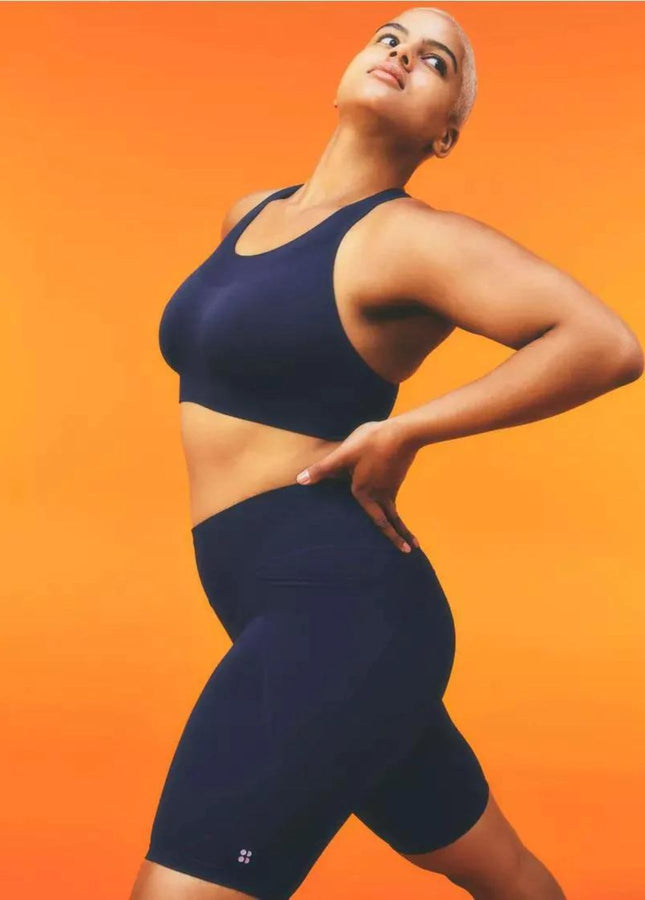 Conclusion
Choosing the best bike shorts for your spin classes, running sessions, and training workouts doesn't have to be a daunting task. With the right features, brands, and designs in mind, you can find the perfect pair for your activities.

Remember, bike shorts offer a comfortable fit, moisture-wicking properties, and versatility. They're available with or without padding so if you're primarily using them for running or other activities, non-padded bike shorts are a great option. making them suitable for virtually everything. From Nike bike shorts options to Sweaty Betty cycling shorts, there's an option for every preference and lifestyle.
Explore these options, try them on for yourself, and embrace the style that bike shorts bring to your workouts. Whether you're hitting the pavement, cycling through the city, or breaking a sweat in the gym, these shorts have got you covered.