Words by Katie Brook
Over the last couple of years, sports brands have been pushing the boundaries, creating shoes and apparel inline with mainstream fashion. Of course, since the pandemic, what's 'fashionable' has changed massively, with activewear becoming street-worthy - or 'athleisure', as it's frequently called.
On Running may have only been on the scene for 10 years (a relatively short time for a sports brand), but they've just released their first pair of what I'd call, 'urban' shoes, the Cloudaway - 100% vegan, these shoes are made for adventures, from 'streets to switchbacks', and have a real retro feel to them.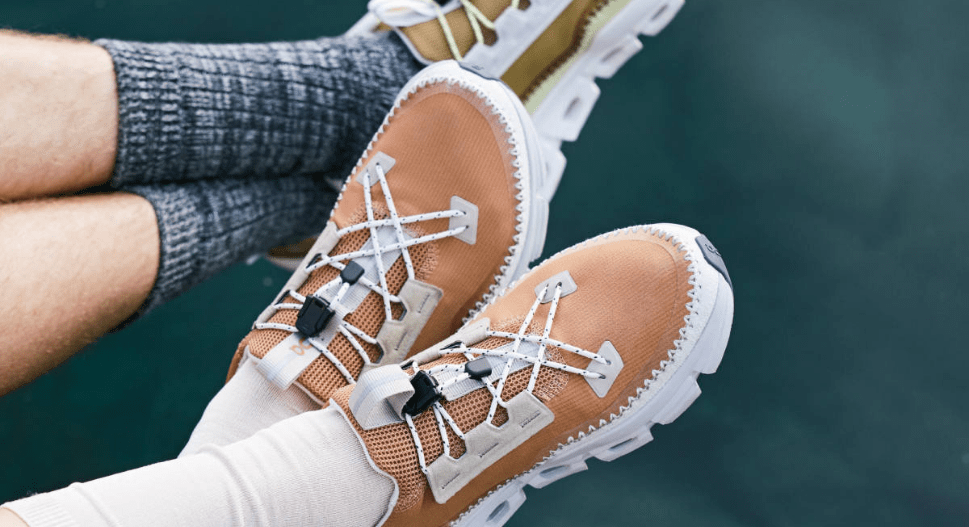 It's quite a bold move from the Swiss brand, bringing something so different to the market, but if you've been to Switzerland, you'll know that this is a shoe most people could pull off - think turned-up trousers, long socks, and a plain T, yet they'd look equally as good with a pair of leggings and your favourite sweat.
When I first saw the Cloudaway shoes online, I was undecided. But the minute I unboxed them I knew they were something special.
CLOUDAWAY: THE DETAILS
A durable all-rounder, sustainably engineered to be the everyday travel essential, from the streets to switchbacks. This is how On Running describes the Cloudaway - made for travelling, adventures and exploring. It's a versatile shoe that you can wear all-day-long around the city, and to the pub in the evening too.
They're made from recycled materials, and are 100% vegan, so you can feel good about your carbon footprint when you add yet ANOTHER pair of shoes to your growing stash (I'm not judging).
Weight: Medium | 233 grams in a woman's size UK5
Heel-To-Toe-Drop: Medium-High | 8 mm
Heel Cushioning: Pleasantly firm
Forefoot Cushioning: Pleasantly firm
Flexibility: Flexible but not floppy
Stability Features: Some
Energy Return: Moderate
Price: £129 (available here)
Coudaway Unboxing
There's nothing like unboxing a new pair of trainers, so crisp and pristine looking, perfectly tucked into place. As I lifted the lid, pulled back the tissue paper and took out my pair of Cloudaways, I was already thinking about how I could style this 'edgy' and 'funky' looking shoe.
The Materials
On is really racing ahead when it comes to being sustainable. The ultra-lightweight mesh upper is constructed from over 90% recycled content, and the sole is also made from 10% recycled rubber sole, helping us to leave a 'conscious footprint'. It's breathable, durable, and vegan!
Looks Food, Feels Good
The Cloudaway has a very distinctive look, with a cloud-shaped sole, contrasting zig-zag toggle lacing, oversized stitching, and is available in some great, bold colours too, my favourite is the Almond/Glacier.
They're designed to be slipped on, and while I have seen a few people have issues with the fit, I personally have had no trouble with them (I always go up by half a size in On shoes and would recommend you do the same).
Once your foot is in, the heel cup is secure but not tight, and it has quite a high ankle, which offers great support, especially if you're walking all day.
It's the cloud design that really sets this shoe apart, taking it from a 'fashion' shoe to an 'athleisure' shoe. The Cloudtech offers great cushioning, and if you look closely at the tread, it's a 3D print of the Engadin Valley - what On calls its spiritual home.
THE VERDICT
I would happily wear this shoe on dog walks, commuting to and from the office, wandering around the city, to brunch or the pub. I'd stay away from muddy trails though as the tread isn't evasive enough… and to be honest, you won't want to get them dirty.
When it comes to what to wear, the unique style means the Cloudaway can be paired with jeans or leggings, shorts or a dress, and will look great every time. Throw them on and get exploring!