"Radical change often comes about in trying to solve a simple problem. Our original goal was to improve endurance race times by designing a shoe to go downhill faster. In doing so, we inadvertently reinvented the running shoe." - HOKA
Hailing from the French Alps, co-founders Jean-Luc Diard and Nicolas Mermoud set out with one mission: radical change. The sports-loving duo were both heavily involved in trail running - a high endurance activity that involves running up steep hills - or, indeed, mountains - and back down them again.
Needless to say, it's a challenging sport. It can also be extremely dangerous, especially if you don't have the right gear to support you.
The pair initially had the idea to make shoes for themselves; to design trail running shoes that ticked every box. They were the right people for the job since they knew the sport inside and out.
With that in mind, they set about creating a lightwear shoe that offered the most flexibility. That combination meant that a runner's motion could be continuous.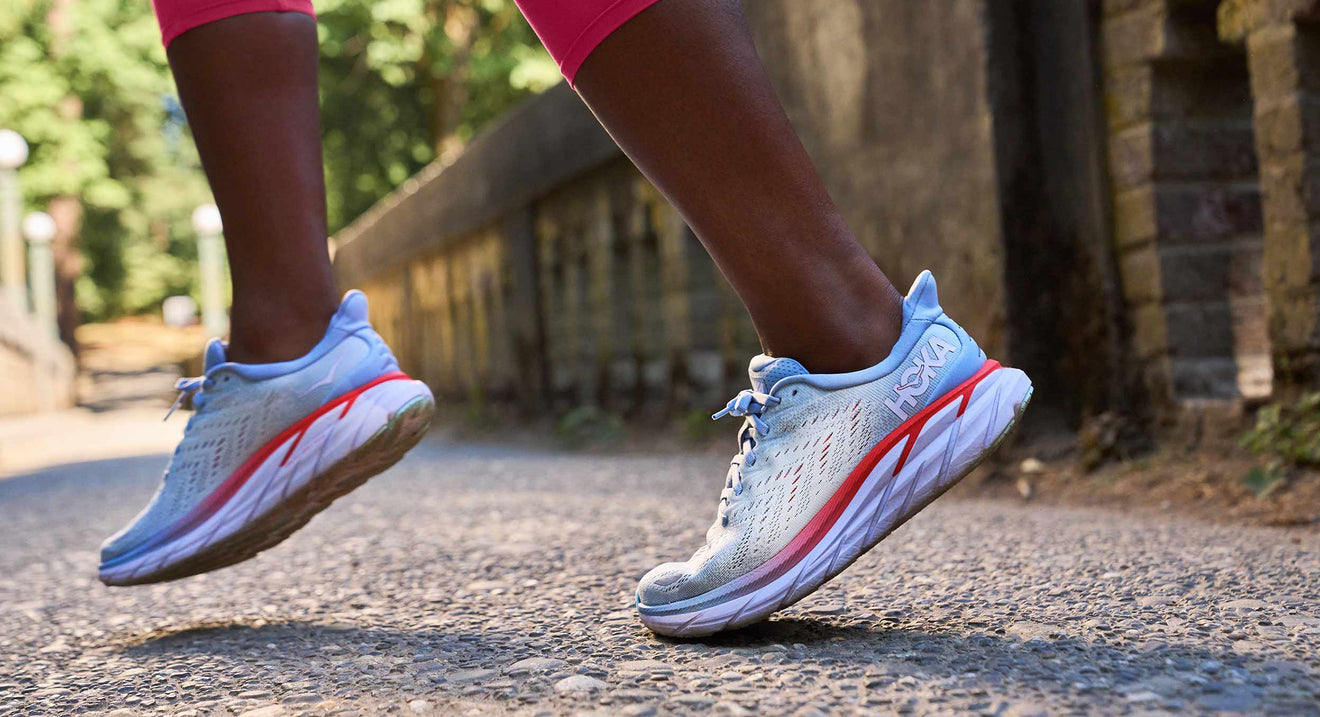 INSPIRED BY SURFING, SKIING, CYCLING AND MORE
"Our design ethos owes as much to surfing, skiing and cycling as running, and the patented elements we incorporated into the original shoe - aka the Hoka One One ® difference - influences every shoe we build."
One of the main things that sets HOKA One One aside from similar brands is its inspiration. When Jean-Luc Diard and Nicolas Mermoud were coming up with the concept for these unique running shoes, they drew inspiration from a variety of sports, including cycling, skiing, and surfing.
All of the above have sport-specific gear that has been designed to suit the discipline. The co-founders saw that there was a gap in the market when it came to running shoes, and they were more than confident they could fill it.
Despite starting out as a trail running shoe, these trainers are ideal for a wide variety of running disciplines. Thanks to the high levels of durability and quality, you can be sure that the shoes offer the support, flexibility and comfort that you need.
As the co-founders simply put it, "it turns out that redesigning a shoe that helps an athlete tackle 100 miles in challenging conditions can help all runners perform."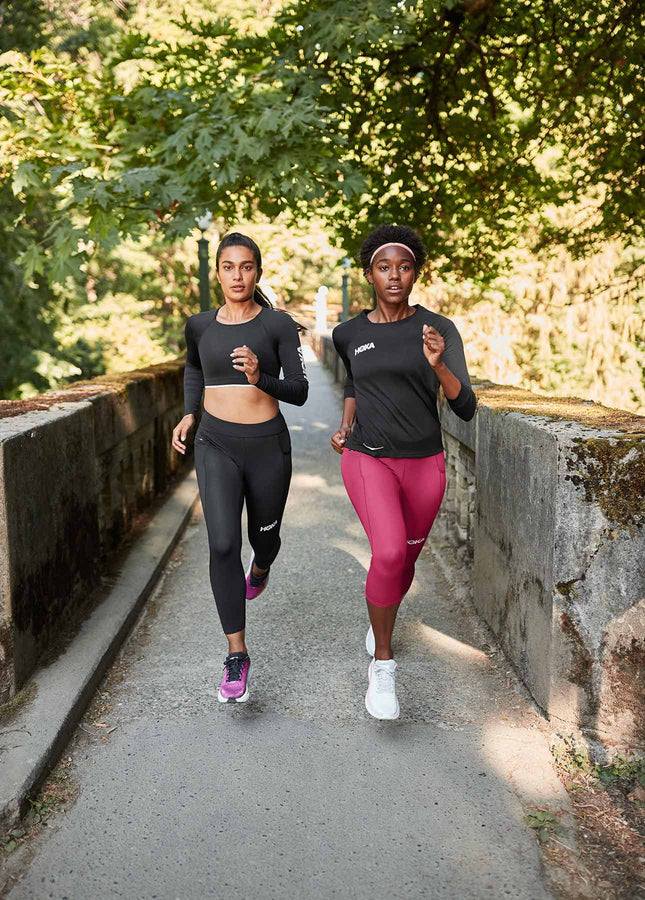 WHAT MAKES HOKA ONE ONE SHOES UNIQUE?
Looking to treat yourself to a new pair of running shoes? You may be wondering what it is that makes the HOKA One One range unique. Jean-Luc Diard and Nicolas Mermoud worked on just two prototypes before committing to a final trail running shoe design. The traits are aptly positioned to make running up steep terrain easier than ever.
First of all, each of these running shoes has a high level of cushioning, which supports the feet and provides a level of comfort. The team decided to use lightweight materials and included a lighter sole than you would typically see on running shoes.
Let's face it, when you're looking at a gruelling run, the last thing you need is something weighing you down.
The final piece of the equation is a rocker in the midsole. This addition means that switching from side-to-side and battling even the most difficult of terrain is more than possible. The underlying concept is to make your run feel as effortless as possible.
Since the product launched, the founders have constantly been tinkering with the grip-, chipping away at it until it's perfected. That detailing means that runners can maintain momentum stride to stride and move swiftly without fear. According to HOKA, this makes for a "sensation that feels more like flying" than it does running.
HOKA ONE ONE TRAINER FEATURES
Before you take the plunge and invest in a pair of HOKA One One shoes, you might want to know what features you can expect. Design is everything here. The co-founders have poured their efforts into creating a shoe that enhances every aspect of running.
Expect a lot of cushioning. Boasting extreme levels of shock absorption, comfort and support, the ultra-light midsoles make all the difference. The soles offer varying degrees of thickness that are ideal for both trail runners and everyday urban runners alike.
Positioned in the midsole, the meta-rocker is a real geometric feat. The concept is that this complements the natural gait cycle allowing you to propel forward in a smooth motion. As a bonus, this feature is said to reduce the height difference between the heel and toe.
Also known as the 'bucket seat', the active foot frame works like a race car. That means that it embeds the foot securely with as much support as you need. The heel is cradled by the shape of the shoe, meaning that your feet are safe and protected at all times.
PROFLY™ Intelligent Cushioning
As if that weren't enough, the midsole is split into two parts. That means that it delivers a quick responsive toe-off and a cushioned landing to boot. The makers say that this combination provides a soft and snappy movement, supercharging your next run.
J-FRAME™ Stability with Freedom
Overpronation happens when your foot moves inward as you run. It's a common problem that many of us face. Luckily, HOKA One One has a feature to combat that issue. The J-Frame™ offers support with firmer foam on the medial site - where the foot tends to roll.
The carbon fibre plate sits within the midsole of select models such as the Carbon X. This feature of HOKA One One shoes is designed to help you move from gait cycle to cycle without any friction or resistance. The plate curls under your toes, which means that you get a smoother transition and run.
While we're on the topic of smooth transitions, it would be a mistake not to mention the HUBBLE HEEL®. The design limits the impact as you run, which means that you get an easy heel-to-toe transition as you move. The heel extends out at the back to support you.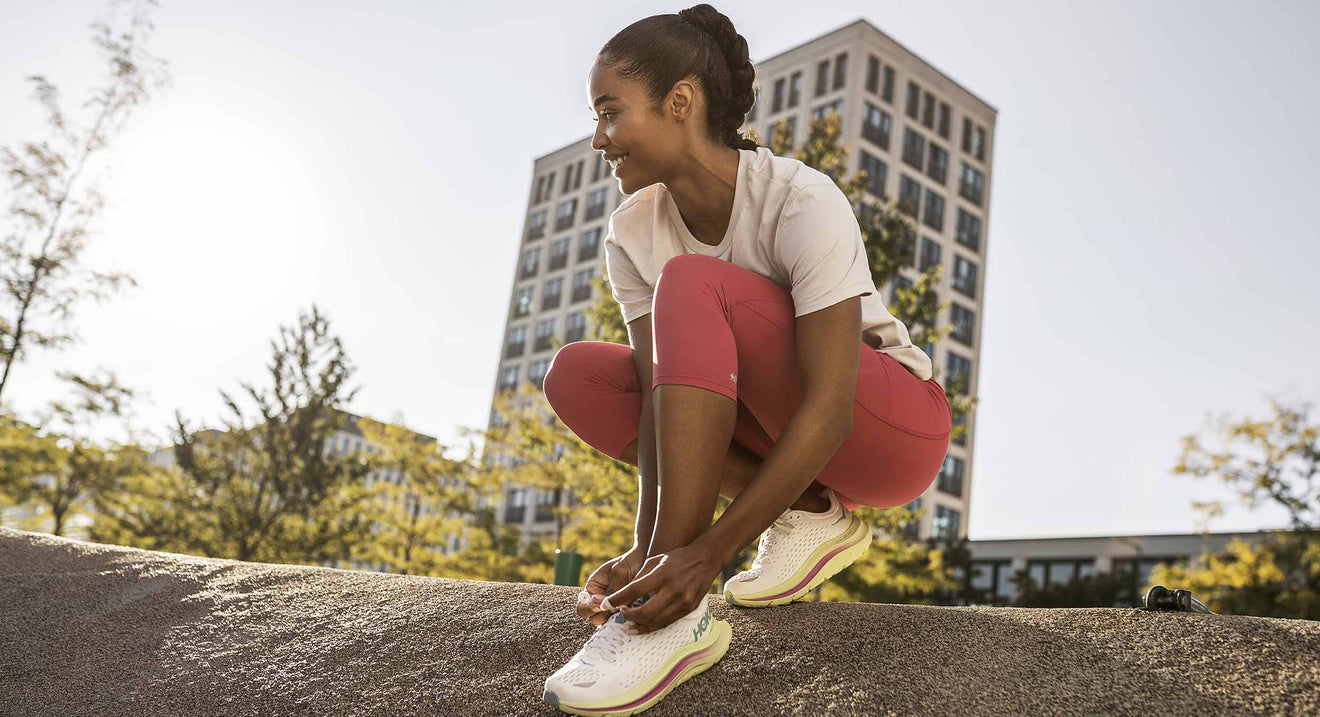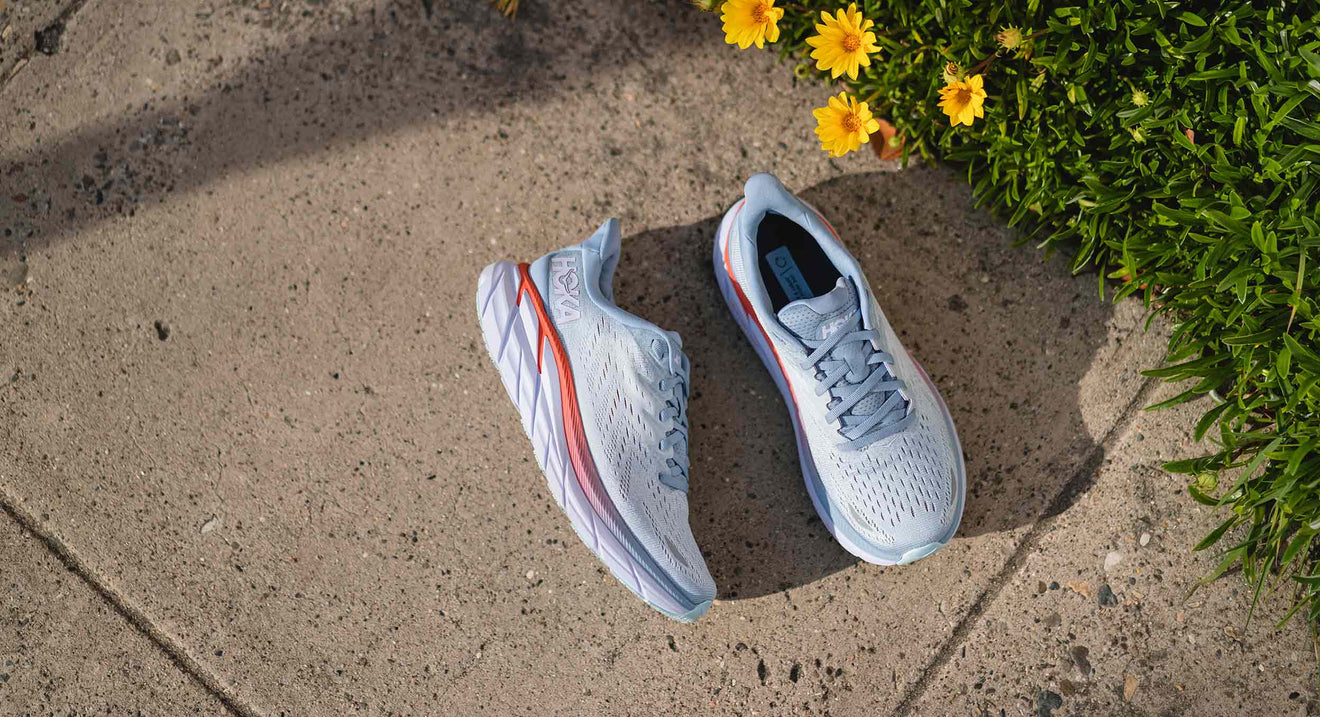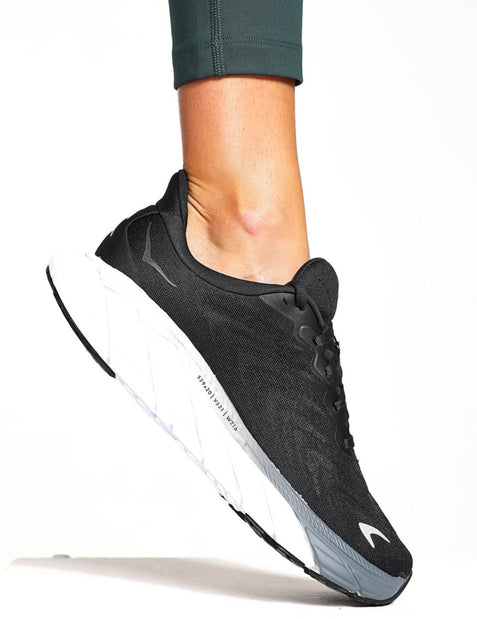 Arahi 6: HOKA, Arahi 6 - Black/White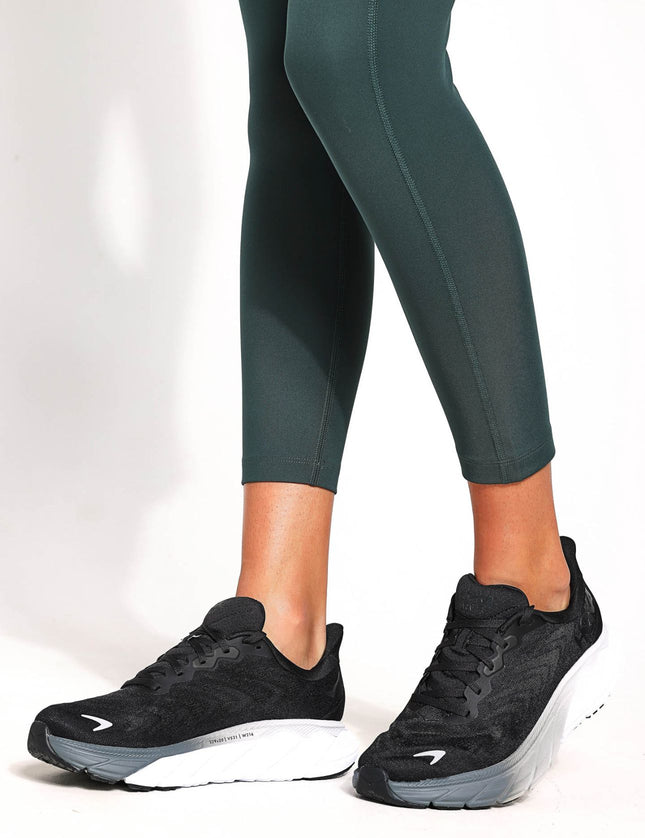 Bondi 7
Supreme cushioning makes the Bondi 7 ideal for road runs. It has a number of plush details; including a padded collar, ultra-soft memory foam, full EVA midsole and Meta-Rocker technology for a smooth ride.
It is truly a maximalist shoe: a dream for those seeking a plush ride, and the nightmare of a barefoot runner. Unlike the Clifton 8 – the other mileage MVP in the Hoka fleet – the outsole of the Bondi 7 does not feature any rubber exterior, meaning its ultra-cushioned ride comes at the expense of durability.
It is specifically made for long runs and recovery runs, making it less of a training day shoe and more of a spa day.
What it is:
Highly cushioned
Comfortable and stable
Great for heel strikers
Recovery and distance cruiser
What it isn't:
Lightweight (252g)
A durable training shoe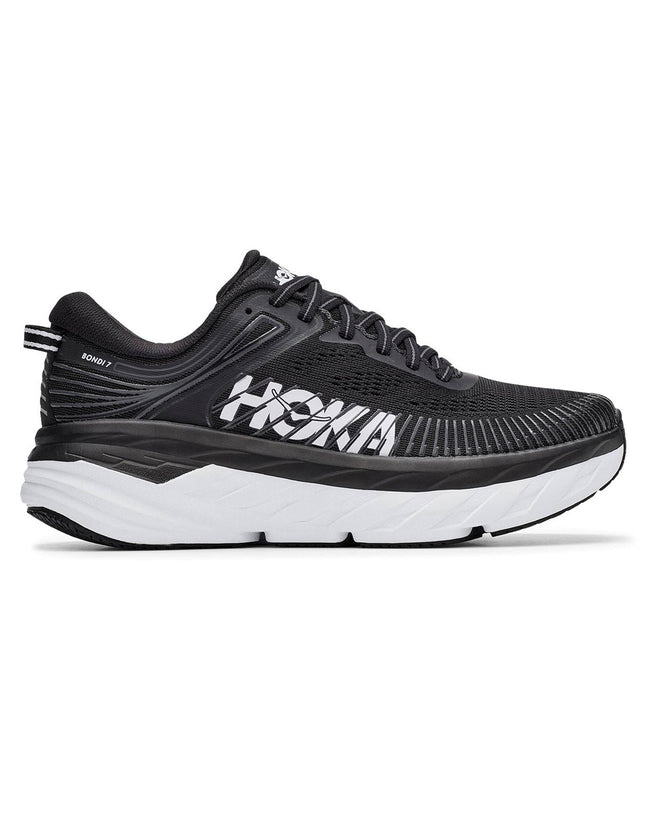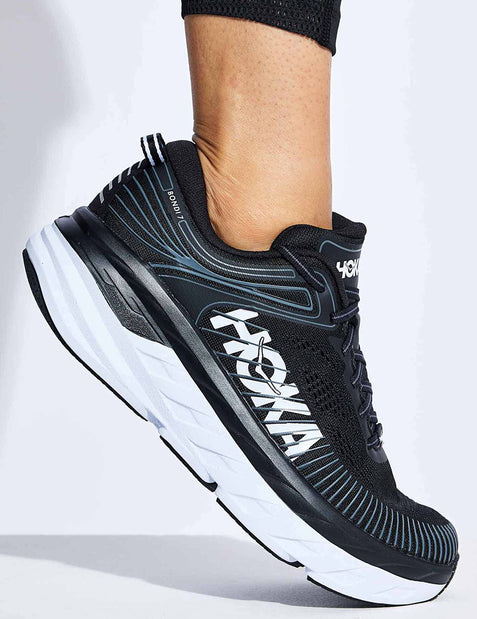 Bondi 7:
Mach 4
Engineered with PROFLY™ technology, the Mach 4 is lively, light and responsive. With an energetic underfoot feel and multiple foams for a soft landing, these Hoka running trainers make for an unmissable everyday running shoe.
The Mach 4 has the softness underfoot that Hoka has become known for, with enough stiffness in the build that it can handle the pace being pushed. It's nimble, and remarkably lightweight (192g), making it an ideal choice for faster days.
What it is:
Stable and sturdy
Lightweight
Speedy
Comfortable
What it isn't:
Long distance training shoe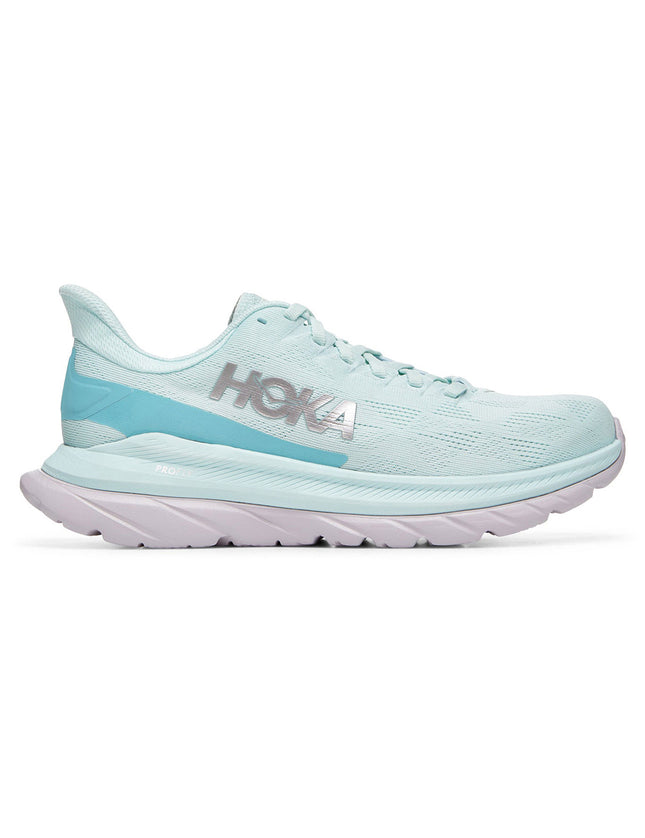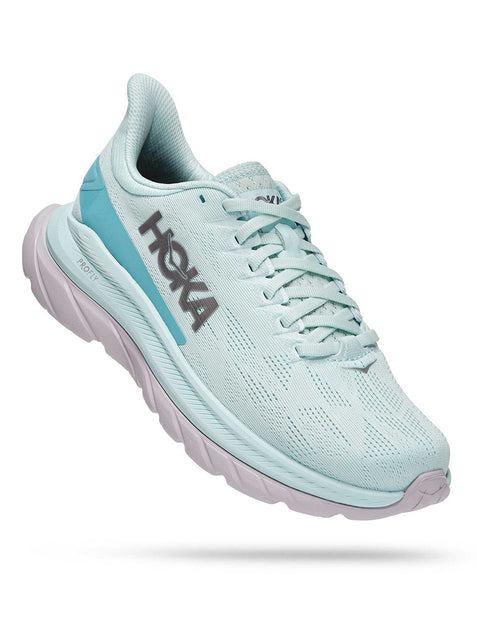 Mach 4: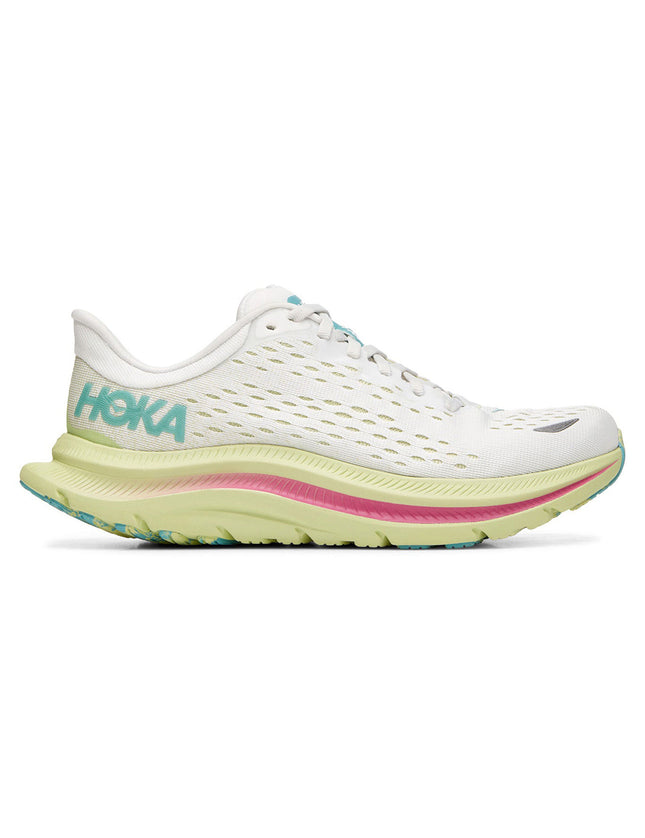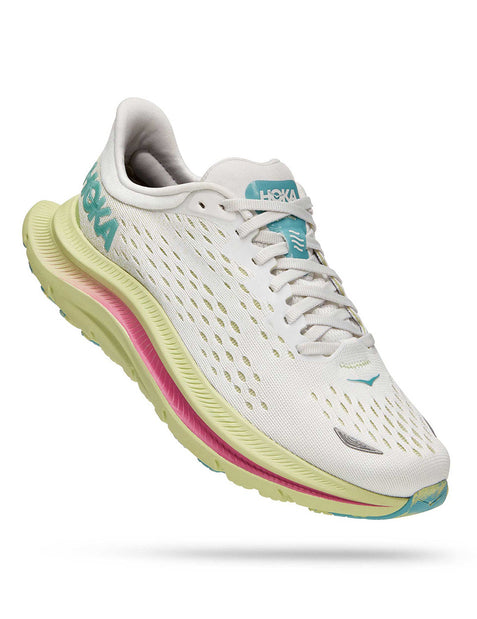 HOKA Kawana: HOKA Kawana: