With long Summer days in full swing, there's never been a better time to lace up and go for a run. Exploring one of London's many parks is a great way to temporary transport yourself out of the Big Smoke, into more tranquil green spaces.
This urban jungle has no shortage of greenery, so next time you head out on a run, consider one from our list of best London parks for running.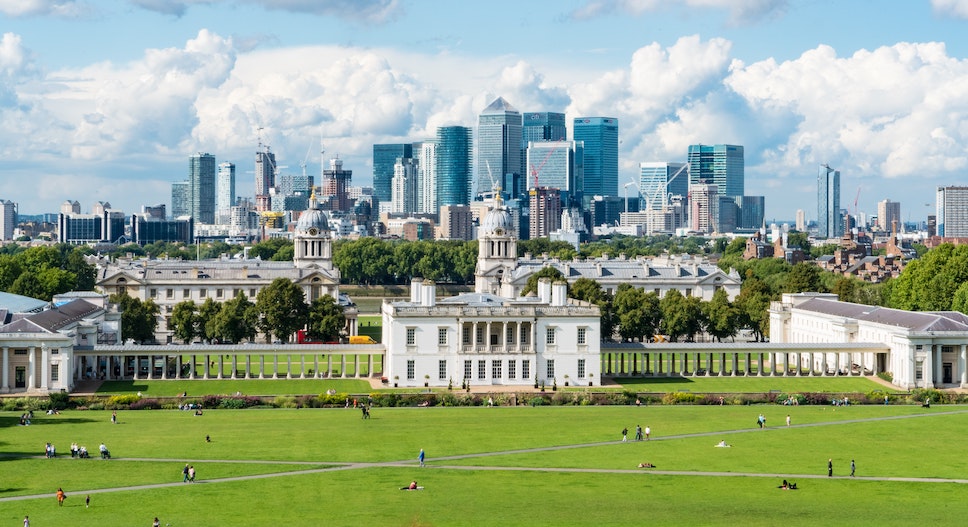 GREENWICH PARK
Greenwich Park is a 17th century former hunting ground overlooking the river Thames. This sprawling park is rich with history and vantage points to enjoy whilst out for a Thameside toddle.
Enjoy running through the open spaces of the stunning Royal Naval College, and finish a cooldown in front of the world's last surviving tea clipper, Cutty Sark.
On a clear day, work your way up a gradual climb to the Royal Observatory where you can straddle the world at the Prime Meridian and take in one of the most spectacular views of Canary Wharf. Afterward, explore nearby Blackheath for some relaxation in this Southeasterly gem.
OLYMPIC PARK
Queen Elizabeth Olympic Park is great for nature-lovers and is a favourite among runners. With gardens full of flowers, lovely meadows, and picturesque wetlands the park always has something new for visitors to discover.
Its varied path network is perfect for runners, as it is easy to achieve gorgeous routes of any desired distance and borders two more of London's best loved green spaces: beautiful Victoria Park, and Hackney Marshes, home to Hackney Moves festival and Hackney Half.
HAMPSTEAD HEATH
Hampstead Heath is the crowning jewel of north London. Located a mere six kilometres from Trafalgar Square, Hampstead is loved for its sprawling greenery and village atmosphere. Once within the park, you're truly in an oasis that feels far from the bustle of city life.
Its undulating landscape provides great variety for those looking to mix in some hills to their running route. Alternatively, visitors can make use of the many sports facilities Hampstead has available such as lidos or an athletics track.
PRIMROSE HILL
Primrose Hill is a runner's paradise for hill repeats (if paradise and "hill repeats" could ever go together). Those who summit the 63 meter hill with 10.8% elevation gradient are rewarded by one of six protected viewpoints in London.
Neighbouring Regents Park and with easy access to the canal paths, it's the perfect extension of a longer route or a destination all its own. After a run, visitors are within walking distance to Camden Market or several park cafes to unwind and enjoy a Summer's day.
HYDE PARK
Hyde Park is nestled right in the heart of central London. One of London's most famous green spaces, Hyde Park is home to the Serpentine, and Speaker's Corner.
Many visitors combine their meanders of this iconic London space with Kensington Gardens, the setting for the Albert Memorial, Kensington Palace, and stunning Italian Gardens.
This idyllic route is just over 7.0 kilometres (4 miles) around the perimeter when including both parks. From there, if you're feeling ambitious, loop in nearby Royal Parks of St. James's Park and Green Park.
BATTERSEA PARK
Battersea is a popular destination along the River Thames, and has a circuit of about 3.5 kilometres. This SW favourite has a beautiful riverside promenade, perfect for a flat, fast straight on your running route with rewarding views on either side.
Its leafy walkways make for runs in dappled sunlight on summer days, and visitors can enjoy lakeside views after a sweat session. Battersea Park is also home to a recreation centre for runners looking for a track experience.
Runners looking to extend this route can easily make their way south to the ever-popular Clapham Common, or west along the Thames to Wandsworth Park.
BURGESS PARK
Southwark's largest park, Burgess stretches from Camberwell to Peckham and the Old Kent Road. It may well be the youngest park on this list, built between the 50's and 80's, but is a recreational haven for runners nevertheless.
This largely flat green space is perfect for runners of all distances. Visitors can enjoy garden views and a run around the lake before stopping by the cafe to finish a workout.
CRYSTAL PALACE
Situated in South East London, there is always something exciting to see in Crystal Palace. A place for recreation, training, and exploration, it is perhaps one of the few places on earth you can run with dinosaurs.
That's right, the dino statues in "Dinosaur Court" are arguably the symbol of the park and have been drawing in visitors since it opened in 1854.
Home to the National Sports Centre, Crystal Palace is a hub for well-being and recreation. Runners can fully enjoy the offering of footpaths meandering through the park, the NSC track, steps on the stunning Italian terraces, or even the hedge maze.
BROCKWELL PARK
Dulwich Park is yet another lovely South London green space, boasting sports facilities, cycle hire, and a variety of paths perfect for wandering whilst on a run.
The park features a gradual climb on its southern side, and is ideal for runners who are looking for a loop circuit that has it all: views, a couple of climbs, and flat straights. Those looking to vary this route need only jog over to nearby Dulwich Park for an equally enjoyable running experience.
RICHMOND PARK
The largest of London's Royal Parks, Richmond Park is the famous home to the beautiful Isabella Plantation, and herds of protected deer. An acclaimed cyclist favourite, Richmond also has much to offer the running community.
With an abundance of dirt paths, this is a great option for those seeking longer runs on a terrain more forgiving than the London pavement. Its vast network of trails means you're never short for choice, and can get creative with the routes you take.
Run through gardens, along lakes, and take in views of the beautiful fauna. Richmond Park is an undulating paradise for runners. A run through the gates of this spot will have you feeling worlds away from busy city life.
CONCLUSION
No matter where you are in London, you're never far from some green space. Whether you're a new runner still dipping your toes into the sport or a seasoned run of all race distances, why not explore one of these fantastic spots on your next run. From flat fast courses, to undulating hills and steep climbs, there's something for everyone.